Train for Greatness with Our Master's in Fitness and Performance Degree Program
You have a passion for helping others become champions. From professional athletes to ordinary individuals seeking to achieve a healthy lifestyle, you care about all your clients, and you want to serve them better. At Liberty, we believe in training champions too, and we want to help you become a Champion for Christ in your community. Whether you are entering the field or looking to take your career to the next level, we've got the master's in fitness and performance degree you need to set yourself apart as a personal trainer who expects excellence and integrity from yourself and others.
We offer a fitness and performance specialization with our exercise science and wellness master's degree for students who want to take their passion to the next level. On campus, you will have access to our various human performance, athletic training, and standardized patient center labs. You can use these invaluable resources to take your skills further while training under our professors who have years of relevant educational, research, and field experience. Get ready to train the next generation of athletically motivated men and women with our fitness and performance exercise science degree.
---
Award-Winning Campus
At Liberty, you'll find an affordable, high-quality education that equips students like you for the real world. Our commitment to excellence helped us rank among Niche.com's Top 3 college campuses in America. Earning your degree from a nonprofit university with state-of-the-art resources like ours can help set you apart from your peers.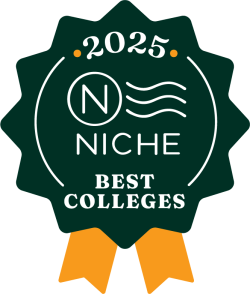 ---
Why Choose Liberty's Exercise Science and Wellness Master's Degree?
Pursue a career in fitness and performance training without sacrificing your busy lifestyle. At Liberty, we understand that most graduate students are working professionals with families. Let us help ease your concern of going back to earn your master's degree by providing an exercise science degree that is more flexible.
We designed our exercise science and wellness master's degree for working adults like yourself. You won't need to worry about fulfilling internship hours, thesis research, and on-campus labs or week-long intensives. Some of your courses can be completed in as little as 8 weeks, with some offered completely online. Let us lighten the load, so you can pursue your passions.
As a graduate student in our exercise science and wellness degree, you grow through opportunities for hands-on experience by utilizing our:
---
What Will You Learn in Our Master's in Fitness and Performance Degree?
Our M.S. in Exercise Science and Wellness degree specializes in fitness and performance to provide you with job-specific skills to match your career goals. Your courses will focus on the research of athletic development based on movement, overspeed, resistance, and reaction, often referred to as the M.O.R.R. training system.
Through the M.O.R.R. lens, you will develop a strong understanding of strength development, speed and agility, and conditioning, and recovery. Our fitness and performance concentration examines biomechanical instrumentation systems and analyzes human movement. Also, you will gain a scientific understanding of best practices in prolonged activity with our fitness and performance degree.
Our core exercise science courses provide an advanced understanding of research methods in the field. Learn how to apply your data analysis and research skills to exercise prescriptions for your clients' health and fitness needs. You will also gain access to our Functional Assessment Laboratory, which is equipped with functional assessment, strength training, and agility equipment, so you can train hands-on.
View the Degree Completion Plan, and check out our featured courses below for more information!
Featured Courses
EXSC 540 – Advanced Strength Development
EXSC 541 – Advanced Speed and Agility
EXSC 550 – Advanced Biomechanical Analysis
HLTH 645 – Performance Nutrition for the Physically Active
---
Highlights of Our M.S. in Exercise Science and Wellness – Fitness and Performance Degree
You can complete this master's degree in as little as 2 years.
Join with peers through Liberty's Eta Sigma Gamma chapter to receive more career and professional growth opportunities.
Explore over 20 teaching and research laboratories, including the Health Promotion Lab, Human Performance Lab, Functional Assessment Lab, Athletic Training Lab, and our Standardized Patient Center.
Access to professional-level research equipment including a gene sequencer, tissue culture facility, fluorescent microscope, LICOR imager, and more!
Our faculty are experienced in academia, industry, and government, holding doctoral degrees from leading institutions nationwide.
Immerse yourself in engaging research projects where you could study algae biofuels, Alzheimer's disease, cancer, DNA analysis, crayfish parasites, and more!
Our Fitness and Performance Master's Degree Information
Career Opportunities for Master's of Fitness and Performance Graduates
Clinical exercise physiologist
Corporate, university, commercial, or resort fitness trainer
Exercise physiologist
Human performance specialist
Sports physiologist
Sports scientist
Strength and conditioning coach
Admission Requirements for Graduate Degrees
Every application is reviewed on a case-by-case basis, and all applicants must submit the following documents and meet the minimum requirements for admission:
Admission application

Self-certification form (for students who are in the final term of their bachelor's degree)

Current Liberty undergraduate students seeking preliminary acceptance into a graduate program must complete a degree completion application through their ASIST account
A regionally or nationally accredited bachelor's degree with at least a 3.0 GPA for admission in good standing (a 2.5 to 2.99 GPA may grant admission on caution)