Train to Become an Elementary School Teacher with Liberty University's Bachelor of Education in Elementary Education
Do you enjoy working with children and helping them realize their full potential? Have you ever considered becoming a licensed teacher for public, private, or Christian school systems? Liberty's Bachelor of Education (B.Ed.) in Elementary Education can help you obtain licensure to teach students from kindergarten through 6th grade in the state of Virginia.
Young children are highly impressionable, and they need positive role models who can help guide them down the right path. As an educator, you will have the valuable opportunity to show Christ's love to your students while setting them up for future success. With Liberty's elementary education courses, you can learn how to teach a variety of subjects at the elementary school level.
Partner with us and prepare to make a difference in the lives of your future students.
Upon successful completion of Liberty University's Virginia state-approved Bachelor of Education program, you may apply for your teaching license in another state through reciprocity, which may or may not result in additional requirements based on your state's Department of Education regulations.
What does "elementary education" mean?
Elementary school can range from kindergarten to grades 4-6, depending on the school district. Our bachelor's in elementary education can help prepare you to teach at all of these grade levels.
What degree do you need to teach elementary school?
In the United States, elementary school teachers must typically hold at least a bachelor's degree. Our B.Ed. in Elementary Education provides a clear path to licensure, so you can pursue the credentials you need to teach in public or private schools.
What is the typical salary for an elementary school teacher?
Your salary will depend on a number of factors, such as your location, experience, and level of education. However, in general, elementary school teachers earn an average salary of $59,420 per year. The demand for elementary school teachers is expected to increase due to rising student enrollment.*
If you want to help meet the need for qualified professionals in the education field, our accredited B.Ed. degree can help!
How long does it take to earn a bachelor's degree in elementary education?
This program takes about 4 years to complete.
Award-Winning Campus
At Liberty, you'll find an affordable, high-quality education that equips students like you for the real world. Our commitment to excellence helped us rank among Niche.com's Top 5 college campuses in America. Earning your degree from a nonprofit university with state-of-the-art resources like ours can help set you apart from your peers.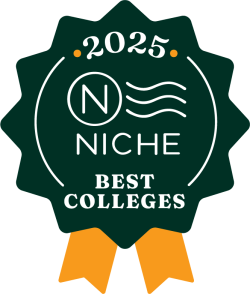 ---
Why Choose Liberty's Bachelor's Degree in Elementary Education?
Pursuing your teaching license is a big deal! We want to come alongside you and make the process as seamless as possible. Since true work experience is the best way to gain confidence as a teacher, we offer valuable opportunities for you to apply your skills in the real world.
Find out what sets Liberty apart from other schools:
Hands-On Experience
Before graduation, you will receive practical experience in a live classroom with your practicum and student teaching hours. You'll have the chance to complete your student teaching in various locations throughout Virginia. Or, if you want to experience life in Washington, D.C., consider applying to our Washington Fellowship program. Here, you can work in an urban school setting and live in the heart of our nation's capital for an entire semester!
Networking Opportunities
Building your network is an important part of preparing for your career. Liberty offers many opportunities for you to connect with other education students. For instance, you could join our Urban Education Club or our chapter of the Professional Association of Christian Educators (PACE). That way, you can build relationships with other students who are passionate about making a difference in the world of education.
Respected Credentials
Liberty is accredited by the Southern Association of Colleges and Schools Commission on Colleges (SACSCOC). Additionally, Liberty University's School of Education meets rigorous national standards for educator preparation set by the Council for the Accreditation of Educator Preparation (CAEP).
Experienced Professors
Our faculty have years of experience teaching at all levels of education. They are ready and eager to offer the support you need to thrive in your career.
---
What Will You Learn in Our B.Ed. in Elementary Education Degree Program?
Our nation is desperate for teachers who are well-educated, enthusiastic, and compassionate toward their students. As one of the largest providers of teachers in the state of Virginia, Liberty can help you prepare to teach with integrity and strong Christian ethics. If you're seeking elementary education training from an accredited Christian school, we have what you need!
This B.Ed. in Elementary Education degree is designed to help you become a licensed teacher in Virginia. Your core courses provide training in various content areas, including history, English, math, and science. You'll explore how to teach these subjects at the kindergarten and elementary school levels.
Learn how to design lesson plans that help students of all backgrounds grow and thrive. Throughout this program, you will explore topics like instructional planning, teaching and learning theories, educational technology, instructional strategies, curriculum development, and instructional design. Most importantly, you will complete various practicum and student teaching courses so you can gain real-world experience.
Review the Degree Completion Plan, and check out our featured courses below for more information on what you'll be studying!
Featured Courses
EDUC 225 – Instructional Design for Elementary and Middle School Classrooms
Here's what you'll learn:
Methods for preparing and presenting lessons that follow the Liberty University model

The cyclical nature of planning, instruction, and assessment in education

Various teaching strategies, including technology integration, classroom management, culturally responsive teaching, and evaluation of student academic progress
EDUC 315 – Instructional Approaches to Literature for Children and Adolescents
Here's what you'll learn:
Methods for selecting and using appropriate books for the classroom

Selection, critical evaluation, and utilization of literary materials for developmental and recreational needs

Strategies for literature use in diverse classrooms
EDUC 410 – Elementary School Curriculum
Here's what you'll learn:
Current trends and how they affect the curriculum

Major concepts, principles, theories, and research related to child development

Methods for constructing curriculum and learning opportunities that support individual students' development, acquisition of knowledge, and motivation
EDUC 415 – Diagnostic Measurement and Evaluation
Here's what you'll learn:
A diagnostic-prescriptive approach to classroom teaching

Diagnostic testing techniques and procedures, administration and interpretation of standardized tests, and construction of classroom tests
Highlights of Liberty University's Elementary School Education B.Ed.
Liberty University's School of Education meets rigorous national standards for educator preparation set by the Council for the Accreditation of Educator Preparation (CAEP).

Pursuing our Bachelor of Education in Elementary Education degree may make you eligible for the

Federal TEACH Grant

.

Receive practical classroom experience prior to graduation.

The

Educational Technology Lab

provides students with top-notch resources, software, and equipment designed to promote learning with technology.

All of our faculty who oversee licensure courses have K-12 teaching experience and a current teaching license.

You will have the opportunity to do your student teaching in various locations throughout Virginia as well as in Washington, D.C., through Liberty's

Washington Fellowship

program.

Liberty offers a world-class education taught from a Christian perspective.

Our B.Ed. education licensure track can help you gain credentials to teach in the state of Virginia.

With the degree you receive in elementary education, you can learn how to serve as a teacher in a variety of settings.

By joining a

professional organization

, you can expand your network and explore your interests!
Bachelor of Education in Elementary Ed Degree Information
Residential

120-131 total credit hours

Transfer in up to 75% of your total degree

This bachelor's in elementary education program falls under the

School of Education

.

Download and review the

Degree Completion Plan

for Liberty University's elementary education program.

View our

course catalog

for more information.

This program is designed to prepare you for licensure. Review our

 

licensure information and resources.
This program has practicum and student teaching requirements as well as a background check.
What Can You Do with a Bachelor's in Elementary Education?
A bachelor's degree in elementary education from Liberty University can help prepare students for many job opportunities, including:
Christian school teacher

Curriculum coordinator

Education consultant

Private school teacher

Public school teacher
Admission Requirements for Our Bachelor's in Elementary Education Program
Every application is reviewed by the admissions committee on a case-by-case basis, meaning there are no set minimums for acceptance. However, all applicants must submit the following documents* for admission:
Admission application

Official high school transcripts

Official college transcripts (if applicable)

Results from the CLT, SAT, or ACT are not required for admission, but may be used in consideration for merit-based aid.

Admission essay
*Additional documentation may be requested by the admissions committee after your application has been received.
---
*Bureau of Labor Statistics, U.S. Department of Labor, at Kindergarten and Elementary School Teachers (viewed online November 30, 2020). Cited projections may not reflect local and/or short-term economic or job conditions and do not guarantee actual job growth.