PACE Liberty University Chapter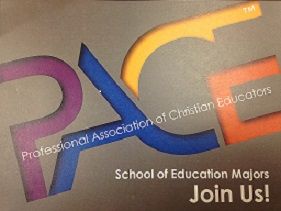 The Professional Association of Christian Educators (PACE) is a partnership between the Association of Christian Schools International (ACSI) and Liberty University. It is a chapter for future educators wanting to grow spiritually and professionally. PACE serves as an organization for future educators to collaborate with future and current educators where passion for teaching fully integrates with a passion for Christ.
ACSI is an organization that "exists to strengthen Christian schools and equip Christian educators worldwide as they prepare students academically and inspire them to become devoted followers of Jesus Christ" (ACSI Mission). It is "a leading international organization that promotes Christian education and provides training and resources to Christian schools and Christian educators…" (ACSI Vision). ACSI is a Christian education organization serving nearly 24,000 schools in 100 countries (20,000 Christian schools internationally).
---
Mission Statement
The mission of the ACSI PACE chapter is to develop an awareness of and support for God's global work in K–12 Christian schools.
Goals of PACE at Liberty University
To connect Liberty University future educators to a worldwide community of Christian educators.
To provide Liberty University School of Education students with a Christian association that will serve them currently as students and in the future as educators.
To enrich the professional development of Liberty University School of Education future educators through access to ACSI's resources.
To engage education students in leadership development through Christian education-related service projects.
To inform students about job opportunities in Christians schools around the world.
Become a Member
Primary membership is available to the School of Education's future educators, but any Liberty student interested in the cause of Christian education is welcome.
Students must attend at least three meetings within an academic year to earn and maintain membership.
Benefits of being a Member of PACE
Free ACSI membership ($40 value);
Access to ConNexus (connecting Christian educators through professional communities);
Access to ConNexus Premium (on-demand content resources covering a wide range of topics);
Member registration to events, access to special student rates, and access to the ASCI member-only online career center job board;
Membership counts as one of two professional organization memberships required in the Field Experience Summary, which is part of your student teaching portfolio;
Enriching meetings to fellowship with other education students; and
Unique community where students can pray for each other as teachers in training.
Additional Information
For up to date information on membership, chapter meetings, and events, please visit the PACE: Liberty University Student Chapter Facebook Page.
Contact