Take Your Goals Sky High with Liberty's Aeronautics and Global Studies Degree
Have you ever dreamed of traveling the globe with the intent of helping people less fortunate than yourself? Well, if becoming a licensed pilot sounds like an exciting way to achieve that goal, let us help. At Liberty, we offer a global studies focused aeronautics degree so you can learn how to incorporate your Christian faith into a career in international aviation.
Bring your passion to the mission field. One of our recent graduates now leads his own mission organization, called Unified in Mission, in Uganda! The practical, experiential, and biblical skills we highlight in our degree make it possible for students to truly make a difference worldwide.
Excited to start on the path to a rewarding career in missional or simply global flight? Don't wait! Pursue a future worth every penny. Your journey starts here.
Award-Winning Campus
At Liberty, you'll find an affordable, high-quality education that equips students like you for the real world. Our commitment to excellence helped us rank among Niche.com's Top 5 college campuses in America. Earning your degree from a nonprofit university with state-of-the-art resources like ours can help set you apart from your peers.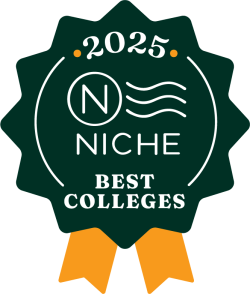 ---
Why Choose Liberty's B.S. in Aeronautics: Global Studies?
You deserve a degree that provides the resources you need to succeed. At Liberty, we offer various ways to reduce the stress of obtaining flight licenses, as well as incorporate opportunities for you to grow as a professional. From scholarships to competitions to reduced flight time, we try to make your experience as rewarding and stress-free as possible.
These resources and opportunities will be available to you as one of our aeronautics students:
Aviation scholarships are available for students from all walks of life.
Join our National Intercollegiate Flying Association (NIFA) flight team, which has won the regional competition (Region X) for the last fourteen years.
Earn course credit for your previous aviation experience and pilot license(s).
Take additional courses to earn an aircraft maintenance certificate to serve as a mechanic, as well as a pilot.
Reduce your flight hours significantly with our Restricted Airline Transport Pilot (R-ATP) program.
---
What Will You Learn in Our Global Studies Focused Aeronautics Degree?
Prepare for your career in aeronautics with academic excellence. Liberty's courses will equip you with the knowledge and confidence you need to succeed in your career.
Your major courses focus on the fundamentals of flight and aeronautic systems. This degree incorporates leadership, management, and safety courses so you can walk away well-versed in all major areas of aviation. In turn, this could also help you stand out to future employers!
Our global studies specialization provides you with the opportunity to choose from a variety of aviation, global studies, and religion electives to take your degree even further. In addition to your courses, you will accrue the necessary flight time to earn your pilot licenses.
View the Degree Completion Plan, and check out our featured courses below to learn more about what you'll be studying!
Featured Courses
AVIA 325 – Commercial Flight I
Here's what you'll learn:
This course is the first of three sequential flight-training courses that include the requisite aircraft and simulator training and experience required for the FAA Commercial Pilot practical test.
During this course, students will complete approximately one-third of the aircraft and simulator training and experience hours required in the applicable commercial pilot training course outline.
AVIA 340 – Aviation Weather
This course is a study of weather hazards, meteorological flight planning, aviation weather equipment, and human factors as related to flight safety in all weather conditions.
AVIA 420 – Flight Instructor Flight
This course covers flight instructor methods and maneuvers in preparation for the FAA Certified Flight Instructor initial evaluation.
AVIA 450 – Confined Area Operation
Here's what you'll learn:
This course will prepare students to plan and operate in confined areas with short and unpaved landing strips.
The student will learn safety aspects, risk management, and flight techniques necessary to successfully operate throughout the world.
Highlights of Our Aeronautics: Global Studies Bachelor's Degree
From top of the line flight simulators to award-winning flight teams, our Bachelor of Science in Aeronautics is designed to prepare you for success!
Within 15 years, Liberty's aviation degree programs have grown from just 4 students to over 400 residential students. No matter how far we may have come, we will never stop pushing to make our program the best it can be for students like you.
Other noteworthy aspects of our aeronautics bachelor's degree include:
State-of-the-art training devices, simulators, and planes
27 Aircrafts available to train with (not including drones)
Loening Trophy winner for 2017, 2018, and 2019
American Airlines Safety Award winner three years running
One of the largest faith-based collegiate aviation programs in North America
Aeronautics – Global Studies Degree Information
Career Opportunities for Aeronautics: Global Studies Graduates
Liberty University's Bachelor of Science in Aeronautics prepares you for the following occupations:
Airline operations personnel
Commercial pilot
Flight instructor (with appropriate electives)
Faith-based aviation organization pilot
Private pilot
Admission Requirements for Undergraduate Degrees
Every application is reviewed by the admission committee on a case-by-case basis, meaning there are no set minimums for acceptance. However, all applicants must submit the following documents* for admission:
Admission application
Official high school transcripts
Official college transcripts (if applicable)
Results from the CLT, SAT, or ACT are not required for admission, but may be used in consideration for merit-based aid.
Admission essay
*Note that additional documentation may be requested by the admission committee after your application has been received.