Festus Oderanti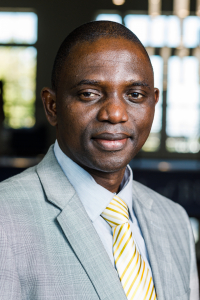 Associate Professor, School of Business
Discipline: Computer Science
Education
Ph.D. in Computer Science, Heriot-Wayy University
M.B.A., Obafamie Awolowo University
M.Sc. in Computer Science, University of Ibadan
B.Tech. in Computer Science, Federal University of Technology
Postgraduate Certificate in Academic Practice
Biography
Prior to coming to Liberty University, Dr. Oderanti has over 10 years experience as a lecturer in Information Systems and Information Management at the University of Hertfordshire Business School and at Plymouth University Business School in the United Kingdom. At previous universities, he collaborated with the labs on their research in areas of business models and assisted living technologies. Dr. Oderanti also has over 10 years experience in roles such as an IT analyst and tutor.
His spiritual inspiration is 1 Corinthians 10:31. It says, "Whether therefore ye eat, or drink, or whatsoever ye do, do all to the glory of God".
Publications
"Challenges of Digital Healthcare Innovations (eHealth) Adoption and New Business MOdels for UK eHealthcare Businesses." Digital Innovation for Surgery Planning, Simulation and Treatment in China and the UK, October 2019.
"Business and Information System Alignment Theories Built on eGovernment Service Practice: A Holistic Literature Review." Application of Decision Science in Business and Management, September 2019.
"Business Model for Sustainable Commercialisation of eHealth Innovations in the Aging Population." August 2019.