Internships
Find an Internship: Digital Media & Journalism
Strategic & Personal Communication Internships
Every Digital Media & Journalism student must complete at least 3 internship credit hours to graduate.
Begin networking now. That means with everyone – ask your classmates, your friends, your professors, etc. The people you come in contact with every day are some of your best resources.
Also, Career Services has made it even easier for you to connect with professionals around the world with Handshake. Create an account and search for available internship opportunities with companies looking for a rising professional like you.
---
DMCA 499 Course Eligibility
To be eligible for an internship, you must have:
Junior or senior status
2.0 GPA or higher
Declared a major within the Digital Media & Journalism department
Completed 24 hours within your major (not including COMS 101 or SCOM 110)
Completion of the DMCA 499 Internship Workshop at least one semester prior to interning (see below for the current schedule)
No more than one outstanding BWVW/CSER requirement (Residential students only)
---
Internship Workshops
All students intending to complete DMCA 499 Internship must attend an internship workshop at least one semester prior to doing their internship. Residential students need to attend a workshop in person.
Residential Students:  The last Spring 2021 Internship Workshop will be hosted:
Wednesday, February 24 – 3:30 p.m. to 5:00 p.m. – Green Hall 1871A (near the Cinematic Arts area)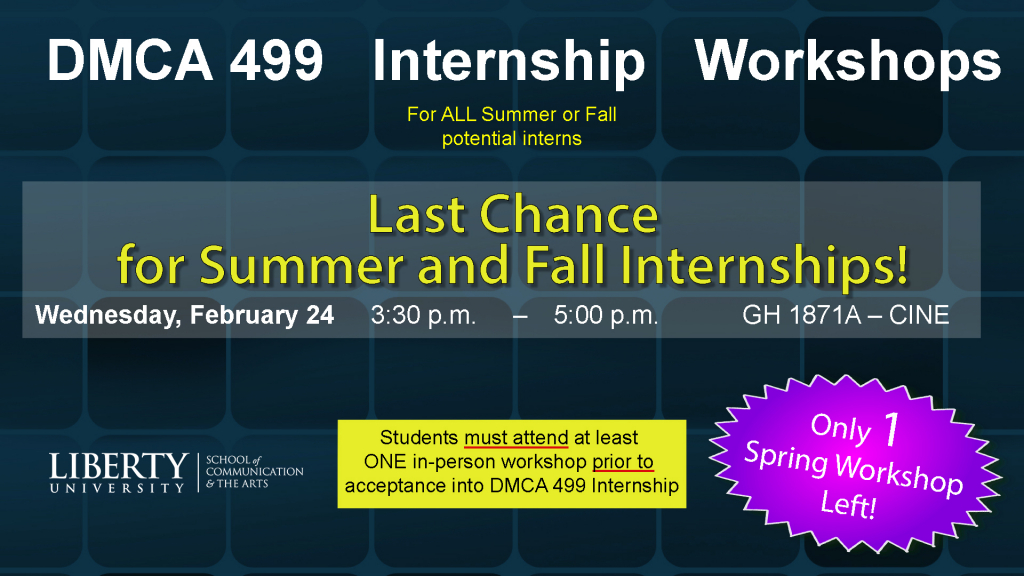 Liberty Online Students:  Please email dmca499@liberty.edu for instructions on how to complete the Workshop.
---
Apply for DMCA 499 Internship Class
Because of its many prerequisites, you can't add a DMCA 499 (undergraduate internship) class to your schedule like a normal class.
Here's the process:
  Attend an internship workshop the semester before you plan to complete the DMCA 499 internship. This is where you will receive detailed instructions about internships and an overview of the application procedure. Look for social media posts, web announcements, and digital signage in Green Hall throughout the semester announcing dates/times of workshops.
  Pre-evaluation (optional) After you have attended the Workshop, you will be emailed a pre-evaluation portal link where you can submit possible internships for feedback on the appropriateness for your area of study. This gives you peace of mind knowing that the internship you are pursuing will likely be approved for your degree.2.   Land the Internship! Apply to several internship opportunities. You are likely to receive an offer if you are determined.3.  "Request an Experience" on Handshake. Once you have an offer in-hand, you must apply on Handshake to have your internship formally evaluated and approved through a vetting process. Your application and academic standing will be reviewed along with the specifics of the opportunity. If everything looks good, the Handshake request will enter into a digital signature approval process.4.   Approvals:  After you, your internship site supervisor, and the Liberty representative sign off on your internship, the faculty internship advisor will send your request for DMCA 499 registration to the Registrar.5.   Registration:  The Registrar will now add you to the class!
Registration Deadlines
Handshake applications must be entered no less than 1-week before the Financial Check-In deadline for your selected semester. Both residential and LUO internships sections run Fall, Spring, and Summer in 16-week (A-term) sections based on the Registrar's published academic calendar.
Summer or Fall internship – Attend the workshop in the Spring semester
Spring internship – Attend the workshop in the Fall semester
*Because the prerequisite approvals and contract take time to complete, you need to give yourself plenty of time to register. Contact Professor John Rost at dmca499@liberty.edu with any questions.
---
Credit Hours
Hours of Work
A 3-credit-hour internship requires that you work at least 180 hours.
You may choose to register for an internship for more than 3 credit hours. Up to 6 credit hours are allowed.
Each additional credit hour (over 3) adds 60 hours of work to your internship requirements.
Additional internship credit hours may be used to fulfill upper-level elective requirements on your Degree Completion Plan (DCP).
Credit Hours
The first 3 credit hours of your internship must be completed within your major – not your minor. Internships must be completed during the semester in which you are registered for the course. Additionally, you cannot receive credit for an internship that you have completed but were not registered prior to interning.
---
Extended Internships
You may find that you like your internship so much that you want to continue for more than one semester. If so, you will need to fill out a separate Handshake application for each additional semester you want course credit.
---
Getting Paid
You may get paid for your internship. In fact, we hope you do.
It may be possible for you to use your current job as your internship. But remember- your job duties must line up with your objectives and be related to your field of study. Each internship site must be individually approved by your faculty internship advisor, John Rost at dmca499@liberty.edu.
---
Internship Site Responsibilities
You must be directly supervised by someone who has a degree in your area of study or has a minimum of five (5) years of documented experience in the given field.
The company or organization must provide enough work to fill the work hour requirements agreed upon in the contract.
Your supervisor must agree to give feedback about your experience by filling out a mid and final evaluation.
Telecommuting or virtual internships are possible. They should usually be paid. Contact the faculty internship advisor, John Rost at dmca499@liberty.edu about current applicable laws and regulations.
All internship opportunities are evaluated in light of The Liberty Way – Student Honor Code. While it is expected that Liberty students uphold the Code regardless of their location, no internship site will be approved that may encourage a violation of the Code.