Noah Lhomi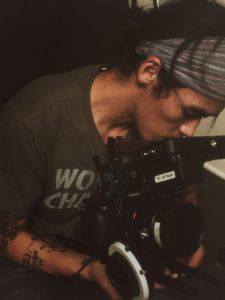 Noah Lhomi ('18) admits his career journey may look "random." He has come halfway around the world through a series of unpredictable events, but looking back reveals a fascinating story of fulfillment.
It starts in the 1970s, when a Wycliffe missionary couple journeyed from Finland to Nepal and settled in a small, isolated village. They learned the language and culture and shared the Gospel with their neighbors. Lhomi's family found hope in Jesus, joining a small community of new believers in their stone-constructed church.
Meanwhile, Nepal fell into civil war. One evening while a young Noah Lhomi was at church, a rebel army attacked. Villagers fled as the church burned. The rebels beat Lhomi's brothers and seized his father. One brother ran away to warn other Christians. The night was long and fearful, but God soon reunited his family.
Several villagers, including Lhomi's parents, sent their children to the capital city, Kathmandu, in order to keep them safe from forced recruitment as child soldiers. As civil war took its toll, the children's new home expanded into an orphanage. Lhomi's faith and artistic interests sustained him between visits from his parents.
By 2012, Lhomi was going to college but felt disconnected. He longed to be among a community of believers and find his purpose. A friend introduced him to photography and, Lhomi says, "My whole life changed after that." With a new passion ignited, he felt impatient with his circumstances, but instead of reaching for more control, he surrendered to God and prayed, "If you take me out of this mess, I'm going to do whatever you want me to do."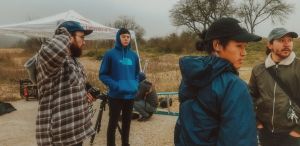 Enter students on a mission trip from Liberty University, Lynchburg, Virginia.
One student, who had worked in Liberty's Cinematic Arts Department, took notice of Lhomi's photography talent and asked him, "Have you ever considered film school?" In that moment, Lhomi discovered his calling: he was going to Liberty University to study film. In faith, he dropped out of college and lost his earned credits. With prayer and assistance, he applied to Liberty and was accepted. It was a gift beyond his imagination.
Every semester at Liberty challenged Lhomi in multiple ways. Sometimes he thought he would have to drop out and return to Nepal, but he remembered he had entrusted his future to God, who would not fail his own plan.
In his junior year, Lhomi entered his Cinematic Arts cohort (a group of students taking cinema classes under one professor). He found a community of peers drawn together by their mutual passions for Christ and creativity in media. "The film program taught me so many things," he says, "but one thing I learned is filmmaking is a team effort. You need people you trust and to surround yourself with a team . . . One of my favorite things about working on a set is the community. It is so amazing to see different creatives come together for a greater purpose."
Now Lhomi runs the media team for a church in Texas. "I really love the ministry I am at," he says. He also wants to produce a documentary of Nepal and archive his village's stories of faith. He hopes these stories will encourage others that although life is hard and messy, if you let God take control of your pursuits, he will make them more meaningful than you can imagine. As Lhomi has learned, "nothing is random with God."