Luke Fletcher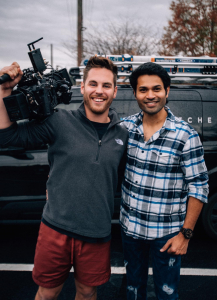 "I have always been obsessed with cameras, taking pictures," explains Luke Fletcher ('19) of his vocational calling. He first picked up a camera at age 6 and has been looking through a lens ever since.
At age 12, Fletcher participated in a small film project as a minor actor playing with dogs. The 2nd Unit Director heard that he was interested in cinematography and warned him it was very hard work. At that moment, Fletcher realized how special the job must be to require such dedication. He accepted the challenge and committed to pursuing the art of cinematography.
At age 14, Fletcher earned his first paycheck by filming his cousin's wedding. "I was so pumped to make $50 with my camera," he recalls. He picked up more wedding gigs for the next few years, earning more money as he accrued more expertise.
Desiring to expand his skill set, Fletcher's thoughts turned to film school. Liberty University's Cinematic Arts Department attracted him for its Christian worldview as well as testimonials from graduates he knew. After touring it during a College for a Weekend event, he decided to come to LU.
Fletcher appreciated the film program's comprehensive education on filmmaking. His junior-class movie project introduced him to all the departments and roles of production, fostering understanding and cooperation among classmates as they worked together to make a feature film. Fletcher found the large-scale teamwork energizing: "It really helped me go from being a 'one-man band' kind of guy to [learning] how to get other people involved and assign roles to everybody." His trainer for the film, 1st AC Drew DeFosset, taught him more about camera work in a short time than he would have learned from a traditional classroom. Although he explored various career possibilities in filmmaking, his heart for the camera confirmed his true calling.
Between his junior and senior year, Fletcher took a break from his camera to get married. He continued to pursue his ambitions into his senior year, working as Director of Photography (DP) for four of his classmates' thesis films. He also took on some commercial projects for pay.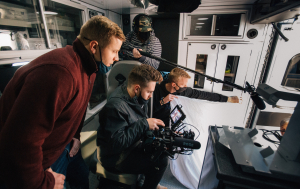 After graduation, Fletcher moved his wife and new baby to Charlotte, NC and continued commercial work. He founded his company, Luke Fletcher, LLC, and hired a team to produce professional-grade commercials and videos. He says he especially enjoys longer, narrative projects and is most passionate about working as a DP when he can. Recently, he achieved a DP credit on a feature-length film that he currently is coloring in its post-production phase.
Despite pandemic times, work keeps coming, the family keeps growing, and life has picked up speed. Fletcher says he is learning how to better pace himself and his goals. He warns potential filmmakers to practice time management but understand the total-immersion nature of filmmaking. As an entrepreneur and filmmaker, Fletcher has come to realize the truth in the inspirational advice he received as a 12-year-old. Filmmaking success is "way harder than you think it's going to be," he admits, but the reward of pursuing your passion is worth it.