Cinematic Arts – Zaki Gordon Center
Tell Your Story. Get a Degree in Film Production and Content Development
It's Time to Make Your Mark in the Film Industry
Get ready for success in one of the fastest-growing industries with a global reach. With your B.S. in Film Production & Content Development from Liberty University's Cinematic Arts department, you'll gain the experience you need to tell your story and make a difference in the world.
Through immersive, hands-on productions, a stimulating cohort of classmates, and industry-standard facilities and equipment, you'll get what it takes to make high-quality movies, tv-series, corporate videos, and documentaries.
A Christian Film School Experience
Learn from faculty members who embrace their Christian faith and are active professionals, specializing in producing, directing, screenwriting, business affairs/marketing, camera, lighting, sound design, stunts, editing, film equipment, and cinema software. Our programs are built around teaching the art, skills, and profession of filmmaking in order to impact the culture for Christ.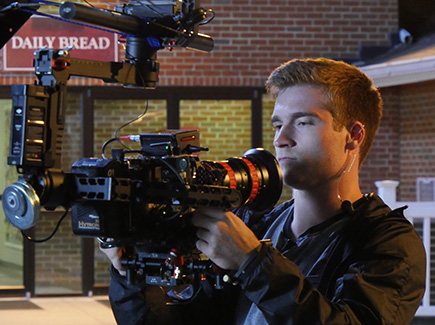 ---
Our Academic Programs
Prepare for success in the film and television industry with your B.S. in Film Production & Content Development. Get hands-on experience with industry-standard equipment, world-class facilities, and experience working under experts in the field. Our graduates leave eligible for hire in Hollywood productions, government agencies, media companies, corporations, nonprofits, and media-producing churches.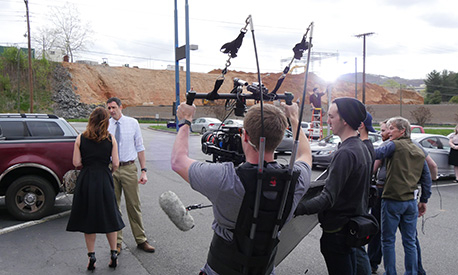 Film education enhances your degree by giving you an employable skillset for your career. Choose between our Cinematic Arts Production minor—an immersive program where you'll collaborate on a film project from start to finish, and our traditional Cinematic Arts minor—a classroom-based program of four courses that you can take throughout your degree program.
---
Got Questions About Your Degree in Film?
---
What's Your Passion? 
Discover all the Disciplines of Filmmaking with Your Degree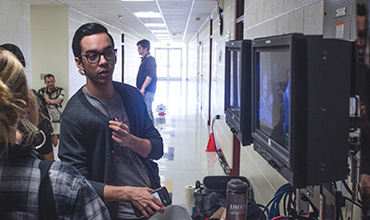 Producing
Build and manage a team of creative storytellers. From story concept to delivery and revenue streams, as a producer, you'll learn how to lead the process of content development.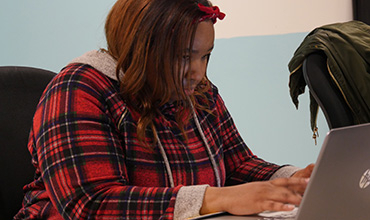 Screenwriting
Discover your voice and write for the big and small screen. Find out how to craft stories filled with engaging characters that produce a relatable message.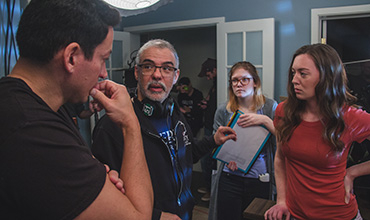 Directing
Bring stories to life as you grow in your understanding of cinematic craft. Learn how to motivate a cast and crew to fulfill your visions and make masterpieces.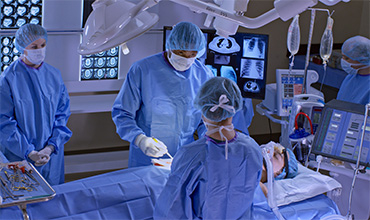 Production Design
Develop an eye for visual storytelling that provides context, continuity, meaning, and character to a multi-media narrative. As a production designer, your set, location, and prop aesthetics will create a stage for the story.
Cinematography
Connect viewers to the story and shape their perspective. As a cinematographer, you'll learn how to reveal a story's truths and emotions through the use of camera movement, angles, focus, depth and space, and light and shadows.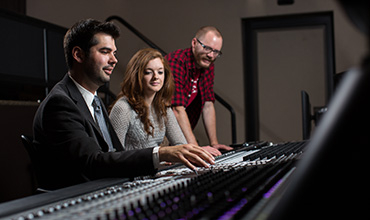 Sound Design
Acquire the skills to emotionally move an audience in ways that images cannot—ways that may even be subconscious to viewers. Learn how to listen to a movie and create sounds that will interpret a story.
Editorial
Gain a deep understanding of story elements and a mastery of the technology that can edit and deliver them as narrative works of art. Learn postproduction roles such as picture editing, visual effects, and sound mixing.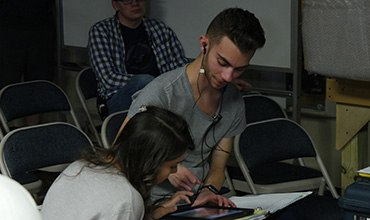 Showrunning
Great television series start with a pitch from a showrunner. Discover how to take a television series from an idea to a series and guide a story's development through multiple episodes.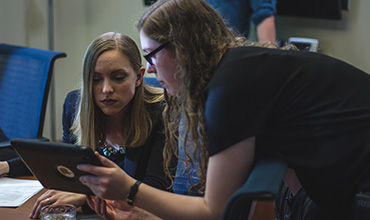 Media Directing
Churches, corporations, the government, and non-profits need someone to create, manage and deliver audio/visual content. Learn how to manage productions and create engaging content while informing targeted viewers.
---
State-Of-The-Art, Theatrical-Grade Film Equipment
Your Film Production and Content Development degree ensures that you could walk onto any production and feel at home, know what to do, and how to deliver. Here at Liberty, you'll train on cutting-edge tools, including RED cameras and a THX-certified dub stage.
Facilities and equipment include:


Jib


Grip Gear and Camera Accessories

Dubbing Stage Console

Dubbing Stage

Dubbing Stage


Sound Mixing Console

4K Edit Station


8K Edit Bay

Cinema Gear

Wet Dry Foley Stage


300 Seat 4K Theater
---
Alumni Success
Get equipped with the technical skills and work ethic needed to be successful in a variety of careers. Alumni from the Cinematic Arts, Zaki Gordon Center have worked on a broad range of media projects, from commercials to studio movies and television series, with many of them earning IMDb film credits. While some of our graduates have gone into entertainment, others have used their knowledge and production experience to make their mark in the fields of education, government, medicine, ministry, and entrepreneurship.
Entertainment and Movie Industry Sets Where Alumni Have Worked
Jumanji: Welcome to the Jungle
Avengers: Infinity War
Guardians of the Galaxy: Vol. 2
Jurassic World: Fallen Kingdom
Divergent
Black Panther
Venom
Spiderman: Homecoming
Corporate and Christian Careers Where Alumni Have Worked
Universal Studios
Sony Pictures
Disney Studios
CNN
TBN
YouTube
CBN News
U.S. Department of Agriculture
Samaritan's Purse
Hear Their Stories: Where Alumni are Today and Why They Chose LU
---
---
Hear What Others Have to Say About Our Students
"The LU students who showed up were more prepared—they knew the gear, they knew the position, they knew the work ethic. They were definitely a cut above all the students from all the other universities."
– Stephen Kendrick, Producer of War Room, referring to crew members from LU Cinematic Arts
"I came into the process hoping for the best, and left the process knowing that Liberty's Cinematic Arts program is one of the best in the country."
– Bill Reeves, Executive Produce of God's Compass and Extraordinary, who partnered with LU Cinematic Arts on his films
"Liberty students don't have an attitude; they are generous in spirit… The kids here as a whole have brighter faces and are more optimistic. I don't see attitude. I don't see negativity."
– Sterling Anderson, Hollywood screenwriter, and guest lecturer at LU Cinematic Arts