Cinematic Arts – Zaki Gordon Center
Tell Your Story. Get a Degree in Filmmaking!
It's Time to Make Your Mark in the Film Industry
Get ready for success in one of the fastest-growing industries with a global reach. With your film degree from Liberty University's Cinematic Arts department, you'll gain the experience you need to tell your story and make a difference in the world.
Through immersive, hands-on productions, a stimulating cohort of classmates, and industry-standard facilities and equipment, you'll get what it takes to make high-quality movies, tv-series, corporate videos, and documentaries.
A Christian Film School Experience
Learn from faculty members who embrace their Christian faith and are active professionals, specializing in producing, directing, screenwriting, business affairs/marketing, camera, lighting, sound design, stunts, editing, film equipment, and film production software. Our programs are built around teaching the art, skills, and profession of filmmaking in order to impact the culture for Christ.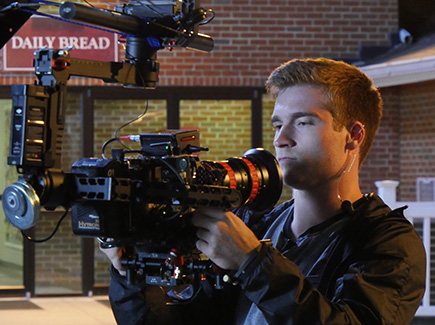 ---
Film Degree Programs & Minors
Take your filmmaking skills to a professional level with a B.F.A. in Film Production & Creative Development. Study under experts in the field using industry-standard equipment in our world-class facilities. Choose one of nine areas of focus to hone your skills for a specialized career in the multi-media industry.
Prepare for success in the film and television industry with your B.S. in Film Production & Content Development. Get hands-on experience with industry-standard equipment, world-class facilities, and experience working under experts in the field. Our graduates leave eligible for hire in Hollywood productions, government agencies, media companies, corporations, nonprofits, and media-producing churches.

Film education enhances your degree by giving you an employable skillset for your career. Choose between our Cinematic Arts Production minor—an immersive program where you'll collaborate on a film project from start to finish, and our traditional Cinematic Arts minor—a classroom-based program of five courses that you can take throughout your degree program.
---
Got Questions About Your Degree in Film Production?
---
State-Of-The-Art, Theatrical-Grade Film Equipment
Your Film Production and Content Development degree ensures that you could walk onto any production and feel at home, know what to do, and how to deliver. Here at Liberty, you'll train on cutting-edge tools, including RED cameras and a THX-certified dub stage.
Facilities and equipment include:
Grip Gear and Camera Accessories
---
Film Alumni Success
Get equipped with the technical skills and work ethic needed to be successful in a variety of careers. Alumni from the Cinematic Arts, Zaki Gordon Center have worked on a broad range of media projects, from commercials to studio movies and television series, with many of them earning IMDb film credits. While some of our graduates have gone into entertainment, others have used their knowledge and production experience to make their mark in the fields of education, government, medicine, ministry, and entrepreneurship.
Entertainment and Movie Industry Sets Where Film Alumni Have Worked
Jumanji: Welcome to the Jungle
Avengers: Infinity War
Guardians of the Galaxy: Vol. 2
Jurassic World: Fallen Kingdom
Divergent
Black Panther
Venom
Spiderman: Homecoming
Corporate and Christian Careers Where Film Alumni Have Worked
Universal Studios
Sony Pictures
Disney Studios
CNN
TBN
YouTube
CBN News
U.S. Department of Agriculture
Samaritan's Purse
Hear Their Stories: Where Film Alumni are Today and Why They Chose LU
---
Hear What Others Have to Say About Our Film Students
---