Austin Lewis

Curiosity and charisma could be called natural prerequisites to a successful career in entertainment. For Austin Lewis ('14), these traits have fostered not only a career but lifelong involvement that started when he was five years old. That's when he watched James Cameron's and Jon Landau's movie, Titanic. His world was never the same.
Driven by newfound wonder, young Lewis began exploring TV production. He participated in a commercial at age seven. He played with his father's camcorder and took apart cameras and home theater equipment. He studied music videos and compiled his own. Lewis recalls, "I loved to learn how things work as well as what you could do with those things."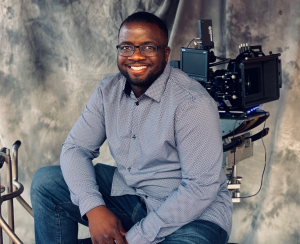 High school offered Lewis more exposure through its mass communications program. He gained experience in news broadcasting, news anchoring, and show running. In his senior year, his class traveled to New York and attended a taping of "The Tonight Show with Jimmy Fallon." They were invited to participate in the show's Wheel of Carpet Samples skit. Behind the stage, Lewis watched the show crew in awe: "I finally got to see people who were successful in living the dream I had in my head." Lewis won the skit contest and enjoyed some banter onstage with the show host. After the show, Jimmy Fallon encouraged Lewis to pursue his passion for show biz: "You're funny. You got it. Go for it."
Lewis went as far as Lynchburg, VA, where he could ponder his future while taking college classes. There he attended a guest lecture by Jon Landau, co-producer of Titanic. Lewis told Landau about the movie's impact on himself and asked for advice as he considered filmmaking. Landau said, "You should go for it."
So, Lewis went for it. At Liberty University, he became a founding member of its National Broadcasting Society. He did jobs for production companies and shot music videos on the side. He discovered the benefits of networking with people and building relationships. When opportunity brought him before an executive leader at LU, Lewis asked him to consider starting a film school; NBS was now 200 members strong, and many were interested in studying film. Several weeks later, LU established its new Cinematic Arts program. Lewis immediately enrolled.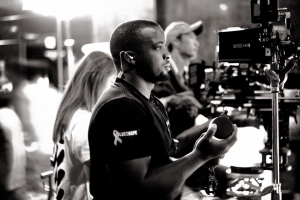 By the time he graduated in 2014, Lewis had experience in a few feature films, including The Erwin Brothers' Mom's Night Out. He took jobs in commercials, music videos, event tours, TV shows, and movies. He gained experience in several departments and developed a special interest in working as a first assistant cameraman and camera technician. By seizing these opportunities, he has pioneered some techniques and been mentored by respected masters of his trade, including Director of Photography Shane Hurlbut.
Lewis credits his success to two habits in the form of two notebooks that have enhanced his professionalism. One book, which he calls his "playbook," contains notes from every job he has done—observations of what went well and what failed as well as techniques he learned. He studies his playbook before every job. The other book is a list of contacts—professionals he has met and how he connected with them. Not only does it help him find potential work, it also allows him to foster meaningful, personal relationships—opportunities to support others.
As Lewis masters his profession and pursues his dream, he advises film students to start similar habits. After all, curiosity and charisma are not just talents but disciplines that pay dividends in the entertainment industry.
Dreamers, take note.