BFA in Film Production & Creative Development

Launch Your Film Career with the Residential B.F.A. in Film Production & Creative Development
Get ready for success in the film industry with a B.F.A. in Film Production & Creative Development from Liberty University. This professional degree program offers you a unique Christ-centered, story-centric film production experience. Be mentored by award-winning industry professionals using world-class production facilities. Our faculty members give you specialized, hands-on instruction in taking a story from concept to distribution.
Learn how to integrate your faith into all aspects of film production while you gain an understanding of:
Story development
Film pre-production
Production
Post-production
Distribution
Media law
Marketing
With your film B.F.A., you'll be prepared to perform well on any film set. As a student, you'll work as crew on a feature-film-level production produced for distribution. Our graduates receive up to two IMDb (International Movie Database) credits from crewing these films.
As a student, you'll have access to Liberty University's state-of-the-art production facilities and equipment to use for your thesis film. These include a certified THX Dubbing Studio, the DaVinci Resolve Coloring Suite, Wet Foley Recording Room, RED Epic Helium 8K cameras, ARRI HMI lights, Litepanels, and a robust wardrobe and props inventory.
The B.F.A. in Film Production & Creative Development is offered through the Cinematic Arts Department.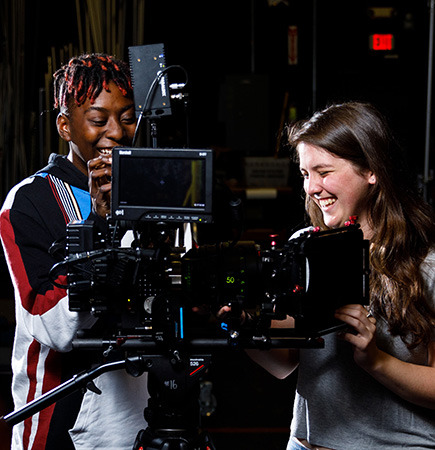 Why Get a BFA in Film Production?
Our BFA is a professional degree that allows you to gain skills in targeted focus areas while giving you practice in real-world film productions. With the BFA in Film Production & Creative Development degree from Liberty University, you'll get the experience and preparation needed to walk onto any film set and perform with excellence.
---
Start Your Journey in Film Production & Creative Development
---
---