BFA in Film Production & Creative Development

Launch Your Film Career with the Residential B.F.A. in Film Production & Creative Development
Get ready for success in the film industry with a B.F.A. in Film Production & Creative Development from Liberty University. This professional degree program offers you a unique Christ-centered, story-centric film production experience. Be mentored by award-winning industry professionals using world-class production facilities. Our faculty members give you specialized, hands-on instruction in taking a story from concept to distribution.
Learn how to integrate your faith into all aspects of film production while you gain an understanding of:
Story development
Film pre-production
Production
Post-production
Distribution
Media law
Marketing
With your film B.F.A., you'll be prepared to perform well on any film set. As a student, you'll work as crew on a feature-film-level production produced for distribution. Our graduates receive up to two IMDb (International Movie Database) credits from crewing these films.
As a student, you'll have access to Liberty University's state-of-the-art production facilities and equipment to use for your thesis film. These include a certified THX Dubbing Studio, the DaVinci Resolve Coloring Suite, Wet Foley Recording Room, RED Epic Helium 8K cameras, ARRI HMI lights, Litepanels, and a robust wardrobe and props inventory.
The B.F.A. in Film Production & Creative Development is offered through the Cinematic Arts Department.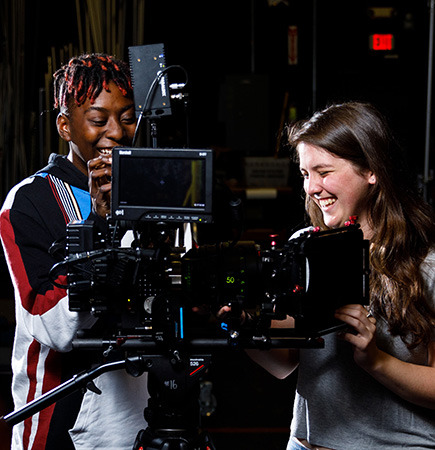 Why Get a BFA in Film Production?
Our BFA is a professional degree that allows you to gain skills in targeted focus areas while giving you practice in real-world film productions. With the BFA in Film Production & Creative Development degree from Liberty University, you'll get the experience and preparation needed to walk onto any film set and perform with excellence.
---
Start Your Journey in Film Production & Creative Development
---
Customize Your Degree in One of the Disciplines of Filmmaking Below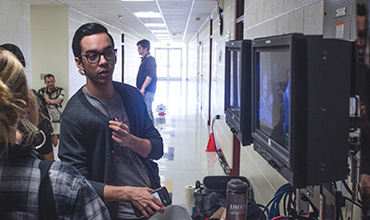 Producing
Build and manage a team of creative storytellers. From story concept to delivery and revenue streams, as a producer, you'll learn how to lead the process of content development.
Interested in learning more?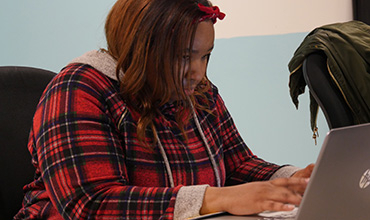 Screenwriting
Discover your voice and write for the big and small screen. Find out how to craft stories filled with engaging characters that produce a relatable message.
Interested in learning more?
Cinematography
Connect viewers to the story and shape their perspective. As a cinematographer, you'll learn how to reveal a story's truths and emotions through your use of the camera.
Interested in learning more?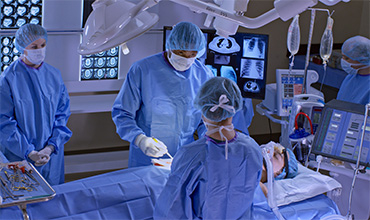 Production Design
Develop an eye for visual storytelling that provides context, continuity, meaning, and character to a multi-media narrative. As a production designer, your set, location, and prop aesthetics will create a stage for the story.
Interested in learning more?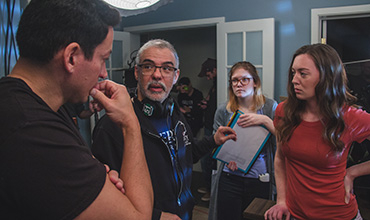 Directing
Bring stories to life as you grow in your understanding of cinematic craft. Learn how to motivate a cast and crew to fulfill your visions and make masterpieces.
Interested in learning more?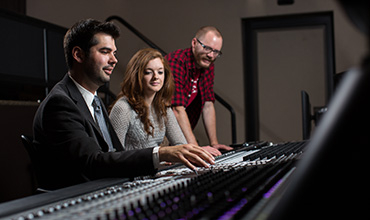 Sound Design
Acquire the skills to emotionally move an audience in ways that images cannot—ways that may even be subconscious to viewers. Learn how to listen to a movie and create sounds that will interpret a story.
Interested in learning more?
Editing
Gain a deep understanding of story elements and a mastery of the technology that can edit and deliver them as narrative works of art. Learn postproduction roles such as picture editing, visual effects, and sound mixing.
Interested in learning more?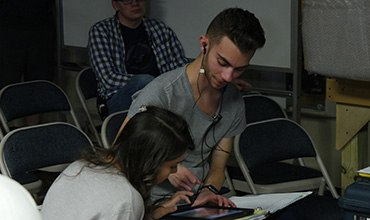 Showrunning
Great television series start with a pitch from a showrunner. Discover how to take a television series from an idea to a series and guide a story's development through multiple episodes.
Interested in learning more?
Visual Effects
Churches, corporations, the government, and non-profits need someone to create, manage, and deliver audio/visual content. Learn how to manage productions and create engaging content while informing targeted viewers.
Interested in learning more?
---
Don't See What You're Looking For?
Gain even more flexibility as you handpick classes that align with your interests and career goals.
Learn about our BFA in Film Production & Creative Development – Interdisciplinary degree.
---
---
This error message is only visible to WordPress admins
There has been a problem with your Instagram Feed.