Become an Advocate for Community Health with Liberty's Public Health – Community Health Promotion Degree
Improving the health of an entire community is no small task. Health professionals spend months researching their target area so they can understand the needs and create a plan that will be truly effective in improving the overall quality of life. If a career in this research-driven, impactful field excites you, a graduate degree in health promotion may be for you.
At Liberty, we offer a Master of Public Health (MPH) in Community Health Promotion to allow students like you to prepare for a job you are passionate about. Our program will help you develop the evaluation, communication, and management skills you will need to be successful. Let us equip you to confidently assess and assist communities in a career like no other. Public health is an exciting field for those who want to see their work create a better life for people who may not have the tools to help themselves.

Aside from increasing professional skills, our program is founded on the same biblical vision as our university, which is Training Champions for Christ. We do this by providing students will a Christian framework around the political, economic, cultural, and environmental issues surrounding the health field. We want to ensure that our students graduate with a degree displaying not only their academic and professional prowess but also their ability to critically and ethically evaluate situations so they can bring about greater outcomes. Go forward with confidence and integrity as you train with us for excellence in the field of public health.
---
Award-Winning Campus
At Liberty, you'll find an affordable, high-quality education that equips students like you for the real world. Our commitment to excellence helped us rank among Niche.com's Top 3 college campuses in America. Earning your degree from a nonprofit university with state-of-the-art resources like ours can help set you apart from your peers.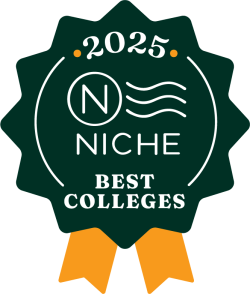 ---
Why Choose Liberty's Public Health – Community Health Promotion Master's Degree?
Our public health and health promotion graduate students are equipped with the tools they need to advance their professionals skills and prepare for the career field with confidence. By providing the best equipment, faculty, and training opportunities, our goal is to help you achieve your career goals in the area of public health.  
Start Training in Your Field before you Graduate
Throughout this degree, you will receive hands-on training with state-of-the-art industry equipment. We have classrooms fitted with video capture technology, models, and testing materials. You can use these resources to prepare for health fairs and curricular opportunities within the Lynchburg community!
Additionally, our public health master's degree students complete a 120-hour practicum within the program. This allows students like you to gain practical, professional skills and interactions with other health professionals. Graduate with a degree that prepares you with confidence to improve the health of others.
Train with the Best
We want you to thrive in your public health courses. That's why we are an established teaching university, meaning our degreed and experienced professors are in the classroom with you every week, teaching, guiding a mentoring you along your academic journey. As you complete your various field related projects, you will be led directly by faculty who are excited to help you succeed.
Our staff will also help you develop professional and mathematical competency, two major elements of success in the public health field. Additionally, they will help you utilize departmental tablets and analytics tools for research and coursework. Allow our faculty and their years of real-world experience to help shape you into the public health professional you aspire to be.  
In Addition, Liberty University has one of the largest accredited MPH programs in the U.S. Our Council on Education for Public Health (CEPH) accreditation means that you will be eligible for jobs in local government, federal government, and the military.
---
What Will You Learn in Our Master of Public Health in Community Health Promotion Degree?
By specializing in health promotion, you will study public health issues as they relate to community health promotion at the local, state, and national levels. You will learn how to research and gain data in order to create effective program plans and assessments.  Our health promotion students explore counseling, public campaigns, social media, and political processes to advocate for community health initiatives.
Through our health agency management course, you will receive leadership training so you are prepared to lead as an executive and/or program director of various organizations. You will develop skills in fundraising, budgeting, human rights, and emergency preparedness as a student in our health promotion track.
The core courses of this health promotion degree focus on foundational concepts like biostatistics, defining epidemiology, environmental health, research methods, and public health administration. By understanding the larger expanse of public health, you will have greater success in the field and more career opportunities.
View the Degree Completion Plan, and check out our featured courses below for more information!
Featured Courses
HLTH 630 – Principles of Community Health
HLTH 632 – Health Program Planning
HLTH 634 – Health Communication and Advocacy
HLTH 635 – Health Agency Management
---
Highlights of Our MPH – Health Promotion Degree
Liberty's public health programs are accredited by the Council on Education for Public Health (

CEPH

).

Join our LU Public Health Student Association to receive career and professional growth opportunities.
Potential certification in various areas of public health, such as becoming a Certified Health Education Specialist (CHES).
Explore over 20 teaching and research laboratories.
Our faculty are experienced in academia, industry, and government, holding doctoral degrees from leading institutions nationwide.

Immerse yourself in engaging research projects such as testing the impact of BMI on heart rate, implementing Biosand water filters in Rwanda, collecting data on stress and burnout in the health field, and more!
Public Health – Health Promotion Degree Information
Career Opportunities for Public Health and Health Promotion Graduates
Community Health Educator/Planner
Environmental Health Specialist
Health Advocate
Non-profit Organization Manager
Population Health Policy Coordinator
Product Safety Evaluator
Smoking Cessation Program Coordinator
Admission Requirements for Graduate Degrees
Every application is reviewed on a case-by-case basis, and all applicants must submit the following documents and meet the minimum requirements for admission:
Admission application
Unofficial college transcripts with a completed Transcript Request Form

Self-certification form (for students who are in the final term of their bachelor's degree)

Current Liberty undergraduate students seeking preliminary acceptance into a graduate program must complete a degree completion application through their ASIST account
A regionally or nationally accredited bachelor's degree with at least a 2.5 GPA for admission in good standing