Gain the Advanced Training You Need to Improve Lives With Our Nutrition and Wellness Master's Degree
Pursuing graduate studies requires dedication, time, and money. You want to earn a master's degree in a field you're passionate about. Perhaps you've spent years learning how to improve your own lifestyle, and you are now looking to help others do the same. If that's you, a rewarding career inspiring people to live healthier and happier lives is just a degree away!
Our M.S. in Exercise Science and Wellness – Nutrition and Wellness degree helps prepare students like you for health and wellness careers in commercial, university, hospital, military, and even ministry settings. The job opportunities in this field are constantly growing. Study with us to understand how to promote healthy living and eating habits, so you can increase the overall physical health of your family and friends, community, and clientele.
Whether you have already begun your career in health and wellness, or you are just getting started, earning a master's degree in exercise science is a great next step. Get ready to unleash your potential with courses that allow you to gain hands-on experience with industry leading professionals. Our faculty and facilities will be at your disposal, so you can walk away confident in your ability to promote your future clients' well-being.
Award-Winning Campus
At Liberty, you'll find an affordable, high-quality education that equips students like you for the real world. Our commitment to excellence helped us rank among Niche.com's Top 3 college campuses in America. Earning your degree from a nonprofit university with state-of-the-art resources like ours can help set you apart from your peers.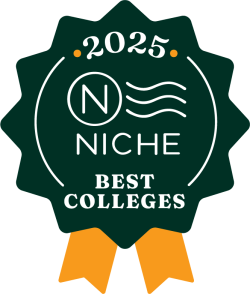 ---
Why Choose Liberty's Exercise Science and Wellness – Nutrition Master's Degree?
We tailor our exercise science and wellness degrees to working professionals so that graduate school is realistic for your lifestyle. Since you may be busy working or even supporting a family, we offer night courses once a week, as well as online classes. Let us help you find the right balance between classes, work, and family. This program also has no internship, thesis, or week-long intensive requirements. We know graduate students like you have a lot on your plate, so we do what we can to make our degrees as flexible as possible.
As a graduate student in our exercise science and wellness degree, you can grow through opportunities for hands-on experience by utilizing our:
---
What Will You Learn in Our Master's in Nutrition and Wellness Specialized Degree?
Our nutrition and wellness degree integrates public health concepts into the exercise science realm. You will study techniques used to measure physical activity, its effects on health, and strategies to promote physical activity in community settings.
The nutrition focus of this degree examines the relationship between genetics, chronic disease, and the role of medical nutritional therapy. You will develop a strong understanding of societal, family, and psychological influences on eating behaviors, as well. By recognizing all of these influencers relating to nutrition, you will better serve your community and clients as you create treatment and exercise plans designed to improve their quality of life.
Our exercise science courses provide an advanced understanding of research methods in the field. Learn how to apply your data analysis and research skills to exercise prescriptions for your clients' health and fitness needs. You will also gain access to our Functional Assessment Laboratory, which is equipped with functional assessment, strength training, and agility equipment, so you can train hands-on!
View the Degree Completion Plan, and check out our featured courses below for more information!
Featured Courses
EXSC 640 – Public Health and Physical Activity 
EXSC 650 – Promoting Physical Activity in the Community
HLTH 643 – Public Health Nutrition
HLTH 644 – Diabetes, Obesity, and Eating Disorders
---
Highlights of Our M.S. in Exercise Science and Wellness – Nutrition and Wellness Degree
You can complete this master's degree in as little as 2 years.
Join with peers through Liberty's Eta Sigma Gamma chapter to receive more career and professional growth opportunities.
Explore over 20 teaching and research laboratories, including the Health Promotion Lab, Human Performance Lab, Functional Assessment Lab, Athletic Training Lab, and our Standardized Patient Center.
Access to professional-level research equipment including a gene sequencer, tissue culture facility, fluorescent microscope, LICOR imager, and more!
Our faculty are experienced in academia, industry, and government, holding doctoral degrees from leading institutions nationwide.
Immerse yourself in engaging research projects where you could study algae biofuels, Alzheimer's disease, cancer, DNA analysis, crayfish parasites, and more!
Nutrition and Wellness Master's Degree Information
Career Opportunities for Nutrition and Wellness Graduates
Corporate, university, commercial, or resort fitness trainer
Exercise physiologist
Health care specialist
Medical fitness specialist
Nutrition and exercise specialist
Sports physiologist
Wellness coach
Admission Requirements for Graduate Degrees
Every application is reviewed on a case-by-case basis, and all applicants must submit the following documents and meet the minimum requirements for admission:
Admission application

Self-certification form (for students who are in the final term of their bachelor's degree)

Current Liberty undergraduate students seeking preliminary acceptance into a graduate program must complete a degree completion application through their ASIST account
A regionally or nationally accredited bachelor's degree with at least a 3.0 GPA for admission in good standing (a 2.5 to 2.99 GPA may grant admission on caution)
Undergraduate prerequisites (can be taken after admission):
Undergraduate physiology or exercise physiology for EXSC-510: Advanced Exercise Physiology
Undergraduate biomechanics or physics (or a similar course) for EXSC-550: Advanced Biomechanical Analysis
Undergraduate statistics or tests and measurements (or similar course) for EXSC-520: Statistical Analysis in Exercise Science
You also have the option of completing EXSC 505 if the required prerequisite courses have not been completed:
EXSC 505 – "an either/or" prerequisite requirement for EXSC 510, 520, and 550
EXSC 505 – used as an elective class on the MS in Exercise Science and Wellness DCP