Effectively Teach Your Future Students with Liberty's B.Ed. in Special Education
Do you have a heart for children with special needs? Maybe someone close to you has a disability, or you even feel called to help people who are struggling academically or socially. Whatever has led you to consider a career in this specialized field, our Bachelor of Education (B.Ed.) in Special Education will allow you to work with young students with disabilities to improve their quality of life in academic settings.
Our B.Ed. in Special Education is a teacher licensure degree that will equip you for licensure in special education and will prepare you for the general curriculum needs of your students. Our program is designed to meet Virginia state licensure requirements, allowing you to teach special needs students.
Let us come alongside you as you pursue a teaching career that truly makes a difference. We will help you develop the skills you need to work with parents and students, so you can be prepared to set your students up for success. If you feel like your calling is to teach special education, we have the degree for you.
Upon successful completion of Liberty University's Virginia state-approved Bachelor of Education program, you may apply for your teaching license in another state through reciprocity, which may or may not result in additional requirements based on your state's Department of Education regulations.
---

Award-Winning Campus
At Liberty, you'll find an affordable, high-quality education that equips students like you for the real world. Our commitment to excellence helped us rank among Niche.com's Top 3 college campuses in America. Earning your degree from a nonprofit university with state-of-the-art resources like ours can help set you apart from your peers.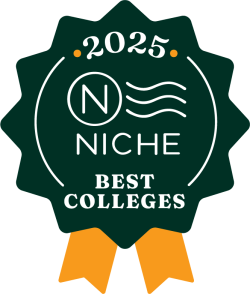 ---
Why Choose Liberty's Bachelor of Education in Special Education Degree?
Choosing to pursue teaching licensure through our special education program will grant you a host of exciting career opportunities. Liberty University's School of Education meets rigorous national standards for educator preparation set by the Council for the Accreditation of Educator Preparation (CAEP). This title assures students and employers about the quality of preparation our programs offer.
Our students have the chance to work with various professional and student organizations that fit their unique passions and career goals. For instance, are you looking to teach special education in an urban setting? We offer a residential Urban Education Club where you can partner with peers and professors who share your passion to better prepare for the field.
Additionally, you can choose to complete your student teaching in various locations around Virginia in addition to the heart of Washington, D.C.! We offer a Washington Fellowship program that allows you to spend a semester teaching in the Washington, D.C., public school system. This is an incredible way to test your knowledge and see how you feel about a teaching career in this type of setting.
---
What Will You Learn in Our Bachelor's Degree in Special Education?
Our B.Ed. in Special Education is designed to grant you teacher licensure. Because of the requirements involved in teacher licensure, your coursework will focus on a variety of different subjects from general studies to education.
You will complete foundational courses in math, history, English, and science to fulfill your need for content competencies. These include the major subjects that most elementary and middle school students will be learning. For instance, you will dive into principles of biology, composition and literature, geometry, and physics.
Once you start your special education courses, you will learn about the diversity of those with disabilities. By understanding how to manage the ranging severity seen in a class of children with disabilities, you will be able to create better behavior management and group inclusion for your students. Additionally, you will learn how to work with families to help students have a smooth educational experience, like the transition from middle school to high school.
Check out the Degree Completion Plan and featured courses below for more information on what you'll be studying!
Featured Courses
EDSP 363 – Behavior Management
Here's what you'll learn:
Instructional approaches and methods for managing behaviors effectively
Individualized, classroom, and school-wide behavior support, including functional behavior assessments and behavior support plans
General and special education strategies
EDSP 413 – Inclusive Planning for Diverse Learners
Here's what you'll learn:
How to apply intervention strategies for adapting curriculum materials and methods to fit individual needs in various school settings
How to differentiate instruction for students with mild and moderate disabilities
EDSP 473 – Transition Planning
Here's what you'll learn:
How to work with families to provide successful student transitions throughout the educational experience
Educational issues, independent living preparation, community living skills, and vocational preparation
EDUC 225 – Instructional Design for Elementary Classrooms
Here's what you'll learn:
A systematic approach to instruction for diverse classrooms including purpose, process, and practice
How to prepare and present lessons that follow the Liberty University model
Lesson topics include objectives, instructional process, systems of evaluation, and resources
Highlights of Our Bachelor of Education in Special Education Degree
Liberty University's School of Education meets rigorous national standards for educator preparation set by the Council for the Accreditation of Educator Preparation (CAEP).

Pursuing our Bachelor of Education licensure-tracks may make you eligible for the

Federal TEACH Grant

.

You will complete

90 practicum hours and at least 1 full semester of student teaching prior to graduation

.
The Educational Technology Lab provides students with resources, software, and equipment to help promote learning with technology.
All of our faculty who oversee licensure courses have K-12 experience and a current teaching license.
Get involved with professional and student organizations related to your career goals and expand your professional network.
You will have the opportunity to complete your student teaching in a variety of settings throughout Virginia or in the Washington, D.C., public school system through our Washington Fellowship.
Bachelor of Education in Special Education Degree Information
Residential format
121 total hours
Transfer in up to 75% of your total degree
Program falls under the School of Education

View the

Degree Completion Plan

Review the course catalog
Practicum and student teaching hours required for this degree
Background check required for licensure in this program
Career Opportunities for B.Ed. in Special Education Graduates
Early childhood special education teacher
Early intervention specialist
Special education advocate, program specialist, or teacher
Admission Requirements for Undergraduate Degrees
Every application is reviewed by the admission committee on a case-by-case basis, meaning there are no set minimums for acceptance. However, all applicants must submit the following documents* for admission:
Admission application
Official high school transcripts
Official college transcripts (if applicable)
Results from the CLT, SAT, or ACT are not required for admission, but may be used in consideration for merit-based aid.
Admission essay
*Note that additional documentation may be requested by the admission committee after your application has been received.