Pass the Gift of Language on to the Next Generation with the B.Ed. in Spanish Education P-12
Do you have a passion for learning languages? With Liberty's Bachelor of Education (B.Ed.) in Spanish Education, you can dig deep into your own studies of Spanish while learning how to pass your love of language to future students.
By earning a B.Ed. in Spanish Education, you are opening the door to careers outside of teaching as well. Twenty-one world governments list Spanish as their official language, making it extremely valuable in an increasingly connected global culture. Our teacher licensure track is designed to prepare you for Virginia-state licensure in teaching Spanish, but it can also prepare you for roles in business, tourism, and government that desperately need Spanish-speakers.
You can study and refine your Spanish, gain the skills and training you need to teach, and build toward your success in a global market. Our faculty of language experts can help you gain proficiency in Spanish while you develop skills that can prepare you for a career in education.
Upon successful completion of Liberty University's Virginia state-approved Bachelor of Education program, you may apply for your teaching license in another state through reciprocity, which may or may not result in additional requirements based on your state's Department of Education regulations.
---
Award-Winning Campus
At Liberty, you'll find an affordable, high-quality education that equips students like you for the real world. Our commitment to excellence helped us rank among Niche.com's Top 5 college campuses in America. Earning your degree from a nonprofit university with state-of-the-art resources like ours can help set you apart from your peers.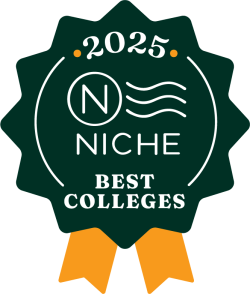 ---
Why Choose Liberty's B.Ed. in Spanish Education P-12 Degree?
Pursuing your teaching license is a big deal! We want to come alongside you and make the process as seamless as possible. Since true work experience is the best way to gain confidence as a teacher, we offer various practicum and student teaching opportunities to provide you with valuable classroom training.
Within our School of Education, we have a team dedicated to overseeing your practicum experience to ensure that you are prepared to take on a class full of students. You will have the chance to complete your student teaching in various locations throughout Virginia as well as in Washington, D.C., through one of our fellowship programs. Here, you'll see the urban school setting and stay in the heart of the district for an entire semester!
Our nation is desperate for teachers who are well-educated, enthusiastic, and compassionate toward their students. As one of the largest providers of teachers in the Commonwealth of Virginia, Liberty wants to help prepare you to teach with integrity and strong Christian ethics. Because as an educator, you have the chance to make a huge impact on the lives of children from all types of backgrounds. Prepare yourself for this responsibility by partnering with us.
---
What Will You Learn in Our B.Ed. in Spanish Education P-12?
There are so many facets to learning a new language. Our B.Ed. in Spanish Education provides you with a well-rounded Christian education as you become fluent in Spanish. Our professors want to see you succeed and work hard to create classes that cover a wide variety of language skill training.
Throughout this degree program, you will:
Explore translation and linguistic traits of both English and Spanish in order to understand how to translate a variety of texts.
Improve your knowledge of Spanish literature through a series of lectures, oral presentations, and selected writings.
Study the art of composition and writing in Spanish to improve your vocabulary and increase your fluency in the language.
In addition to the core courses within our B.Ed. in Spanish Education, you will study developmental psychology and second language acquisition, which will enable you to understand how students learn at different ages and how we all acquire language. As you study these subjects, you will also focus on your ability to teach and develop a curriculum as well as how to assess and measure the content you deliver to students. During your senior year, you will complete student teaching so you can turn the knowledge you have gained throughout your courses into wisdom that comes from practical application.
View the Degree Completion Plan, and check out our featured courses below to find out more about what you'll be studying!
Featured Courses
SPAN 302 – Advanced Spanish Composition and Conversation
This course will help you develop practical vocabulary and fluency in speaking and writing.
SPAN 310 – Introduction to Translation: Spanish-English
Here's what you'll learn:
An introductory comparison of linguistic traits of both languages
Applications for grammatical rules and textual analyses
How to use a number of translation procedures while translating a variety of texts from Spanish to English, including newspaper editorials, magazine articles, business reports, articles in the social sciences, advertisements, and more
SPAN 321 – Modern Spanish Literature
Through lectures, oral presentations, and selected readings in Spanish, this course provides a survey of modern Hispanic literature.
SPAN 330 – Introduction to Hispanic Linguistics
Here's what you'll learn:
This course serves as an introduction to phonetics, phonology, morphology, and syntax as applied to Spanish, and includes a study of the history of the language in its development from Latin into modern dialects.
This course is conducted entirely in Spanish and is required for Spanish teacher licensure.
Highlights of Our Bachelor of Education Degree
Liberty University's School of Education meets rigorous national standards for educator preparation set by the Council for the Accreditation of Educator Preparation (CAEP).
Pursuing our Bachelor of Education licensure tracks may make you eligible for the Federal TEACH Grant.
You will complete

90 practicum hours and at least 1 full semester of student teaching prior to graduation

.
The Educational Technology Lab provides students with resources, software, and equipment to help promote learning with technology.
All of our faculty who oversee licensure courses have K-12 experience and a current teaching license.
You will have the opportunity to do your student teaching in various locations throughout Virginia, including the Washington, D.C., public school system through our Washington Fellowship.

B.Ed. Degree Information
Residential
120 total hours
Transfer in up to 75% of your total degree
Program falls under the School of Education
View our course catalog
Practicum and student teaching required for this degree
Career Opportunities for Spanish Education Graduates
Civil services worker
Graduate student
Ministry translation specialist
Spanish teacher
Tutor
Writer
Admission Requirements for Undergraduate Degrees
Every application is reviewed by the admission committee on a case-by-case basis, meaning there are no set minimums for acceptance. However, all applicants must submit the following documents* for admission:
Admission application
Official high school transcripts
Official college transcripts (if applicable)
Results from the CLT, SAT, or ACT are not required for admission, but may be used in consideration for merit-based aid.
Admission essay
 *Note that additional documentation may be requested by the admission committee after your application has been received.