Gain the Teaching Credentials You Need to Bring the English Language Around the World
Have you ever dreamed of traveling the world using your command of the English language as a way to support yourself? As a licensed teacher of English as a second language, you can pursue more career opportunities and a higher salary than you might with only a bachelor's degree. Your degree can be valuable locally, nationally, and abroad. In fact, 22% of United States children between the ages of 5 and 17 do not speak English at home.*
Liberty University's Bachelor of Education (B.Ed.) in English as a Second Language (ESL) meets the shortage of qualified English as a Second Language teachers in the United States. It provides additional student teaching hours and the necessary developmental psychology and education classes needed for your license. By completing this program, you will gain a theoretical and practical understanding of second language acquisition and teaching methods and materials. 
Throughout this degree, you will learn about syntax and phonology of the major languages of the world and develop solutions to various problems involved in oral and written communications in mixed language and cultural settings. Teaching English as a second language (TESL) is a rewarding career that gives you the chance to learn about new cultures and share your own with people around the world. Liberty University is proud to offer this degree taught by professors who are grounded in their Christian faith and experienced in the field. Our B.Ed. in ESL degree program is a pathway to a rewarding career that can provide you with challenging and exciting opportunities.
Upon successful completion of Liberty University's Virginia state-approved Bachelor of Education program, you may apply for your teaching license in another state through reciprocity, which may or may not result in additional requirements based on your state's Department of Education regulations.
*Kids Count Data Center, The Annie E. Casey Foundation, at The Number of Bilingual Kids in America Continues to Rise (viewed online June 25, 2020).
---
Award-Winning Campus
At Liberty, you'll find an affordable, high-quality education that equips students like you for the real world. Our commitment to excellence helped us rank among Niche.com's Top 5 college campuses in America. Earning your degree from a nonprofit university with state-of-the-art resources like ours can help set you apart from your peers.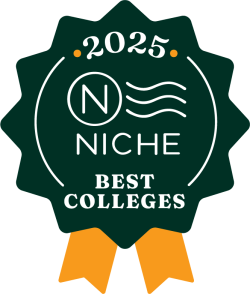 ---
Why Choose Liberty's B.Ed. in English as a Second Language Degree?
Pursuing your teaching license is a big deal! We want to come alongside you and make the process as seamless as possible. Since true work experience is the best way to gain confidence as a teacher, we offer various practicum and student teaching opportunities to provide you with valuable classroom training.
Within our School of Education, we have a team dedicated to overseeing your practicum experience to ensure that you are prepared to take on a class full of students. You will have the chance to complete your student teaching in various locations throughout Virginia as well as in Washington, D.C., through one of our fellowship programs. Here, you'll see the urban school setting and stay in the heart of the district for an entire semester!
Our nation is desperate for teachers who are well-educated, enthusiastic, and compassionate toward their students. As one of the largest providers of teachers in Virginia, Liberty wants to help prepare you to teach with integrity and strong Christian ethics. Because as an educator, you have the chance to make a huge impact on the lives of children from all types of backgrounds. Prepare yourself for this responsibility by partnering with us.
---
What Will You Learn in Our 6-12 B.Ed. in English as a Second Language Degree?
Our B.Ed. in English as a Second Language (ESL) provides all the training, knowledge, and skills you need to be successful in the classroom. You will learn about phonetics, syntax, and other parts of language acquisition as you study linguistics. The English language is constantly evolving, and our course in modern grammar will emphasize the modifications and transformations that come from modern culture and the influence of new generations upon the traditional structure and rules of English.
Understanding how students acquire a new language is very useful in the instruction of English. Learning how to teach in the 4 language areas of speaking, listening, reading, and writing across cultural and linguistic barriers is another skill you will gain. The knowledge you gain in these courses is reinforced through practical application in the practicum and student teaching courses. This is where you will put your knowledge to the test. You'll work in the classroom alongside a licensed teacher to establish the confidence and authority you need to be successful in the classroom.
Review the Degree Completion Plan, and check out our featured courses below to learn more about what you'll be studying!
Featured Courses
ENGL 333 – Modern Grammar
You'll learn about the nature, structure, and modifications of the English language with emphasis on traditional, structural, and generative-transformational types of grammar.
LING 301 – Introduction to Linguistics
Here's what you'll learn:
Choice of psycholinguistics, sociolinguistics, or language acquisition area of study

Introductory descriptive study of language including syntactic, morphological, phonological, semantic, and pragmatic analysis of language
TESL 403 – Second Language Acquisition
Here's what you'll learn:
A historical approach to perspectives on second language acquisition and proficiency
Strategies for second-language acquisition and assessment
TESL 405 – Issues and Practices in TESL 
Here's what you'll learn:
Assessment, error analysis, interlanguage, and teaching in the 4 language areas of speaking, listening, reading, and writing for a broad variety of Teaching English as a Second Language (TESL) contexts
Classroom practices in teaching English as a second or foreign language
Global context issues that inform these practices
Highlights of Our Bachelor of Education in English as a Second Language Degree
Liberty University's School of Education meets rigorous national standards for educator preparation set by the Council for the Accreditation of Educator Preparation (CAEP).

Pursuing our Bachelor of Education licensure-tracks may make you eligible for the

Federal TEACH Grant

.

You will complete

90 practicum hours and at least 1 full semester of student teaching prior to graduation

.
The Educational Technology Lab provides students with resources, software, and equipment to help promote learning with technology.
All of our faculty who oversee licensure courses have K-12 experience and a current teaching license.
Get involved with professional and student organizations related to your career goals and expand your professional network.
You will have the opportunity to complete your student teaching in a variety of settings throughout Virginia or in the Washington, D.C., public school system through our Washington Fellowship.
B.Ed. in ESL Degree Information
Career Opportunities for B.Ed. in English as a Second Language Education 6-12 Graduates
Academic coordinator
English as a second language school teacher
Head teacher at an English language institute
TESL curriculum planner
TESL teacher
Admission Requirements for Undergraduate Degrees
Every application is reviewed by the admission committee on a case-by-case basis, meaning there are no set minimums for acceptance. However, all applicants must submit the following documents* for admission:
Admission application
Official high school transcripts
Official college transcripts (if applicable)
Results from the CLT, SAT, or ACT are not required for admission, but may be used in consideration for merit-based aid.
Admission essay
*Note that additional documentation may be requested by the admission committee after your application has been received.