Bring Godly Wisdom and Comfort to Those in Need with an M.Div. in Professional Chaplaincy
Chaplains provide spiritual guidance, comfort, and non-denominational religious services to those who are in need. The work environment chaplains might find themselves in can vary from healthcare, prisons, corporations, schools, or the military.
Liberty University's Master of Divinity in Professional Chaplaincy degree program provides broad-based biblical and theological training that is needed for a variety of environments. You will learn how to effectively provide emotional and spiritual support to those in need. Through our M.Div. training, you can gain the ability to reach out to believers and bring non-believers into the welcoming arms of Christ.
Accreditation
Your divinity degree is approved by the Commission on Accrediting of the Association of Theological Schools (ATS) and has met rigorous accreditation standards. You can feel confident that your degree is both academically excellent and well-respected among churches, ministries, and nonprofit organizations.


Award-Winning Campus
At Liberty, you'll find an affordable, high-quality education that equips students like you for the real world. Our commitment to excellence helped us rank among Niche.com's Top 5 college campuses in America. Earning your degree from a nonprofit university with state-of-the-art resources like ours can help set you apart from your peers.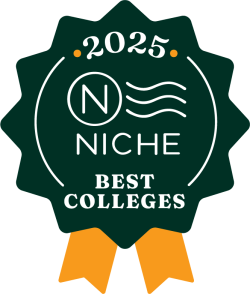 ---
Why Choose Liberty's Master of Divinity in Professional Chaplaincy – General Degree?
Liberty University's chaplaincy degree is designed to help prepare you for chaplaincy ministry in Christian settings but also qualify for the unique opportunities for chaplains in secular institutions, businesses, college campuses, sports organizations, and first response. The faculty members in our John W. Rawlings School of Divinity can help equip you for success in ministering to the spiritual health of others. Additionally, we have partnered with local churches and parachurch organizations to provide hands-on experience. In fact, local church ministry training is embedded within our programs.
If you have prior ministry experience, or if you previously pursued an accredited seminary degree, you may be able to receive course credit through our transfer evaluation or Institutional Challenge Exams. Our Master of Divinity in Chaplaincy will prepare you for the challenge and mission of bringing the word of God to those who are unable to travel to a formal setting themselves.
---
What Will You Learn in Our M.Div. in Professional Chaplaincy – General Degree?
Our Master of Divinity in Professional Chaplaincy provides the training and professional development you need to serve in a variety of ministry settings. Throughout this degree, you will learn how to apply your knowledge and skills to the secular and pluralistic contexts that you might encounter in the military, healthcare, and community settings. You will also receive language and interpretation skills that are taught in the core Master of Divinity courses.
You can also acquire the fundamental leadership principles that will enable you to go into the community and minister to those in need. Special attention will be paid to the ethical dilemmas that may arise in the different environments you encounter as a chaplain. In addition, you will learn how to exercise your own faith in a setting that is pluralistic.
Additionally, you have the option of completing two units of Clinical Pastoral Education (CPE) as a part of this program. This experience provides supervision under a Liberty-trained mentor to develop your ability to provide pastoral care from your faith-based tradition. You can be assured that upon graduation you will have the training and confidence to be an effective force for good in the world.
Review the Degree Completion Plan, and check out our featured courses below to learn more about what you'll be studying!
Featured Courses
CHPL 598 – Spiritual and Professional Development of the Chaplain
CHPL 615 – Chaplain Ethics for Advisement and Pastoral Care
GLST 650 – Intercultural Communication
LEAD 510 – Biblical Foundations of Leadership
Highlights of Our Master of Divinity Degree
Monday-only classes for master's programs allow students to complete large portions of their M.Div. degree by only attending class one day a week.
We have a state-of-the-art homiletics/teaching lab in our School of Divinity building.
Study under theologians and missionaries with real-world experience in the M.Div.'s web-based content developed by Liberty University's John W. Rawlings School of Divinity.
Institutional Challenge Exams (ICE) are available to test out of foundational biblical and theological studies content for the M.Div. program.
Our Scriptorium houses the Rawlings Foundation rare books collection valued at over $1 million, a 111 ft.-long Torah scroll that dates to the 16th century, and a functioning replica of the Gutenberg Printing Press.
You will have the option of completing two units of Clinical Pastoral Education (CPE) as a part of your program.
Local church ministry training is embedded within our programs.
We provide experiential learning opportunities through church and parachurch ministries.
Master of Divinity – Professional Chaplaincy Degree Information
Potential Career Options with a Degree in Professional Chaplaincy
Corporate chaplain
First responder chaplain
Law enforcement chaplain
Military chaplain
Admission Requirements for Graduate Degrees
Every application is reviewed on a case-by-case basis, and all applicants must submit the following documents and meet the minimum requirements for admission:
Admission application
Official bachelor's degree transcripts with a 2.0 GPA or higher
Self-certification form for students in the final term of their bachelor's degree
Current Liberty undergraduate students seeking preliminary acceptance into a graduate program must complete a degree completion application through their ASIST account