Explore the World of Literature, Writing, and History with Our Bachelor of Arts in English Degree
You're passionate about stories and the truth they share about people, cultures, history, and God. Liberty's Bachelor of Arts in English degree will give you the education you need to turn your passion into marketable skills you can use to share God's truth with the world. In our bachelor's of English program, you can learn to think deeply, analyze a variety of perspectives from a biblical worldview, and share truth through academic and artistic writing.
At Liberty, our mission is to prepare you to impact the world for Christ, wherever God calls you, and we expect our faculty to do the same. In addition to contributing to their field, our English professors are difference-makers who have published works speaking out against injustice, defending the Christian faith, and challenging believers to think more critically in distinguished publications such as Christianity Today, The Atlantic, and The Washington Post. In our English bachelor's degree program, you will learn how to use your analysis and writing skills to become a Champion for Christ whether you choose to serve in the classroom, through publishing or in the public sphere.
Award-Winning Campus
At Liberty, you'll find an affordable, high-quality education that equips students like you for the real world. Our commitment to excellence helped us rank among Niche.com's Top 5 college campuses in America. Earning your degree from a nonprofit university with state-of-the-art resources like ours can help set you apart from your peers.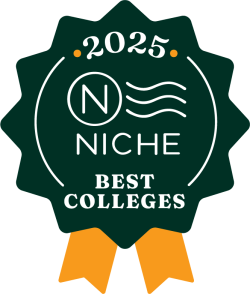 ---
Why Choose Liberty's Bachelor's Degree in English?
Our English department offers opportunities for publication, internships, and studying abroad while maintaining a close community that encourages and supports you throughout your degree program. Your professors and classmates will know you by name, pray for you, and mentor you so you, in turn, can reach out to others. Choosing Liberty University's bachelor's of English degree program offers a unique experience demonstrating what it means to have a Christian academic community helping you reach your goals and achieve excellence.
As one of the largest Christian colleges in the nation, we have the resources you need to make the most of your bachelor's degree. With programs like our Washington Fellowship, you can intern with organizations like Fox News, Bloomingdale's, or the White House; gain teaching experience in city schools; and even work with members of Congress. For students who excel academically, we provide additional support and community through our Honors and Eagle Scholars programs so you can develop your leadership skills and make the most of your academic achievement.
---
What Will You Learn in Our B.A. in English Degree Program?
Our English bachelor's degree provides training in literary studies, preparing you with the analysis, synthesis, and writing skills you need to understand, integrate, and communicate information to any audience. In our undergraduate English program, you will take classes that focus on different aspects of literature, such as an author, genre, or literary period. With options ranging from Victorian literature to Christian fantasy and African American literature, you can choose the classes that excite you the most.
Additionally, our bachelor's in English degree is designed to teach you the skills you need for success, whether you intend to pursue a career in law, with a publishing company, or earn your master's degree in English. Our faculty members take diverse approaches to literature, exposing you to different viewpoints and methods of interpretation. When you choose to earn your B.A. in English from Liberty University, you are choosing a degree that gives you a thorough understanding of literature from a biblical perspective, teaching you how to approach difficult topics and questions with discernment while communicating the truth in love.
Featured Courses
ENGL 301 – Ancient Literary History
In this class, you will study the development of world literature from creation myths to the Renaissance, focusing on the distinctive artistic aspects and values of each culture's literary masterpieces. You will discover how the original cultural context of a work impacted its creation and depiction of characters, events, and other cultures and how this work in turn influenced future authors.
In this option for your literary genre class, you will discover the origins of the novel in British literature, its defining characteristics, and trace its development over time. You will also learn how different periods and authors influenced the novel's depiction of the individual and society, creating the novel as we understand it today.
ENGL 416 – Creative Writing
In this option for your writing focused class, you will study the artistic process of crafting a story. Concentrating specifically on developing your creative writing skills in literary short fiction, this class gives you tools and experience you can draw on for crafting creative works in any literary genre. This class is recommended for students who intend to submit to Liberty's literary journal Lamp.
ENGL 433 – Literary Criticism
In this class, you will study the major theories behind literary interpretation and their development throughout history. You will explore contemporary literary philosophies such as psychoanalytic, feminist, and Marxist criticism while analyzing these theories from a biblical worldview. This class is designed to teach you the different approaches to discovering meaning in a text and help you form your own personal method for interpretation.
Highlights of Our Bachelor's in English Degree Program
In our B.A. in English program, you will learn from experienced professors who are industry leaders with publications in the field.
Your professors care about you as an individual and are dedicated to giving you the support and mentorship you need.
You will have opportunities to showcase your work at conferences around the country.
Our chapter of Sigma Tau Delta provides a variety of professional development opportunities.
You can be published in our literary journal Lamp.
Our English bachelor's degree program produces graduates of distinction who have been published in scholarly journals like the University of Dallas' Ramify, achieved lead writing roles in television series, received admission into Harvard Law School, and founded the Harvard Debate Council Diversity Project.
Our English Bachelor's Degree Information
Career Opportunities for Our B.A. in English Graduates
Although our bachelor's of English program provides you with the analytical and writing skills you need to excel in fields from public relations to ministry, our graduates typically pursue careers in areas such as:
Editing and journalism
Legal studies
Marketing
Professional writing
Publishing
Secondary and higher education
Admission Requirements for Undergraduate Degrees
Every application is reviewed by the admission committee on a case-by-case basis, meaning there are no set minimums for acceptance. However, all applicants must submit the following documents for admission:
Admission application
Official high school transcripts
Official college transcripts (if applicable)
Results from the CLT, SAT, or ACT are not required for admission, but may be used in consideration for merit-based aid.
Admission essay
*Note that additional documentation may be requested by the admission committee after your application has been received.