Simulation Center Standardized Patients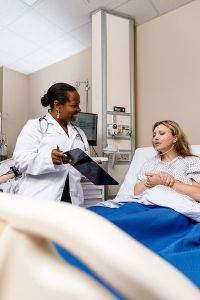 According to The Association for Standardized Patient Educators, Standardized patients are individuals who are trained to portray a patient with a specific condition in a realistic, standardized, and repeatable way.
Standardized patients are used for teaching and assessment of learners including but not limited to history/consultation, physical examination, and other clinical skills in simulated clinical environments.
Standardized patients are used to give feedback, and evaluate student professionalism. They provide constructive feedback to learners from the unique perspective of the patient, to students at all levels of training, and in multiple health disciplines.
The use of standardized patients is incorporated across all program curriculum. Standardized patients are compensated with an hourly pay rate.
---
Contact
To become a Standardized Patient, contact Lisa Foote, Executive Director of Simulation and Standardized Patients.