Services
Inclusive Access Drop-In Support
Center for Academic Development is now offering drop-in support to assist faculty who are involved with the inclusive access initiative.  Preferred vendors (Cengage and McGraw-Hill) now have a physical presence within the Teaching Excellence office, DeMoss Hall 3066.  Lifeway and VitalSource have support webpages.  Additional drop-in support includes an in-office Instructional Designer who can help consult on course and assessment design, a Bb and Canvas Specialist who can aide in LMS support and planning, an Educational Technologist who can help implement approved technologies, and Teaching support who can help plan professional development and/or improved pedagogical approaches.  Some services include:
Course Analysis and Review
Course Materials Examination and Planning
Meet with In-office Preferred Vendors (Cengage and McGraw-Hill)
Textbook Selection
Supplemental Materials Selection
Course and Assessment Design
SME Training
Planning Adjunct Instructor Professional Development and Training
Teaching Analysis Polls (TAPs)

TAPs are a way for faculty to receive student feedback mid-semester before End of Course Evaluations.
How TAPS work:
At the beginning of the last 30 minutes of class, the teacher introduces the Teaching Consultant and leaves. The Teaching Consultant breaks the students up into groups, queries the groups, and builds consensus to the following questions:
1. What most helps you learn in this class?
2. What impedes your learning in this class? (And, if
something impedes, what is a solution?)
After class, the teacher meets with the Teaching Consultant to debrief.
TAPs are a confidential service provided to Liberty University faculty by the Center for Teaching Excellence. Interested faculty should schedule their TAP by emailing CTE@liberty.edu.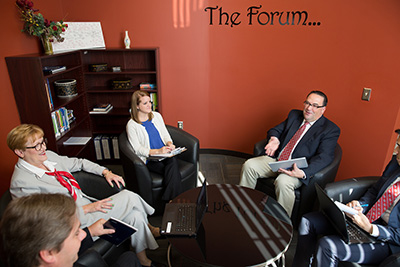 Workshops
Instructional Strategies
Implementing Technology
Teaching Large Classes
Teaching Online
Assessing Learning
Student Engagement
Integrating Faith with Learning
Early Career Requirements
Residential Canvas
Scholarship of Teaching & Learning
Residential Faculty Learning Management System Assistance
Teaching with Technology (TWT) Boot Camp
Teaching Consultations
Teaching Tips
Adding Relevance
Active Learning
Teaching Large Classrooms
Teaching Military Students
Student Motivation
Assessment of Learning
Teaching Well with Technology
Faith Learning Integration
Brown Bag Luncheons
Workshops
Consultations
Resources
Minimal Technical Competency Assistance
Interdisciplinary Conversations & Roundtable Discussions
Communities of Practice
Book Discussion Groups
Writing Group
Brown Bag Luncheons
Faculty Resources
Scholarship of Teaching & Learning
List of Teaching Conferences
Lending Library
Teaching Awards
Grants for Teaching
Teaching Resources
Faith Learning Integration Gallery
President's Awards for Excellence in Teaching
Residential and Online, Undergraduate and Graduate
ILLUMINATE Grants for the Improvement of Teaching
Teaching with Technology Training/Consultations
Graduate Student Assistants
GSA Teaching/Training Workshops
Residential Blackboard and Canvas Assistance
Certificate of University Teaching
GSA Roundtables
Faculty Orientation/Professional Development
New Faculty Orientation
All Faculty Orientation/Institute for Student Success
January Professional Development
Publishers' Week
Facilities Available for Professional Development Activities
Training Classroom
Small-Group Forum
Teaching Observations Available
The Center for Teaching Excellence provides confidential teaching observations at the faculty member's request.  A teaching observation provides feedback from an objective, experienced observer with the overall goal of improved teaching practice. Observations typically constitute a pre-observation conference, an informal observation, and a post-observation debriefing.  General observations examine:
Preparation, structure, and organization
Faith learning integration
Clarity, understandability, and relevance
Presentation skills, enthusiasm, and presence
Discussion and questioning techniques
Integration of technology
Student engagement
Classroom command and control
Assessment of learning
Documentation of teaching excellence for teaching awards external to Liberty University
Results
The Center for Teaching Excellence shares the results confidentially with the faculty member only; it does not share its findings, comments, or suggestions with any outside entities (e.g. chairs, deans, committees).  It provides the participating faculty member with a brief written summary of its observation, as well as suggestions for pedagogical improvement.
Schedule
To schedule an instructional consultation or teaching observation, please email us at CTE@liberty.edu.
---
Confidentiality Statement
The Center for Teaching Excellence promotes teacher reflection, interdisciplinary conversations, the integration of technology and innovative pedagogies, and the advancement of excellence in classroom instruction.  The center's purpose is to assist, rather than to assess, in the continued pursuit of perfecting the craft of teaching and learning.  All practices follow the ethical guidelines established by the Professional and Organization Development Network in Higher Education.  The center is a confidential resource for the faculty.  To this goal:
The Center for Teaching Excellence does not participate in "formal" evaluations, nor does it share information about faculty to anyone who evaluates them.
The Center for Teaching Excellence does not share the names or other information about who it observes or consults.
The Center for Teaching Excellence does not share the results of its observations, consultations, findings, or suggestions.
The Center for Teaching Excellence protects the confidentiality of conversations that occur with faculty and staff.