Prepare for a Career in Healthcare with Liberty's Respiratory Therapist Degree
Are you passionate about helping people in their time of need? Do you want to launch a career in healthcare without necessarily becoming a nurse or doctor? If that sounds like you, Liberty's B.S. in Respiratory Therapy (BSRT) can help!
In our respiratory therapy bachelor's program, you will explore core topics in respiratory care and learn how to serve your patients with grace, empathy, and skill. Our goal is to help you become a respiratory therapist who can make a difference in your community — and beyond.
Are you ready to pursue your goal of working in respiratory rehabilitation and therapy? If so, apply today! We can help you gain the credentials, experience, and training you need to prepare for a career in this booming field.
If you already have a Registered Respiratory Therapist (RRT) credential, Liberty's online B.S. in Respiratory Therapy – RRT to BSRT may be the best fit for you.

---
Award-Winning Campus
At Liberty, you'll find an affordable, high-quality education that equips students like you for the real world. Our commitment to excellence helped us rank among Niche.com's Top 3 college campuses in America. Earning your degree from a nonprofit university with state-of-the-art resources like ours can help set you apart from your peers.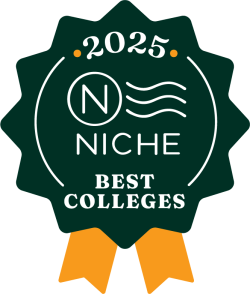 ---
Why Choose Liberty's Respiratory Care Degree?
Liberty University's respiratory therapy education degree can help you stay up-to-date with current practices and trends in the healthcare field. You can develop the skills needed to address major challenges in respiratory care and navigate moral issues in your career.
Our respiratory therapist courses provide a blend of theoretical and hands-on training. You'll participate in various seminars, labs, and clinical training courses. That way, you can apply what you've learned to the real world and further hone your expertise!
Our mission is to Train Champions for Christ, and all of our courses are taught from a biblical perspective. Throughout our respiratory therapy college program, you will learn how to incorporate ethical principles with industry best practices. That's what makes Liberty unique. We want to help you use your skills in service to God and others. You won't just get a degree — you can prepare to make a difference in the lives of those around you.
We want you to have a fulfilling social life while you're here on campus. We offer weekly convocation services, campus church, and small groups meant to help foster your spiritual life. Liberty is also home to over 100 student-led clubs! You'll have many opportunities to get plugged in, explore your interests, and connect with other students.
Upon graduation, you can be well-prepared to do the following:
Sit for national board exams for certification.

Become registered as a respiratory therapist.

Take specialty exams in perinatal/pediatric care and pulmonary function technology.
If you are looking for a growing career that is full of opportunities, then respiratory therapy is a great choice. The projected job growth for respiratory therapists is 14%* from 2021 to 2031. That is much faster than average for other careers. 
*Bureau of Labor Statistics, U.S. Department of Labor, at Respiratory Therapists (viewed online Feb 8, 2023). Cited projections may not reflect local and/or short-term economic or job conditions and do not guarantee actual job growth.
What is respiratory therapy?
How much do respiratory therapists earn?
CoARC Accreditation
Liberty University's B.S. in Respiratory Therapy residential program holds Provisional Accreditation from the Commission on Accreditation for Respiratory Care (CoARC). See Liberty's accreditation page for more information.
The CoARC's outcomes webpage https://coarc.com/students/programmatic-outcomes-data/
CoARC accredits respiratory therapy education programs in the United States. To achieve this end, it utilizes an 'outcomes-based' process. Programmatic outcomes are performance indicators that reflect the extent to which the educational goals of the program are achieved and by which program effectiveness is documented.

---
What Will You Learn in Our B.S. in Respiratory Therapy Program?
Our respiratory therapy courses cover topics like medical terminology, pharmacology, equipment and techniques, artificial ventilation, and pulmonary disease management. You will also learn how to treat various populations and provide proper care to your patients.
At Liberty, you'll learn from the best. Your clinical training will take place under the supervision of a preceptor. Additionally, you'll study under faculty who have years of experience in healthcare and respiratory therapy. You will also get to network with healthcare professionals as you train with therapists, physicians, and nurses.
Our respiratory therapist education program is designed to help you prepare to do the following:
Administer therapeutic inhaled gases like oxygen, nitric oxide, and helium.

Analyze breath and blood specimens.

Educate patients and families about lung disease.

Help diagnose lung and breathing disorders.

Manage ventilators and artificial airway devices.

Perform airway clearance therapy.

Perform physical exams.

Provide inhalation medications.

Respond to Code Blue and other urgent calls.
View the Degree Completion Plan, and check out our featured courses below for more information about what you'll be studying in our respiratory therapist program!
Featured Courses
RESP 302 – Respiratory Care Equipment and Techniques
Here's what you'll learn:
Study and clinical application of respiratory care equipment utilized in the hospital setting
RESP 320 – Neonatal Respiratory Care
Here's what you'll learn:
Theories, procedures, and equipment applicable to the delivery of respiratory therapy in neonatal care
RESP 324 – Respiratory Pharmacology
Here's what you'll learn:
Preparation, calculation of dosages, mixtures, and general principles of pharmacology

The physiologic and pharmacologic basis of cardiopulmonary medications

Various drug groups related to the cardiopulmonary system
RESP 408 – Pulmonary Disease Management
Here's what you'll learn:
Study of etiology, pathophysiology, diagnosis, treatment, and prognosis of common pulmonary diseases and conditions
Highlights of Our Bachelor's in Respiratory Therapy School Program
Learn how to operate many of the same tools used by industry professionals.

Gain hands-on experience by completing labs and clinical education courses.

Receive respiratory therapist training from faculty with years of experience in academia and the professional world.

Analyze science from a biblical perspective and train to lead as a

Champion for Christ

in your future career.
Study Respiratory Therapy at Liberty University!
What Can You Do with a Respiratory Therapy Degree?
A bachelor's degree in respiratory care can help you pursue a variety of career paths. Respiratory therapists typically work in a variety of areas, such as:
Adult critical care

Generalist care

Home care

Neonatal/pediatric care
Pulmonary/cardiac rehabilitation

Pulmonary function testing

Sleep medicine

Transport
Other roles you may qualify for after completing this BSRT degree include:
Case manager

Clinical specialist

Director
Disease manager

Researcher

Supervisor
Admission Requirements for Liberty's Undergraduate Degrees
Every application is reviewed by the admission committee on a case-by-case basis, meaning there are no set minimums for acceptance. However, all applicants must submit the following documents* for admission:
Admission application
Official high school transcripts
Official college transcripts (if applicable)
Results from the CLT, SAT, or ACT are not required for admission, but may be used in consideration for merit-based aid.
Admission essay
*Note that additional documentation may be requested by the admission committee after your application has been received.
---
Admission Requirements for Our Residential BSRT Program
Selection Process (Entry to Practice)
The residential Respiratory Therapy program is both competitive and selective. You'll go through 2 application processes following the pre-professional phase of the program. Initial acceptance will only occur after final grades for the freshman spring semester are confirmed by the Registrar's Office. Due by April 15 to the RT Program Director. Full acceptance is considered following our receipt of your final grades for the sophomore year.
For more detailed information on the Bachelor of Science in Respiratory Therapy residential program, please see our BSRT Handbook.
Information and Forms Needed After Acceptance into the BSRT Program 
The following are forms and information that are vital to your acceptance into and continuation of the Respiratory Therapy program.
---
Application Form (Current LU Students Only)
If you are accepted into the Respiratory Therapy program and have an LU account, please use this link to the application:

https://www.liberty.edu/RTApplication

.

Forms that need to be uploaded with application:

Essential Functions (This form states that you understand the essential functions needed to be a respiratory therapist and participant in this program.)
Confidentiality Agreement (This form signifies that you will protect the confidentiality of patients.)
---
Background Check
---
BSRT Handbook
---
Other Forms Needed for the BSRT Program