Pursue a Career in Communications that Offers More with Liberty's Integrated Communication Degree
You deserve a college degree that provides career flexibility, confidence, and real-world experience in your field. Let us help take your skill set and interests further. Do you enjoy working in a team, looking at a problem from all angles, and creating innovative ideas to solve problems? If so, our bachelor's degree in integrated communication may be a great fit for you!
What exactly does integrated mean in relation to communication? With us, it means learning how to design, develop, and execute targeted communication plans. Throughout this degree, you will examine how to use these to help businesses develop sound relationships with customers, suppliers, vendors, and affiliates. Your ability to create these strategies will help meet customer needs by creating strong customer relationship management systems.
With this knowledge and industry skillset, you'll be ready for an incredibly diverse range of managerial roles, including corporate communication, content development, brand management, and customer relationship management. An exciting career in the ever-expanding field of communications is calling your name.
Award-Winning Campus
At Liberty, you'll find an affordable, high-quality education that equips students like you for the real world. Our commitment to excellence helped us rank among Niche.com's Top 3 college campuses in America. Earning your degree from a nonprofit university with state-of-the-art resources like ours can help set you apart from your peers.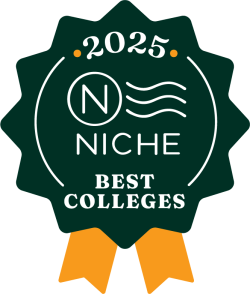 ---
Why Choose Liberty's Integrated Communication Degree?
In a field as fast-paced and evolving as communications, prospective graduates will need more than just collegiate experience. At Liberty, we want to provide as many hands-on, experiential learning opportunities as we can to help students like you feel confident and equipped to stand out to future employers.
Résumé Builders
Not only will you learn hands-on with state-of-the-art equipment, but you will also get opportunities to connect and network with your peers and professors.
Become a member of our Public Relations Student Society of America (PRSSA) team to hear from successful alumni and other industry professionals.
Join our Innovations PR firm and work with like-minded students as you produce content for clients like Freedom Aviation, Operation Christmas Child, and political organizations.
Spiritual Mentorship
As you grow under professors who deeply care about your success, you will also have the chance to receive spiritual mentorship.
Our campus has departments committed to praying for each student by name and providing guidance and support throughout their time at Liberty.
Your residence hall's leadership team will meet with you one-on-one in a discipleship style designed to grow you into the leader God has called you to be.
---
What Will You Learn in Our Communication: Integrated Communication Degree Program?
In addition to our core classes in persuasion, media writing, problem-solving, and public speaking, Liberty's integrated communication specialization provides courses that will help you create a niche for yourself within the field.
This specialization track will focus on training in graphic design, business marketing, speech communication, and strategic communication. These classes will help you develop knowledge in business management and marketing while equipping you with the digital design tools you'll need to create strong communication material. You will also learn how to create and implement events, crisis communication, and strategic relations plans to help companies be better prepared for all the situations they will encounter.
View the Degree Completion Plan, and check out our featured courses below to learn more about what you'll be studying!
Featured Courses
BUSI 310 – Principles of Management
Here's what you'll learn:
Management requires a balance between social (people) and technical (quantitative) perspectives, as well as between efficiency and effectiveness.
This course emphasizes the application of these perspectives in each of the planning, organizing, leading and controlling functions.
SCOM 430 – Event Planning and Communication Coordination
SCOM 490 – Crisis Communication and Negotiation
---
Highlights of Our Integrated Communication Degree Program
Our B.S. in Communication – Integrated Communication degree is a part of the School of Communication and the Arts. As a student of this department, you will receive the following benefits:
The curriculum focuses on experiential and hands-on learning.
Learn and train on over $1 million in state-of-the-art equipment and facilities!
Build your professional portfolio while working in our radio and television studios, on-campus sports network, client promotional projects, and our student-run public relations firm and school newspaper.
Our degrees are career-focused. All of our instructors have both academic and professional credentials with many of them working in their field as they teach. Be confident that you are getting an excellent education taught by current industry professionals.
As a nonprofit, Christian university, we aim to help train the next generation of media professionals with unshakable ethics grounded in the Christian faith.
Admission Requirements for Undergraduate Degrees
Every application is reviewed by the admission committee on a case-by-case basis, meaning there are no set minimums for acceptance. However, all applicants must submit the following documents* for admission:
Admission application
Official high school transcripts
Official college transcripts (if applicable)
Results from the CLT, SAT, or ACT are not required for admission, but may be used in consideration for merit-based aid. 
Admission essay
*Note that additional documentation may be requested by the admission committee after your application has been received.
Communication in Integrated Communication Degree Information
Career Opportunities for Communication Bachelor's Degree Graduates
Liberty University's Bachelor of Science in Communication: Integrated Communication degree prepares you for the following occupations:
Branding/marketing coordinator
Content developer
Corporate communication director
Customer/vendor relationship manager
Non-profit communications
Sales associate