Gain the Counseling Tools You'll Need for an Effective Ministry
If you are looking to take the next step in your academic or career journey and have a desire to initiate church growth and discipleship, a pastoral counseling master's degree could be for you! With various specializations available, you can be sure you walk away with a degree that properly equips you for your ministry goals.
At Liberty, our mission has always been to Train Champions for Christ. Our pastoral counseling degree is a great way for us to do so. Our curriculum stresses biblical application across all of the courses you take. Whether you are learning about human sexuality or how to counsel men and women uniquely, you will gain vital insight into what the Bible teaches in these areas and how to apply that understanding in various situations.
You deserve a master's degree that helps you surpass your goals. We believe one of our master's degrees will help you get there. Partner your aspirations with our pastoral counseling degree to take your skills further than ever before. Let us help prepare you with excellence and integrity for the ministry God has placed on your heart.
Award-Winning Campus
At Liberty, you'll find an affordable, high-quality education that equips students like you for the real world. Our commitment to excellence helped us rank among Niche.com's Top 3 college campuses in America. Earning your degree from a nonprofit university with state-of-the-art resources like ours can help set you apart from your peers.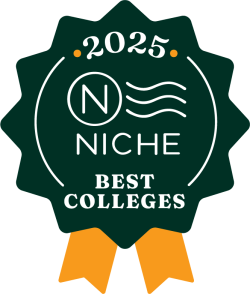 ---
Why Choose Liberty's M.A. in Pastoral Counseling Degree?
Our pastoral counseling master's degree is perfect for students who are looking to serve in non-clinical counseling roles in church and ministry settings. While this program is not designed for counseling licensure, the foundational training in psychology will prepare you to be extremely effective in helping people from a variety of backgrounds.
Get excited about your ability to impact lives through a field you're passionate about! We offer specializations in crisis response and trauma, discipleship and church ministry, leadership, marriage and family, pastoral counseling, and theology. Whether you are looking to help couples through premarital counseling or provide healing to those going through a time of crisis, we have a specialty for you.
Advance your career and ministry potential with a pastoral counseling degree dedicated to your success. Let our experienced professors come alongside you with mentorship that will impact you for a lifetime.
---
What Will You Learn in Our Pastoral Counseling Master's Degree?
Our master's in pastoral counseling degree provides the foundational knowledge in counseling you'll need to be more effective in your current ministry. Dive into the multicultural, family, and spiritual issues you will likely experience as you help people in a pastoral setting.
Our pastoral counseling courses provide training in solution-based models so you can apply certain behavioral approaches paired with appropriate biblical teaching in your work. You will also examine the best ways to promote spiritual growth during crises, as well as in premarital and marriage circumstances.
As a counselor, you will have the unique opportunity to help people analyze their situation, prevent avoidable hardship, and even cultivate healing from suffering. Choose a specialization, such as marriage and family or leadership, to add specific courses that will best fit your ministry goals!
Check out our featured courses and specializations below for more information.
Featured Courses
PACO 500 – Introduction to Pastoral Counseling
PACO 604 – Crisis Intervention in Pastoral Counseling
PACO 615 – Marriage and Family Counseling
PACO 617 – Theories and Techniques in Pastoral Counseling
Highlights of Our Master's in Pastoral Counseling Degree
Complete your entire master's in as little as one year.
Experience opportunities to earn several certificates from the American Association of Christian Counselors (AACC), such as Crisis Response, Life Coaching, and Saving Your Marriage Before It Starts (SYBMIS).
Our AACC student chapter provides the chance for students like you to grow professionally and spiritually as you network and interact with successful counseling professionals.
Our student to professor ratio for residential graduate students is 6:1. Our faculty care deeply for their students, praying for and with them throughout their academic journey.
Pastoral Counseling Degree Information
Career Opportunities for Pastoral Counseling Graduates
Associate Pastor
Chaplain
Church Counselor
Human Services Specialist
Lay Leader
Life Coach
Marriage and Family Counselor
Non-licensed Counselor
Outpatient Care Counselor
Teaching Pastor
Trauma Counselor
Youth Pastor
Admission Requirements for Graduate Degrees
Every application is reviewed on a case-by-case basis, and all applicants must submit the following documents and meet the minimum requirements for admission:
Admission application
Official bachelor's degree transcripts with a 2.0 GPA or higher
Self-certification form (for students who are in the final term of their bachelor's degree)
Current Liberty undergraduate students seeking preliminary acceptance into a graduate program must complete a degree completion application through their ASIST account
Crisis Response and Trauma
Discipleship and Church Ministry