Learn from Industry Leaders to Become the Best Aviation Mechanic You Can Be!
If you've ever considered taking your interest in tinkering with engines and machines and turning it into a promising career field, we've got good news! Our aviation maintenance bachelor's degree with a focus in management partners mechanics and leadership with the lucrative aeronautics industry.
Liberty makes it easier to gain the hands-on experience you'll need to become an expert in the field. Our School of Aeronautics has over 27 aircraft you can work with and countless state-of-the-art training devices and simulators to learn from. Additionally, your courses will highlight the foundational aspects of all major aircraft systems and technologies for today's aviation industry.
Best of all, Liberty is a teaching university! That means that your professors are hands-on with you in the classroom every week, guiding, mentoring, and supporting you throughout your college experience. Plus, our professors all have degrees and real-life experience in their field. You deserve to learn from the best, so let us help!
Award-Winning Campus
At Liberty, you'll find an affordable, high-quality education that equips students like you for the real world. Our commitment to excellence helped us rank among Niche.com's Top 5 college campuses in America. Earning your degree from a nonprofit university with state-of-the-art resources like ours can help set you apart from your peers.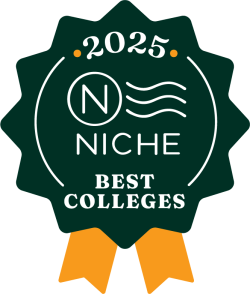 ---
Why Choose Liberty's Aviation Maintenance: Management Degree?
Let us help you achieve the career you dream about! At Liberty, our goal is to equip students with the industry skills employers are looking for. That way you can finish your degree confident that your skill set will match market needs, allowing you easier entry into the field!
Some of our degree highlights that allow students to develop these vital skills include:
Our unique aviation maintenance program in which students complete all FAA aircraft maintenance A&P certifications in less than one year!
Obtaining an aircraft mechanic license under FAA standards requires 1,900 hours of course instruction, which at most schools takes 18 months to two years.
Using an apprenticeship to obtain your license would take even longer at about two and a half years!
With our mission to Train Champions for Christ, we are excited about equipping the next generation of aircraft mechanics with integrity to make a difference.
Over the next 20 years, there will be a need for 648,000 new aircraft mechanics worldwide!
Employers are looking for more than a college education and mechanic certification. They want employees with soft skills from oral and written to team and leadership skills. Our curriculum prepares you for all of these and more!
Partner with a school that gives you more. Join the Liberty family and make our success your success.
---
What Will You Learn in Our Aviation Maintenance: Management Concentration?
Our aviation maintenance bachelor's degree is designed to provide a route for A&P licensure while covering important, broader topics licensed mechanics face, such as human factors and safety. Our management concentration equips students like you to take the next step and prepare for leadership positions in the field of aviation maintenance.
Our courses develop your ability to work with a wide range of systems, from propeller to hydraulic and pneumatic systems. Additionally, you will gain a greater awareness of how to incorporate Christian ethics into all the work that you do!
The program includes a course that prepares students for aviation field interviews. Walk away with a degree that cultivates your confidence and enables you to land a job in today's booming aeronautics industry.
View the Degree Completion Plan, and check out our featured courses below to learn more about what you'll be studying!
Featured Courses
AVIA 314 – Principles of Aviation Administration
Here's what you'll learn:
There is so much more to aviation than flying airplanes.
This is a career-oriented course that introduces students to management competencies with a practical application to aviation service businesses.
Course discussions include management functions, marketing, cash flows, and property oversight.
AVIA 472 – Aviation Organization Ethics
Here's what you'll learn:
The aviation industry offers a work environment with a unique balance of regulatory and performance demands.
This course introduces students to the tools necessary to recognize and apply managerial principles to common ethical situations found in this unique aviation environment.
AVMX 451 – Aviation Maintenance Operations
Here's what you'll learn:
You'll cover a study of aviation maintenance-specific topics that face those in maintenance leadership positions.
These topics include, but are not limited to, the need for maintenance; development of maintenance programs; technical planning, control, and training; and differing types of maintenance operations.
Here's what you'll learn:
Designed to increase the understanding of the American legal system and those legal principles that apply to the business environment
Business organizations, torts, contracts, employment relationships and issues, intellectual property, and international law
Highlights of Our Aviation Maintenance: Management Degree
Study hands-on! Our School of Aeronautics owns 27 aircraft, not including drones, and countless state of the art training devices and simulators! In addition to our facilities, we have the following achievements and opportunities:
Our students have won the 2017 and 2018 prestigious Loening Trophy and the American Airlines Safety Award three years running!
Our aviation program is also one of the largest faith-based collegiate aviation programs in North America.
FAA Part 147 instruction.
Ability to complete FAA licensure training in as little as one year!
Aviation Maintenance Certification: A&P (Airframe & Powerplant) license.
Post-9/11 GI Bill® & Yellow Ribbon program.
Aviation Maintenance: Management Degree Information
Career Opportunities for Aviation Maintenance Graduates
Liberty University's Bachelor of Science in Aviation Maintenance prepares you for the following occupations:
Aircraft mechanic
Government and military mechanic
Maintenance manager
UAS maintenance manager
Admission Requirements for Undergraduate Degrees
Every application is reviewed by the admission committee on a case-by-case basis, meaning there are no set minimums for acceptance. However, all applicants must submit the following documents* for admission:
Admission application
Official high school transcripts
Official college transcripts (if applicable)
Results from the CLT, SAT, or ACT are not required for admission, but may be used in consideration for merit-based aid.
Admission essay
*Note that additional documentation may be requested by the admission committee after your application has been received.
---
GI Bill® is a registered trademark of the U.S. Department of Veterans Affairs (VA). More information about education benefits offered by VA is available at the official U.S. government Web site at http://www.benefits.va.gov/gibill.