See your Future Take Off with Liberty's Commercial/Corporate Aeronautics Degree
Stand out for all the right reasons. Liberty University has been recognized as one of the largest faith-based collegiate aviation programs in North America. If you are looking to fly for commercial airlines or corporate organizations, we provide aeronautics programs designed to set you up for success!
The aviation industry is positioned to grow extensively over the next 20 years, so now is the time to begin your career in flight. There is a projected need worldwide for over 637,000 pilots, so begin the journey now and earn an aeronautics bachelor's degree to train in the skills and knowledge you need to impress future employers. Many airline and military recruiters look for Liberty University students to fill the need due to our strong Christian foundation and standard of academic excellence.
Award-Winning Campus
At Liberty, you'll find an affordable, high-quality education that equips students like you for the real world. Our commitment to excellence helped us rank among Niche.com's Top 5 college campuses in America. Earning your degree from a nonprofit university with state-of-the-art resources like ours can help set you apart from your peers.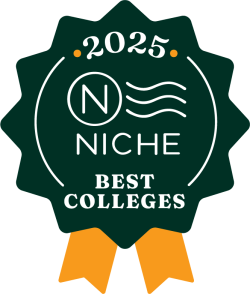 ---
Why Choose Liberty's Commercial/Corporate Bachelor's Degree?
Earn your bachelor's from a school that hands you more than a degree. Liberty University's School of Aeronautics has seen tremendous growth since 2002. What began as four students and one rented aircraft has now developed into almost 400 students and 27 available aircraft!
We believe our success comes from our mission to Train Champions for Christ and the incredible men and women who have championed the program with us, such as Dave Young and Ernie Rogers, retired military personnel. Pursue a degree that prepares you for more with our state-of-the-art training devices, planes, and simulators.
Certifications and Licenses
We offer certifications and licensure through our commercial/corporate bachelor's degree for the following:
Private Pilot
Instrument Rating
Commercial Pilot
Single engine
Multi-engine
Flight Instructor Rating
---
What Will You Learn in Our B.S. in Aeronautics?
Our Bachelor of Science in Aeronautics – Commercial/Corporate flight will equip you with the vital knowledge and critical flight skills you need to succeed in your aviation career! Your courses will explore ground theory, corporate aviation practices, human factors in aviation, and GPS instrument navigation. Learn the basics in unmanned aerial systems, advanced aviation safety, and leadership during your educational career with Liberty University.
View the Degree Completion Plan, and check out our featured courses below to learn more about what you'll be studying!
Featured Courses
AVIA 325 – Commercial Flight I
Here's what you'll learn:
The requisite aircraft and simulator training and experience required for the FAA Commercial Pilot practical test
Complete approximately one-third of the aircraft and simulator training and experience hours required in the applicable commercial pilot training course outline (TCO)
AVIA 350 – Airline Operations
Here's what you'll learn:
This course is representative of the initial training a First Officer will receive as a new hire in today's airline industry.
It focuses on FAR Part 121 regulations, airline policies, and procedures presented from an operational perspective.
Topics studied include airline seniority, safety systems, the concept of operational control, operational policy, flight planning, and emergency/abnormal operations.
In-depth study of dispatch procedures, fuel planning, weather requirements, and Jeppesen instrument approach procedures are reviewed.
Concepts of both Crew Resource Management (CRM) and Threat and Error Management (TEM) will be developed through all aspects of this course.
AVIA 435 – Advanced Jet Systems
Here's what you'll learn:
This course is representative of the systems training a First Officer receives as a new hire in today's airline industry.
It provides advanced jet systems training by systematically studying the type of aircraft systems commonly found on commercially operated jet aircraft.
As a training platform, this course specifically explores all the major aircraft systems found on the Bombardier CRJ-200. Students will be exposed to aircraft limitations and profiles, immediate action items, checklist usage, and Flight Management Systems (FMS) navigation.
Concepts of both Crew Resource Management (CRM) and Threat and Error Management (TEM) will be developed through all aspects of this course.
AVIA 436 – Advanced Jet Training
Here's what you'll learn:
This is a capstone course for the commercial/corporate concentration.
Built on the foundational knowledge acquired in Airline Operations (AVIA 350) and Advanced Jet Systems (AVIA 435), this course will include five Cockpit Procedure Training (CPT) lessons followed by 10 Flight Training Lessons in a CRJ-200 Flight Training Device (FTD).
Each student will receive a minimum of 45 hours of instruction including 20 hours of Advanced Jet Flight Training in a CRJ-200 FTD.
This scenario-based training will include checklist usage in the multi-crew environment; Flight Management Systems (FMS) operations; normal procedures and flight profiles; abnormal/emergency procedures and flight profiles; high altitude aerodynamics; and aeronautical decision making.
This course will also stress the proper use of aircraft automation to include the flight control panel, incorporating both the flight director and the autopilot through all phases of flight.
Concepts of both Crew Resource Management (CRM) and Threat and Error Management (TEM) will be developed through all aspects of this course.
Highlights of Our Commercial/Corporate Bachelor's Degree
Our aeronautics bachelor's degrees allow you to obtain licenses even after completing your required commercial pilot. Once you complete your commercial/corporate degree concentration, you have the ability to become a certified flight instructor! While you work and fly with other students, you will be accruing the flight time required to work for airline and corporate pilot positions.
Because our aeronautics program has been recognized for excellence, we are able to offer students a Restricted Airline Transport Pilot (R-ATP) program that substantially reduces the required flight time. Fast-track your career in commercial and corporate flight so you can focus on what's important!  
Some of the other benefits of our bachelor's degree in commercial and corporate flight are:
FAA Part 141 flight instruction
Financial aid available for courses and flight training
Post-9/11 GI Bill® & Yellow Ribbon program
Regional Airline Hiring Agreements
Commercial/Corporate Bachelor's Degree Information
Career Opportunities for Aeronautics Graduates
Liberty University's Bachelor of Science in Aeronautics with a specialization in Commercial/Corporate will prepare you for positions as a:
Certified flight instructor
Commercial pilot
Corporate pilot
Private pilot
Admission Requirements for Undergraduate Degrees
Every application is reviewed by the admission committee on a case-by-case basis, meaning there are no set minimums for acceptance. However, all applications must submit the following documents* for admission:
Admission application
Official high school transcripts
Official college transcripts (if applicable)
Results from the CLT, SAT, or ACT are not required for admission, but may be used in consideration for merit-based aid.
Admission essay
*Note that additional documentation may be requested by the admission committee after your application has been received.
---
GI Bill® is a registered trademark of the U.S. Department of Veterans Affairs (VA). More information about education benefits offered by VA is available at the official U.S. government Web site at http://www.benefits.va.gov/gibill.