Grounds – Waste/Streets/Recycling
Solid Waste Removal
The Waste/Streets/Recycling Group manages waste from dumpsters, outdoor trash cans, and compactors.
Work orders can be submitted for assistance or email Jacob Butcher.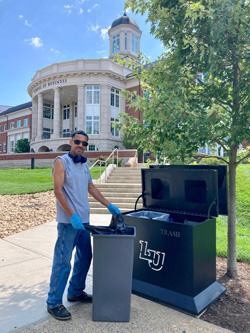 Streets
The Waste/Streets/Recycling group cleans streets, parking lots, parking garages, and coordinates pavement repairs and other hard surfaces. Work orders can be submitted for assistance.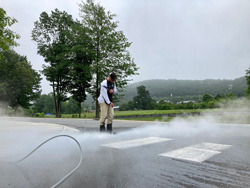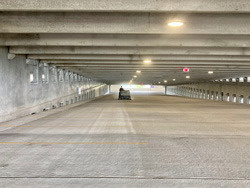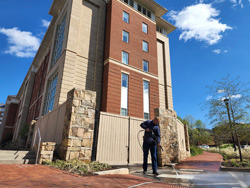 Recycling
Please recycle the following in appropriate containers:
Mixed Paper: Office paper, mail, shredded paper, newspaper, boxes, sticky notes (Staples are fine)
Plastic: Plastic bottles, jugs, cups, and containers with minimal food contamination (Lids are fine)
Cans: Aluminum, tin, & steel containers
Cardboard: Please break down cardboard.  Please place empty pizza boxes in cardboard container.
Please DO NOT put in recycling containers:
Glass of any sort (This product is not accepted at this time)
Paper Towels/ Tissues (These are compostable, but NOT recyclable)
Straws
Styrofoam
Plastic film, bags, and bubble wrap (You may take these to grocery stores who are equipped to process this material)
Electronics (Please submit a work order to IT for large items)
Food Waste
Wrappers of any sort
Any containers with excessive food or grease contamination