Monthly Newsletter

September 2023 Newsletter | Parent & Family Connections

Dear LU Family,
These weeks in September will test your expectations and your emotional reserves. There could be some part of your student's experience that is confusing or frustrating. Experiences in the Parent and Family Connections Office have shown that nearly all students' dilemmas at 11 p.m. are clear by 8 a.m. What happened in-between students calling home and the next morning? Two things happened! First, a loved one's familiar voice and sympathy to action helped the students vent. Second, whatever process or logistic that was requested earlier in the day was answered by the support around them, and they now know what to do or who to talk to. So…don't buy that plane ticket when your student calls in a panic about logistics and communication on campus.
Be their sounding board. Be ready to listen, but slow to jump into action. Allow 24-48 hours for offices and instructors to respond. Allow for an evening of rest, intentional prayer, and a fresh perspective to boost their courage that they can do it!
Partner with them in prayer, and support their efforts by celebrating their achievements. They know you have their best interest at heart and will take care of them. This is their time to put your interests into their daily practice. It may test your patience as you wait on them to do things, but they really will accomplish managing their decisions. The LORD equips them. Liberty is around them. And, you are praying for them.
It will be okay.
Theme of the Month
The month's theme is Testing!
"The LORD is the stronghold of my life; of whom shall I be afraid?" ~ Psalm 27:1b (ESV)
"Consider it pure joy, my brothers and sisters, whenever you face trials of many kinds, because you know that the testing of your faith produces perseverance. Let perseverance finish its work so that you may be mature and complete, not lacking anything." ~ James 1:2-4 (NIV)
Here are the September highlights you can find below:
---
Money and Steadfastness: A Test of Dependence
Aiden Bengds, Peer Financial Coach, Center for Financial Literacy
Money and steadfastness are two things that don't have much in common, especially in the life of a college student. At some point in everybody's life, we face trials that relate to finances. Recently, I was faced with a financial test involving my wife's car. It felt like we had finally reached a place of financial stability when disaster struck, and my wife's vehicle was rendered unsafe to drive without undergoing expensive repairs. This was devastating to the financial plan she and I had created for ourselves, and we were forced to make some uncomfortable decisions. Though this situation was less than ideal, we knew that God was in control, and we would make it through this trial and grow closer to God and to each other.
The core verses for the Center for Financial Literacy are 1 Timothy 6:6-21. In these verses, Paul writes about how dangerous the love of money is. Later in this passage, Paul says that in lieu of relying on the material things of this world, we are called to pursue faith in Christ. Through faith, we can not only survive life's tests but thrive during them knowing that God is in control.
The Center for Financial Literacy is an on-campus organization located in the School of Business that provides free peer financial coaching and financial resources to help students and faculty work through life's financial tests and trials. Whether it is building a budget, figuring out loans, or learning about investments, the Center for Financial Literacy is committed to providing Christ-centered financial coaching. Our twenty-four peer coaches are trained to discuss a variety of financial topics and work with all types of financial situations through the lens of a biblical worldview. Our coaches would be thrilled to meet one-on-one with your student! To learn more about the Center for Financial Literacy or book a meeting with a coach, visit Liberty.edu/CFL.
---
 It's a Tilley Takeover and the First Produce Stand this Semester
Shelby Burton, Marketing Manager, Liberty Dining Services
This semester has already started off with a bang with the opening of the Reber-Thomas Dining Center. Our staff is working diligently to make sure your student's dining experience is the best it possibly can be, the dining center is helping us achieve this. With any building opening there's a curve on how we address new obstacles, so we hope that we speedily figure out new systems to improve the customer experience and receive patience and grace from students, faculty, and staff.
We're excited to host our first Produce Stand of the semester on September 9! The Produce Stand gives students the chance to use their Dining Dollars and Flames Cash towards healthy snacks that aren't typically available on the campus.
We'll also be holding our first Tilley Takeover, a premium pop-up event where we take over Fresh Market in the Tilley Student Center to serve something new on September 12. We're starting off with a favorite: Bodacious Burgers!
Stay Connected
Follow @LibertyDining on Instagram and Facebook to stay updated about dining on campus. Don't forget to visit our shop and order your student care packages and sweet treats to let them know you're thinking of them!
Student Job Opportunities
If your student is looking for a flexible job with free food and tuition reimbursement, then encourage them to apply with Liberty Dining Jobs! We have a variety of positions available from baristas and bakers to food prep helpers and cashiers.
---
Be Their Praying Warrior: Pray
Tamatha Anthony, Parent and Family Connections
Partnering with your student with prayer during this season of your family's life will encourage them to look to you to cheer for them. We want you to feel supported through this endeavor! This "Be Their Praying Warrior" series may be a starting point for your family. The praying series relies upon God's promises, specifically Zephaniah 3:17 and 1 Thessalonians 5:16-18.  
We started this journey together in July's issue and introduced you to "How to Talk to a College Student." If you are joining us this month, go to our College Parenting webpage for access to the article and read about how cheering for our adult children makes a tremendous difference in our relationships with them and can greatly improve their success at college.
Through the next several months, your family and your student will experience tests and trials. Be encouraged! We are here to journey alongside you, and more valuable than that, God is with you!  
Each month begins by reading God's promises. We pray the Psalms to ask the Lord to illustrate how beautiful, faithful, and amazing He is in our student's life. We pray the companion verses as a blessing and promise that our students will live for Jesus with all their hearts, mind, soul, and strength. 
Zephaniah 3:17 (ESV) "The LORD your God is in your midst, a mighty one who will save; he will rejoice over you with gladness; he will quiet you by his love; he will exult over you with loud singing." 
1 Thessalonians 5:16-18 (KJV) "Rejoice evermore. Pray without ceasing. In everything give thanks: for this is the will of God in Christ Jesus concerning you." 
Pray Psalm 27:2 (NIV) "The LORD is my light and my salvation – whom shall I fear? The LORD is the stronghold of my life – of whom shall I be afraid?" 
Pray James 1:2-4 (NIV) "Consider it pure joy, my brothers and sisters, whenever you face trials of many kinds, because you know that the testing of your faith produces perseverance. Let perseverance finish its work so that you may be mature and complete, not lacking anything." 
Partnering with your student in prayer gives them one of the greatest supports they could hope for as they follow God's call to be the adults that He equips them to be. Trust in the Lord to be faithful; your family will rise to the challenges. May the Spirit of the Lord intercede for you as God's Word describes him when you don't feel you have the words or details to pray. May your family be in the sweetest place you could ever be – the center of God's will. 
Let's continue this journey together next month in Gratitude – Psalm 107:1; Hebrews 12:1-2 
For additional prayer points throughout the academic year, use our For Your First Year and Praying For Your Student webpages. Also, related blog entries can be found in the Faith Stories blog.
---
Prayer Focus for September
Dear Father,  
Life, months, days, all of it can be a testing of our faith and our reliance on You. Right now, our families are adjusting to an empty room, renewing time for personal development and relationships with each other; they are learning how to coach their adult children from a distance. We give you our LU Family and ask that Your hands cover them and strengthen them in You. 
We pray for our students as they are making new friends and adjusting to their new "families" in the residence halls and classrooms. We pray, too, that they find their path through schedules and responsibilities, and prayerfully, they are allowing You to direct their choices.  
We all need Your wisdom, LORD. In James 1:5 you speak about this, "If any of you lacks wisdom, you should ask God, who gives generously to all without finding fault, and it will be given to you." That is what we all need: Your guidance. For students, their loved ones, and us at Liberty, we pray that we may know You more and love others with joy, peace, patience, kindness, goodness, faithfulness, gentleness, and self-control (Galatians 5:22-34, ESV). Give us clarity to encourage and equip appropriately to rely on You and Your Word, Lord!  
We pray these things in Jesus' name. Amen 
---
Federal Work Study (FWS) Is Available Off-Campus
Rebekah McSherry, Student Financial Services
Has your student considered participating in the Federal Work-Study (FWS) Program? A student job through the FWS program is a great way for eligible students to help fund their education by working on-campus or in the community! Liberty University is currently offering off-campus mentoring and tutoring positions that qualify for Federal Work-Study funding!
Your student can view detailed job descriptions about our off-campus positions on our Federal Work-Study webpage.
These jobs allow your student to earn an income while remaining flexible with your class schedule. Plus, they look great on a résumé! The FWS program is considered need-based, which means your student's Free Application for Federal Student Aid (FAFSA) determines if whether they qualify or not.
Eligible students can receive up to $5,000 per year in FWS funding, and it is typically paid to the student in the form of a paycheck or direct deposit into a personal banking account, just like any other part-time job.
With questions about FWS eligibility, students can always reach out to the Financial Aid Office to determine if they qualify! If your student intends to apply for a position, he or she can do so at this link, which goes directly to the job application on the Human Resources webpage.
We wish your student continued success as they continue in their studies this fall semester!
---
We will see you at Family Weekend 2023! Visit our event webpage for activities you can do together.
College Family Tip of the Month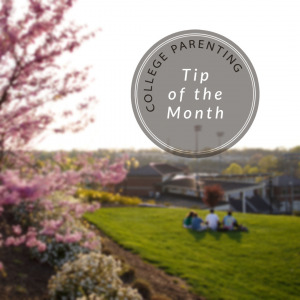 Making godly friends is important. A challenge during the college years is the tension between loneliness, filling our God-given need for community, and missing the meaningful time it takes to cultivate a friendship. Being a friend in social activities, friendship, and fellowship comes by a combination of time, effort, and curiosity. Activities require some time, and perhaps a small measure of effort. Friendship requires frequent measures of time and effort, and a little curiosity. Fellowship grows by regular measures of time, consistent effort, and a lot of curiosity.
"One who has unreliable friends soon comes to ruin, but there is a friend who sticks closer than a brother." ~ Proverbs 18:24
For Your First Year and Liberty Family Orientation are here to help you begin the academic year prepared and heads-up.
---
Introducing a Brand New Blog – E/4:29 Parent-to-Parent!
Use good and helpful words to those who hear them (Eph.4:29). If you are interested in sharing your insights and tips with other parents, email your name and student's ID to LUFamily@liberty.edu today!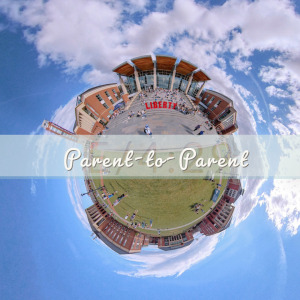 ---
Parent & Family Connections
We exist to support the mission of Liberty University Training Champions for Christ by sharing information with students' family members about the resources, programs, and activities available on campus. Our purpose is to build relationships between parents and the university, promote student success, and support parents through the transition of their students being at college – all the while praying for their highest calling in Jesus Christ.
Follow us on Facebook LibertyUFamily! Bookmark our webpage Praying For Your Student and pray with us.
Monday – Friday 8 a.m. to 4:30 p.m | (434) 582-2339 | LUFamily@liberty.edu