Family Weekend
Family Weekend 2024 
Make memories with your student at their home away from home. Plan the weekend around your family's passions. There is something for everyone!
Registration is expected to open in July 2024!
---
Dining
Map and Parking
Tickets
What is Family Weekend?
Itinerary
Siblings Stay on Campus
Convocation
Emergencies
Guests will need to bring their own wheelchair accommodation or make prior arrangements to rent one. The Office of Disability Accommodation Support (accessibility@liberty.edu) is able to give references to a local company for mobility device rentals.
Check out our On Demand Ride (ODR) services. (Note: To use the ODR service, your student must be with you as this service is only available to students, faculty, and staff).
On Campus
Parents and families are welcome to eat with their students at the Dining Hall (The New Reber-Thomas Dining Hall). If your students have a residential meal plan, ask your student about using a guest pass at the Dining Hall, if they have not already used it.
Off Campus
Liberty University partners with over 30 Lynchburg-area businesses to accept Flames Cash as a form of payment. They have regular discounts to Liberty students who show their Flames Pass! Review the current listing of merchants at ID & Campus Services.
Save your steps for the weekend activities, and Register your vehicle HERE — it is free, online, and no printing required! If you visit the Hancock Welcome Center for a parking pass on the day you arrive, they will direct you to the same online registration form. 
On Friday of Family Weekend
On Saturday of Family Weekend, available parking locations are designated differently for Game Day weekends which this weekend will be! Plan ahead for your campus activities and review the Flames Football Game Day Parking Map.
Note: If you have questions about RV and Camper Parking, please see LUPD's Parking and Decals webpage for information.
All tickets may be purchased as soon as the promo code is made available to you! Use the special Ticket Office link at Family Weekend 2024 (to be determined). Tickets for football and other campus events during Family Weekend go on sale before the public sale date. For questions about tickets, please contact the Ticket Office at (434) 582-7328 or email tickets@liberty.edu.
Family Weekend is a highlight for the Liberty community. It is our privilege to invite you to enjoy a weekend with your student at their home away from home! 
Who? Family members and guests of undergraduate students who are currently attending classes on campus.
What? Start at Convocation on Friday, and then enjoy the campus activities, ticketed events, and local merchants throughout the weekend. Plan your experience around your family's passions!
Friday, Day
Friday Evening
Saturday, Day
9 a.m. – Tube at Liberty Mountain Snowflex Centre, or paddle around the lake at Hydaway Outdoor Center
11 a.m. – Shop for Liberty merch at our Campus Bookstore before the game
11 a.m.-1 p.m. – For Marching Band Parents only! There is a Band Parents Day luncheon. Prior registration and ticket purchase are required. School of Music is communicating directly with Band Parents via email.
2 p.m. – Tailgate all afternoon! Flames Football Game Day Central has details about FanFest, Tailgate Town, Food Truck Alley, Concessions, and more game day essential information. Also, be sure to ask your student about their residence hall or commuter tailgate options.
Saturday, Evening 
Cheer Flames Football at home in Williams Stadium. Use the special Ticket Office link at Family Weekend 2024 (to be determined) to purchase your tickets with the promo code given to you during registration.
Yes, siblings (16-25 years old) are permitted to stay in the residence hall, but your student will need to request permission from their Resident Assistant (RA), and fill out the appropriate form.  Note: This is subject to change.
Yes, please do attend Convocation!
Click here for the Schedule and our guest speaker.
Be prepared. All persons attending Convocation services starting August 24, 2022, will go through a metal detector and bag check. Gates 1, 3, and 4 at the Vines Center and gates East and West at the Arena will open at 9:30 a.m.
Here are some suggestions that will aid in quick access:
Arrive early.
If possible, do not bring a book bag or any type of large bag unless it is clear. All bags entering the Vines Center will be searched.
If you are a Concealed Carry Permit (CCP) holder, make sure you have your valid LU CCP along with your valid LU ID (see details about the Firearm Policy).
Special Consideration. It may be very helpful to your student's Resident Assistant (RA) to know that you would like to join them at Convocation. There is generally available seating in the Vines Center, but open seats might not be available right next to your student. For off-campus commuter students, your student may check with their RA at the Office of Commuter Life.
For a life-threatening emergency, please dial (434) 592-3911 to contact the Liberty University Police Department (LUPD). LUPD is directly connected with the City of Lynchburg Emergency Services.
For non-life threatening sickness or injury, contact the Student Health Center at (434) 338-7774.
The Student Health Center is located in Commons III, Ground Floor.
The semester Hours of Operations are Monday–Thursday, 8 a.m.–6 p.m., and Friday, 8 a.m.–5 p.m.
For evenings and weekends, students may call the on call physician at (434) 338-7774 or visit the After-Hours Locations.
---
There Is Something For Everyone
Choose from the events below to build your own Family Weekend experience. Activities marked with ($) require purchase.
LU Family Welcome Table
Our legacy is in you! From new families to returning families, the Parent and Family Connections Office and the Office of Alumni Relations are here for you and your student.
The LU Family Welcome Table will be set up in the main lobby of the Hancock Welcome Center on Friday from 9 a.m. until 4:30 p.m.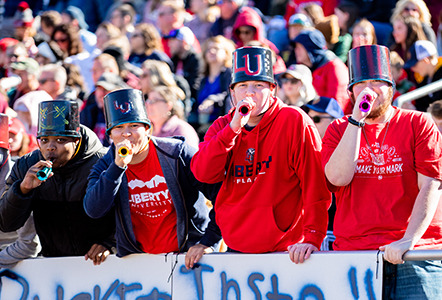 ---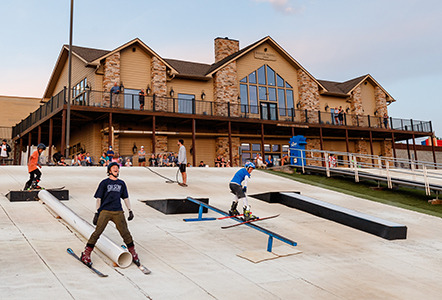 Fun on the Mountain 
Tube it. Climb it. Run it. Fish it. Bowl it. Or slow down, and laze the day away in a canoe. 
View the Campus Recreation event calendar for more options!
Science, Artifacts, & Historical Collections
Check each website for hours and availability. Admission is free.
---

Local Lynchburg Area
Explore our local region. Lynchburg and surrounding counties have a lot of fun things to do and places to stay or dine just around the corner!
Liberty's Hancock Welcome Center has a Visit Us Guide that lists a variety of lodging locations and directions to campus.