Liberty Campus Construction Master Plan
Liberty University's Master Plan helps to guide the planning, design, construction, and upkeep of our campus and university facilities. It also directs the future growth and development needed to support the university's mission and strategic plan.
This initiative helps to create campus-wide excellence through infrastructure improvements and new build projects. Our master plan calls for renovations and expansions of Liberty's core campus and beyond.
The Department of Planning and Construction oversees the completion of the campus master plan.
---
Current Construction
Jerry Falwell Center
Projected Completion Date – 2023
The new Jerry Falwell Center: Inspiring Champions for Christ will give you an immersive look at the faith, vision, and impact of the founder of Liberty University. And, it will stand as a beacon of Liberty University's steadfast commitment to biblically based academic excellence. The Center will be constructed in the heart of Liberty University's campus directly behind the Hancock Welcome Center.
Features
An interactive experience that memorializes the founder for future generations
Creative displays will showcase the university's multi-faceted approach to its mission of Training Champions for Christ
Rooms and areas within the center will provide space for learning opportunities, concerts, and special events
More Information
---
New Reber-Thomas Dining Hall
Projected Completion Date – Spring 2023
The 120,000-square-foot building will be located between Residential Commons III and Liberty Lake. The New Reber-Thomas Dining Hall will offer 40% more interior space than the current Food Court at Reber-Thomas. Additional dining space will be focused on increased seating. Entryway plans call for more overhead coverage and turnstiles to allow for quicker access for diners.
Features
120,000-square-foot, two-story structure
2,700 seats – Booths, small and large table configurations, window seating
High ceilings and a covered patio
Glass walls and windows to allow natural light with views of the lake and library
More Information
---
Expansion of Hydaway Lake on Liberty Mountain
Projected Completion Date – Fall 2022
A project 10 years in the making, Hydaway Lake, located at the heart of the university's Hydaway Outdoor Center, will be expanded from 6 acres to 31 acres. The university is still working on plans for the lake's features, which could call for an extended beach area, boat launches, and fishing docks. In addition to current student activities of swimming, fishing, kayaking, canoeing, and paddle boarding, the lake could also serve student-athletes from the Intramural Sports, Club Sports, and NCAA Division I Athletics teams.
Features
Lake expanded from 6 acres  to 31 acres
More trails for hikers, cyclists, and runners
New educational and recreational pursuits for students
More Information
---
Liberty Multipurpose Center
Projected Completion Date – Summer 2022
The Liberty Multipurpose Center will be constructed directly behind the Liberty Indoor Tennis Center. This new multi-use, indoor facility will benefit the university's NCAA, club, and intramural sports programs. A walking bridge from the Bailey Parking Lot over Regents Parkway to the new Liberty Multipurpose Center will be constructed for easy access to the facilities.
Features
75,000-square-foot facility
Storage space, public restrooms, and a lobby area
Divided curtains to split the facility into small workout spaces
More Information
---
Completed Construction
Liberty Indoor Tennis Center
Completion Date – Spring 2021
Located next to the Cook Tennis Complex, the Liberty Indoor Tennis Center features six courts and seating for 100 fans. The project was made possible by an anonymous $3 million donation: the largest single gift in Flames Club history. The Liberty Indoor Tennis Center now stands amongst the finest tennis facilities in the country and will offer the Flames the option to play in any climate without delaying matches due to rain.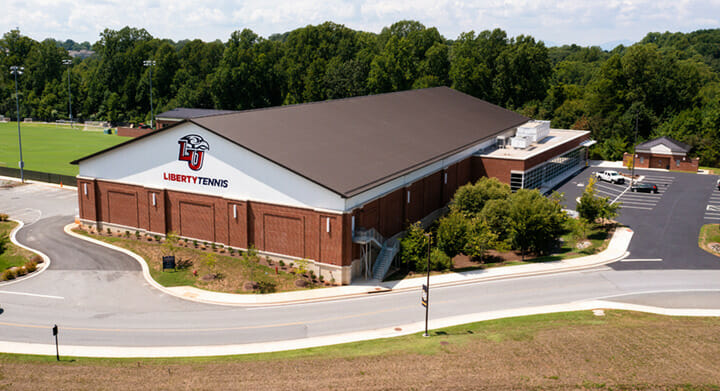 Features
48,000-square foot facility
Laykold court surface
Houses locker rooms, a team lounge, laundry facility, and concessions area
More Information
---
Liberty Arena
Completion Date – Fall 2020
Liberty Arena is home to the Liberty men's basketball, women's basketball and volleyball programs. Adjacent to the Vines Center, the 125,000-square-foot arena space can seat up to 4,000 fans. Among the amenities are a spectacular, state-of-the-art video board along with accompanying ribbon boards.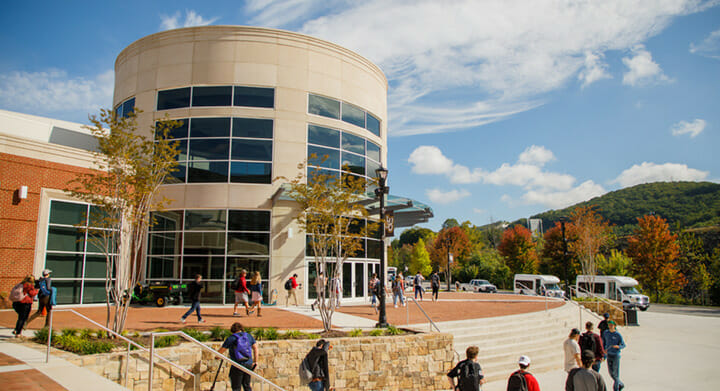 Features
4,000-seat venue featuring loge and club seating options
Court projection technology
Teraflex Flooring
View interior layout (PDF)
More Information
---
Club Sports Training Complex
Completion Date – Fall 2020
Renovations on the former Toys 'R' Us building added an additional 30,000-square-feet to the Club Sports department. The Club Sports Training Complex (CSTC) is the largest addition to the department since the LaHaye Ice Center opened in 2006 and was expanded in 2015. The complex is now home to men's and women's wrestling, crew, taekwondo, and women's gymnastics.
Features
3,600-square-foot weight room
Convenient location on Candlers Mountain Road across the street from North Campus
Office space for Club Sports staff and coaches
View a video tour of the CSTC
More Information
---
School of Business
Completion Date – Fall 2019
The School of Business is 3 stories, 78,000-square feet, and houses the 2,000-square-foot Entrepreneur's Center.
Features
500-seat auditorium
Glass walls
Information technology labs
Data centers
Simulated stock trading room
New York Stock Exchange display boards and a real-time ticker
More Information
---
Liberty Mountain Gun Club
Completion Date – Spring 2019
The Liberty Mountain Gun Club includes a rustic lodge and shotgun, rifle, and pistol ranges.
The gun ranges are open to Liberty students.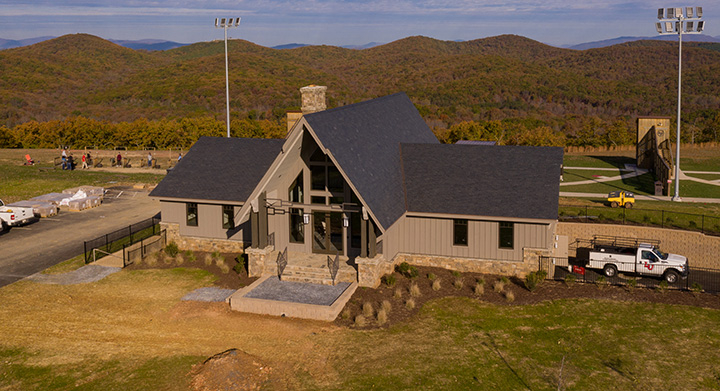 Features
Classroom facility for training and academic classes
Shotgun range (now open): American Trap, American Skeet, International Skeet, Bunker Trap, 5 Stand, Sporting Clays
Rifle range (now open): covered 100, 200, & 300-yard firing lines
Pistol range (now open): multiple use including steel and paper targets out to 50 yards
More Information
---
Williams Stadium Expansion
Completion Date – October 2018
The Williams Stadium expansion project reshaped the look of the stadium and provided additional seating. The Grand Opening was held during Homecoming 2018.
Features
Additional 6,000 seats, creating an overall seating capacity of 25,000 at Williams Stadium
New 3,000-square-foot high-tech video board
Full LED Lighting
More Information