Community Boards
Are you looking to share an event or service around campus?
Community Boards are the perfect way to promote information to Liberty's faculty and student body. These boards are spread around campus and updated every Friday with new posters brought into our department.
If you're not sure if your poster is applicable to these boards, here are a couple of topics that have been shared before:
Campus events
Roommate searches
Workshops
Fundraisers
Community building opportunities
Payment:
Bring us 30 8.5 x 11 posters.
Fee: $10.00 for 2 weeks
Pay online or in person.  (If paying online, then you will need to bring a receipt when you drop off the posters.)
No posters over 8.5″ x 11″ will be accepted.
Posters go out on Friday mornings.
Posters must be submitted by Thursday to be included.
We no longer accept checks.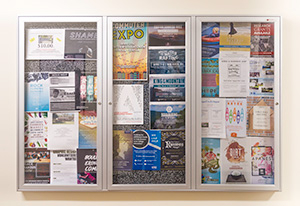 Official Liberty University Departments & student clubs may post for FREE: same posting restrictions apply. Please be aware that paying customers get priority posting on the community boards. This means that on occasion, department posters may not get posted.
Select the option that best fits your needs. Online payments can be made via the Online Payment Portal.
Policies & Procedures
Posters may be turned directly into Off-Campus Student Life at Green Hall 1887 for posting, and must abide by the following guidelines:
A maximum of 1 poster per board (30 boards total), per person or group, can be approved at one time
Due to space limitations, we are only accepting posters that are 8.5″ x 11″
Please be sure to leave an area of "white space" on your poster so the stamp is visible. If no "white space" is available, the stamp will go anywhere on the poster
Posters posted on walls, doors, windows, or anywhere other than Community Boards will be removed
All non-Liberty posters will take priority over campus posters based on space available on the community boards
NO posters are permitted in the Vines Center
Posters are approved for no more than 10 days at a time (permission for extended approval will be granted on a case-by-case basis). The maximum amount of time will be 2 weeks
Posters are distributed to Community Boards once a week on Friday mornings.  Please plan accordingly as posters may not be distributed on a last-minute basis
Posters may be brought in up to 1 week in advance
Procedures
All posters must adhere to the Liberty Way. Use of the boards is a privilege and ultimately contingent upon the discretion of the Office of Student Life.
If you want us to hang physical poster that you printed already, please deliver them to Green Hall Room 1887.
Please contact the Office of Student Life at (434) 592-3067 or commuters@liberty.edu with any questions.