Work Directly with Animals in Our Zoo and Wildlife Biology Degree Program
Are you passionate about God's creation? Have you always had a desire to work in animal science? Are you searching for a wildlife biology college degree that can help prepare you for a career in zoos and aquariums, animal nutrition, or wildlife/zoo biology? Pursue our zoo and wildlife biology degree, and turn those interests into a career in animal science.
Our zoo and wildlife biology program is one of the most interesting and exciting degrees we offer at Liberty. As a wildlife biology major, you will have the opportunity to study animals and their behavior as you participate in labs, fieldwork, and an optional internship.
This degree can help prepare you to work as a zookeeper, curator, wildlife biologist, wildlife conservation officer, park naturalist, or animal care specialist in addition to many more careers that involve working directly with animals.
Why wait any longer? Start pursuing your passion today by earning a zoo and wildlife biology degree!
Can you practice veterinary medicine with this degree?

To practice veterinary medicine, you will need to have a veterinary license that can only be obtained through a Doctor of Veterinary Medicine (DVM) degree. Liberty's undergraduate wildlife biology school program can help prepare you for vet school, but a bachelor's degree alone does not meet the educational requirements for veterinary licensure.

If you want to apply to vet school someday, however, this degree is an excellent choice for your undergraduate studies. Most veterinary programs prefer students who have an undergraduate degree in biology, physics, or a closely related area of study.

Admission to vet school is competitive. Give yourself an advantage by majoring in wildlife biology at Liberty, and stand out in the applicant pool.
---
Award-Winning Campus
At Liberty, you'll find an affordable, high-quality education that equips students like you for the real world. Our commitment to excellence helped us rank among Niche.com's Top 3 college campuses in America. Earning your degree from a nonprofit university with state-of-the-art resources like ours can help set you apart from your peers.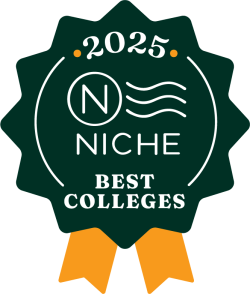 ---
Why Choose Liberty's Wildlife and Zoo Biology Degree?
When you join the Liberty family, our main goal is to help set you up for a successful career in the field of your choice. In order to do that, we seek to provide you with resources and experiences that you can use to further your career.
At Liberty, one of our most valuable assets is our professors. These professionals not only have real-life experience and degrees in their field — they are also grounded in Christian principles. Our professors are dedicated to guiding you through your academic journey with skill, knowledge, and spiritual support.
Another valuable tool to utilize while you're here is the opportunity for hands-on experience. As an animal biology major, you'll participate in labs and fieldwork that allow you to understand firsthand what it's like to study and work with animals. Additionally, you can choose to complete an optional internship that can give you even more experience in your field and help make you marketable to potential employers.
---
What Will You Learn in Our Zoo and Wildlife Biology Degree?
By pursuing our zoo and wildlife biology degree, you'll receive the classwork, lab work, and fieldwork you need to succeed in a career working directly with animals. We're excited about the curriculum we have created for you!
Some of the topics you'll study include:
Animal behavior
Botany
Comparative animal physiology
Ecology
Microbiology
Parasitology
Vertebrate natural history
View the Degree Completion Plan, and check out our featured courses below for more information on what you'll be studying!
Featured Courses
Here's what you'll learn:
A study of major protozoan, helminth, and insect parasites, dealing with form, function, life cycle, pathology, epidemiology, classification, geographical distribution, treatment, and control
BIOL 408 – Animal Behavior
Here's what you'll learn:
An introduction to the mechanisms and functional significance of animal behavior

Observational and experimental methods both in the lab and in the field

Topics include the role of genes, development, and the endocrine system in the expression of behavior, as well as learning communication, orientation and navigation, habitat selection, feeding, reproduction, parenting strategies, mating systems, and social behavior
BIOL 416 – Comparative Animal Physiology 
Here's what you'll learn:
A comparative study of the differences and similarities in the functional processes of animals belonging to various animal groups in a variety of environmental settings
BIOL 418 – Vertebrate Natural History
Here's what you'll learn:
A study of the life history of the vertebrates with special emphasis on taxonomy, life cycles, and ecological relationships

Special attention given to vertebrates native to Central Virginia
Highlights of Our Zoo and Wildlife Biology Degree
Labs are associated with nearly every course in the Department of Biology and Chemistry, giving you hands-on experience in your field before graduation.
Your courses and labs are taught by faculty with real-life experience and advanced degrees.
Creationism is emphasized, but evolution is also taught for a well-rounded perspective of the Earth's origins.
As an undergraduate student, you'll have many opportunities to participate in research projects with faculty.
Some classes in this major offer field experience.
An optional internship gives you the opportunity for additional, hands-on experience.
Zoo and Wildlife Biology Degree Information
Career Opportunities for Zoo and Wildlife Biology Graduates
Animal care specialist
Conservation officer
Park naturalist
Wildlife zoo biologist
Zoo curator
Zookeeper
Admission Requirements for Undergraduate Degrees
Every application is reviewed by the admission committee on a case-by-case basis, meaning there are no set minimums for acceptance. However, all applicants must submit the following documents* for admission:
Admission application
Official high school transcripts
Official college transcripts (if applicable)
Results from the CLT, SAT, or ACT are not required for admission, but may be used in consideration for merit-based aid. 
Admission essay
*Note that additional documentation may be requested by the admission committee after your application has been received.