Gain the Skills You Need to Be a Leader in Public Health in an Accelerated 4+1 Format

Do you want to become part of the solution for building up better community health? To be an advocate for healthy living and health awareness, you need knowledge, skills, and training. Liberty's 4+1 B.S. in Public Health to Master in Public Health – Health Promotion track is a 5-year accelerated plan to help you get into the field faster.
With advanced studies and hands-on experience, you can get started in your career a full year sooner than traditional programs. Liberty's advanced labs and training can help you enter many industries, including healthcare, corporate business, government roles, nonprofit organizations, and health education. With your skills and knowledge in health science and policy, you can consult with individuals, communities, and governments on the best ways to plan and implement healthcare intervention programs that can help people live healthier and happier lives.
Award-Winning Campus
At Liberty, you'll find an affordable, high-quality education that equips students like you for the real world. Our commitment to excellence helped us rank among Niche.com's Top 3 college campuses in America. Earning your degree from a nonprofit university with state-of-the-art resources like ours can help set you apart from your peers.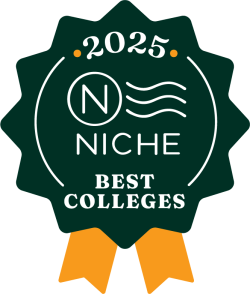 ---
Why Choose Liberty's B.S. to MPH Accelerated Degree?
Our goal at Liberty is to provide you with a degree and experience that is well-rounded, help you meet your career goals, and support the calling on your life. With our accelerated public health program, you'll find that the opportunities for academic research, along with career placement assistance after graduation, are practically limitless.
Liberty University has one of the largest accredited Master of Public Health programs in the U.S. with specialized labs, state-of-the-art facilities, and expert faculty with years of field experience. Our professors have worked in every health-related industry, providing insights into challenges in the field and best practices to help people and communities thrive. They want to teach, guide, and support you through your academic journey through in-class lectures and hands-on research projects.
Job Outlooks for BS to MPH Graduates
Liberty's accelerated B.S. in Public Health to MPH program is designed with advanced, practical training to help you prepare for a rewarding career. There are many opportunities to work in this rapidly expanding job market. The Bureau of Labor Statistics estimates that the median pay for health educators and community health workers was $46,080 in 2018. With a job market estimated to expand 16% by 2028, you can look forward to having many options when you enter the field.*
In addition to qualified and knowledgeable staff, our program will provide hands-on training that meets practical needs in the health promotion industry. With our advanced facilities and course studies, you will have the opportunity to receive certifications in First Aid, Cardiopulmonary Resuscitation (CPR), and Automated External Defibrillator (AED). Additionally, you'll participate in internships and research projects that will give you experience in your field before graduation.
*Bureau of Labor Statistics, U.S. Department of Labor, Occupational Outlook Handbook: Health Educators and Community Health Workers (viewed online March 11, 2020). Cited projections may not reflect local and/or short-term economic or job conditions and do not guarantee actual job growth.
---
What Will You Learn in Our B.S. in Public Health to MPH Degree?
Liberty's accelerated B.S. in Public Health to MPH 5-year track combines the undergraduate studies of the bachelor's degree with the accelerated content of the Master of Public Health. Through this program, you will gain the benefit of the essential core content of both programs within a timeframe that is 1 full year shorter than earning each degree individually.
Content areas covered in the 4+1 accelerated track include:
A study of health from the perspective of God's purposes for humanity in creation, fall, and redemption
Community engagement techniques that help build relationships to develop and deploy community health programs
Developing, implementing, and evaluating public health programs to address identified population health needs
Principles of public health interventions that address the inequality in health access and health status in the context of culture, race, gender, and economics
Principles of public health leadership, including systems thinking, group process, social justice, and ethics
Public health philosophy and organization, including infrastructure, funding, delivery, and fiscal and workforce management in the U.S. and globally
Studies in population health status, needs, and resources using appropriate assessment and analytical methods
In addition to advanced studies, you will also complete a 120-hour, hands-on practicum working under a preceptor at a public health organization. This practicum will include projects tied to competencies outlined by the Council on Education in Public Health so you can show your expertise in health promotion before entering the field.
Review the Degree Completion Plan and check out our featured courses below to learn more about what you'll be studying!
Featured Courses
HLTH 216 – Personal Health
Here's what you'll learn:
Considerations and current trends in the areas of personal and community health
Personal responsibility for healthy lifestyle management
HLTH 301 – Foundations of Public Health
Here's what you'll learn:
Administrative roles and responsibilities of the profession within the context of socio-ecological levels
An introduction to public health concepts and practice
How the profession has evolved through time
The foundational components of public health today
The future of public health
The history of public health
Topics covered include public health's core functions and essential services, organizational structures, ethical issues, systems thinking, and the role of the health education specialist
HLTH 632 – Health Program Planning
Here's what you'll learn:
Methods for assessment, planning models and theories, and intervention strategies
Program planning in community settings
HLTH 634 – Health Communication and Advocacy
Here's what you'll learn:
Counseling, public campaigns, social media, and political processes to advocate for health among diverse populations
Principles and practices of effective interpersonal, organizational, and community-based communication to shape attitudes and actions about health and healthcare
Highlights of Our B.S. in Public Health to MPH – Health Promotion Degree
Liberty's public health programs are accredited by the Council on Education for Public Health (CEPH).
The graduate MPH courses in the 4+1 program prepare you to take the Certified Health Education Specialist (CHES) certification exam.
As a student, you can explore over 20 teaching and research laboratories.
Immerse yourself in engaging research projects such as testing the impact of BMI on heart rate, implementing Biosand water filters in Rwanda, collecting data on stress and burnout in the health field, and more!
There are opportunities available for health outreach in a global setting.
You'll be prepared to apply to graduate school in one of the following areas: public health, health administration, nutrition, dietetics, physician assistant, physical therapy, occupational therapy, chiropractic, and medical school.
With this program, you'll receive First Aid, Cardiopulmonary Resuscitation (CPR), and Automated External Defibrillator (AED) certifications
Get hands-on experience before you graduate with an internship opportunity.
Accelerated B.S. in Public Health Degree Information
Career Opportunities for BS to MPH Graduates
Community health program planner
Health coach or consultant
Health educator
Health program evaluator
Worksite wellness program administrator
Admission Requirements for Undergraduate Degrees
Every application is reviewed by the admission committee on a case-by-case basis, meaning there are no set minimums for acceptance. However, all applicants must submit the following documents* for admission:
Admission application
Official high school transcripts
Official college transcripts (if applicable)
Results from the CLT, SAT, or ACT are not required for admission, but may be used in consideration for merit-based aid.
Admission essay
Please note: Admission into the B.S. in Public Health does not guarantee admission into Liberty's MPH program. Fourth year students will need to meet additional requirements to begin the graduate-level coursework.
*Note that additional documentation may be requested by the admission committee after your application has been received.