Lead the Way in Fitness and Wellness with a Bachelor's Degree in Exercise Science – Strength and Conditioning
Are you passionate about health and physical fitness? Do you care deeply about your own health and desire to see others live healthy lifestyles? If that sounds like you, Liberty University's Bachelor of Science in Exercise Science – Strength and Conditioning Specialist degree will give you the tools you need to turn your passion into a career.
If you want to help others reach their peak physical fitness, then you've probably considered working as a coach, athletic trainer, or personal trainer. With this degree, you'll have the skill set required for these types of roles. Additionally, you may be interested in furthering your education within the medical field to work as a chiropractor, physician's assistant, or occupational therapist. This degree will equip you to pursue higher education within the medical field.
Being prepared with the knowledge and experience you need to pursue your career is an essential and exciting next step. With this exercise science degree, you can start helping others hit their stride and live healthier lives.
Award-Winning Campus
At Liberty, you'll find an affordable, high-quality education that equips students like you for the real world. Our commitment to excellence helped us rank among Niche.com's Top 5 college campuses in America. Earning your degree from a nonprofit university with state-of-the-art resources like ours can help set you apart from your peers.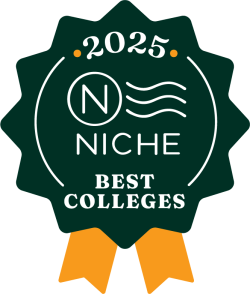 ---
Why Choose Liberty's Bachelor's Degree in Exercise Science – Strength and Conditioning Specialist?
Credibility, professional teachers, and hands-on training — ready to pursue a program with all this and more? By choosing Liberty University's bachelor's degree in exercise science, you'll receive the professional tools and training you need from a university that employers and graduate schools recognize. In addition to Liberty University's regional accreditation through the Southern Association of Colleges and Schools Commission on Colleges (SACSCOC), this undergraduate exercise science program is nationally accredited through the Commission on Accreditation of Allied Health Education Programs (CAAHEP).
The professors who'll be teaching you have years of real-life experience and doctoral degrees in exercise science-related fields. In addition to their professionalism, they ensure that each of your courses is taught from a Christian perspective and genuinely care about investing in your life both inside and outside of the classroom.
Finally, you'll receive the experience you need to excel in the strength and conditioning area of exercise science. You'll participate in multiple labs throughout your program as well as a required practicum and internship to ensure you have the opportunity to turn your classroom knowledge into practical application.
---
What Will You Learn in Our Exercise Science – Strength and Conditioning Specialist Program?
The curriculum throughout this program provides the training you'll need to excel in the exercise science field. You'll learn core concepts like how to measure and evaluate health, biomechanics, exercise physiology, and sports nutrition. You'll have the opportunity to put this knowledge to practical use through a practicum and multiple labs throughout your program.
With the strength and conditioning specialization, you'll complete the following courses:
Analysis of Human Movement
Applied Strength Training and Conditioning
Programming and Periodization of Strength and Conditioning
Seminar in Strength and Conditioning
Additionally, you'll participate in an internship where you'll receive hands-on training in your field prior to graduation.
View the Degree Completion Plan, and check out our featured courses below for more information!
Featured Courses
EXSC 101 – Introduction to Exercise Science
Here's what you'll learn about:
Career opportunities within exercise science and allied health
Various aspects of careers, determining requirements for advanced study and learning what coursework would be appropriate for the different career paths
EXSC 310 – Physiology of Exercise
Here's what you'll learn:
The effects of exercise on the major systems of the human body, including cardiorespiratory, neuro-muscular, glandular, and digestive
Other effects influencing human exercise, including climate, altitude, and ergogenic aids
Here's what you'll learn:
Basic mechanical principles and how they can be applied in analyzing movements of the human body
An integrated balance of qualitative and quantitative examples, applications, and problems designed to illustrate mechanical principles
EXSC 461 – Exercise Leadership
Here's what you'll learn:
Necessary leadership qualities and skills expected for leading exercise activities
Development of professional competencies through classroom instruction, as well as observational and practical experiences
Highlights of Our B.S. in Exercise Science – Strength and Conditioning Degree
Our exercise science program is nationally accredited by the Commission on Accreditation of Allied Health Education Programs (CAAHEP).
Every professor has years of experience and a doctorate in a related field.
You'll receive hands-on experience with lab, practicum, and internship opportunities.
Our Human Performance Lab, Motion Analysis Lab, Functional Assessment Labs, and Standardized Patient Assessment Labs ensure you are on the cutting edge of the technology used in the field.
Our students exceed the national pass rate on the American College of Sports Medicine Exercise Physiologist Certification Exam (ACSM C-EP), National Strength and Conditioning Association Certified Strength and Conditioning Specialist Exam (NSCA CSCS), and State Board of Certification Athletic Training Licensing Exam.
B.S. in Exercise Science – Strength and Conditioning Specialist Degree Information
Career Opportunities for B.S. in Exercise Science – Strength and Conditioning Graduates
Athletic development specialist
Human performance specialist
Personal trainer
Strength and conditioning coach
Tactical strength & conditioning specialist
Some career opportunities in this field will require additional education beyond a bachelor's degree.
Admission Requirements for Undergraduate Degrees
Every application is reviewed by the admission committee on a case-by-case basis, meaning there are no set minimums for acceptance. However, all applicants must submit the following documents* for admission:
Admission application
Official high school transcripts
Official college transcripts (if applicable)
SAT, ACT, or CLT scores (Liberty University is offering test-optional admission through Fall 2023 acceptance)
Admission essay
*Note that additional documentation may be requested by the admission committee after your application has been received.
The Exercise Science program has additional admission requirements to be admitted to the program. For more information, review our Admission and Retention Guidelines.