Use Biology to Make a Difference with Our Biotechnology Degree
Biotechnology is a diverse, exciting, and growing field. As a biotechnologist, you could be the next Marie Curie, developing your own theory or discovering chemical elements like she did! Maybe you'll create a new vaccine, pesticide, or skin care regimen. Whatever your dreams and career goals are, we want to help you get there. Our Bachelor of Science in Biotechnology will give you the tools you need to be successful in this field.
With a degree in biotechnology, your career and educational possibilities are limitless. You may choose to start doing lab work upon graduation, or you could apply to medical school since this degree gives you all the prerequisites you'll need. You may go on to become a physician, pharmacist, or psychiatrist.
So what are you waiting for? The field of biotechnology is growing, and it's in desperate need of professionals like you — people who are excited about biology and making a difference in the world. Start our program and find your future.
---
Award-Winning Campus
At Liberty, you'll find an affordable, high-quality education that equips students like you for the real world. Our commitment to excellence helped us rank among Niche.com's Top 3 college campuses in America. Earning your degree from a nonprofit university with state-of-the-art resources like ours can help set you apart from your peers.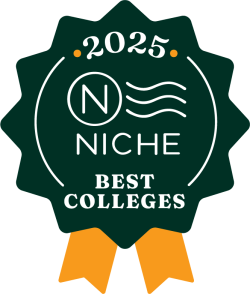 ---
Why Choose Liberty's Biotechnology Degree?
At Liberty, we want you to have all the knowledge, tools, experience, and resources you need to be successful in your field. Our program will prepare you for your career or give you the prerequisites you need to apply to a medical program of your choice.
So what resources do we have to offer you? One of the best things about our university is the professors. These men and women are highly trained professionals with years of experience and doctoral level degrees in the areas they teach. They are excited to pass on their knowledge to the next generation of physicians, pharmacists, and biotechnologists.
Another great aspect of our biotechnology degree is the training you'll receive. Nearly all of our biology and chemistry courses have associated labs. This means you're getting hands-on experience in your classes, which will be essential to your future in medical school or lab work.
---
What Will You Learn in Our Biotechnology Degree?
You need a degree that prepares you for your future career. We've packed our biotechnology degree with the courses and lab experience you need to pursue your career directly after graduation or attend the medical school of your choice.
Upon graduating with this degree, you'll be well prepared for your future as a biotechnologist. Some of the coursework you'll study includes physics, calculus, geometry, statistics, biochemistry, genetics, microbiology, cell biology, chemistry, and molecular techniques.
View the Degree Completion Plan, and check out our featured courses below for more information on what you'll be studying!
Featured Courses
BCHM 451 – Biochemistry I
Here's what you'll learn:
Advanced topics in biochemistry
Emphasis placed on physical biochemistry including thermodynamics, kinetics, solutions and equilibria, protein structure/function and enzyme kinetics, mechanisms and regulation, and intermediary metabolism and its regulation
BIOL 224 – General Biology I
Here's what you'll learn:
An introduction to the fundamental principles of biology
Emphasis placed on the scientific methodology, molecular, cellular, and energetic bases of life, major metabolic processes, cellular and organismic reproduction Mendelian, and population genetics, speciation, phylogenetic reconstruction, ecological interactions, and a brief survey of organisms
BIOL 455 – Molecular Techniques
Here's what you'll learn:
The basic molecular biological techniques involved in the study of DNA, RNA, and proteins
Specific techniques including PCR, DNA cloning, library screening, proteomics and the use of gene sequence databases, and molecular modeling
CHEM 321 – Analytical Chemistry
Here's what you'll learn:
An introduction to analytical chemistry
Evaluation of data, gravimetric and titrimetric analysis, and an introduction to instrumental methods
Spectrophotometry, chromatography, and potentiometric methods
Highlights of Our Biotechnology Degree
Labs are associated with nearly every course in the Department of Biology and Chemistry, giving you hands-on experience in your field before graduation.
Your courses and labs are taught by faculty with real-life experience and doctoral degrees.
There is an emphasis placed on creationism, but evolution is also taught for a well-rounded perspective of the earth's origins.
There are many opportunities to be involved in research projects with faculty as an undergraduate student.
Medical school acceptance rate is over 80% for the Department of Biology and Chemistry.
Our students' average MCAT score is above the national average.
Biotechnology Bachelor's Degree Information
Career Opportunities for Biotechnology Graduates
Biomedical laboratory supervisor
College professor/researcher
Industrial laboratory technician
Laboratory research assistant 
Pharmacist
Physician
Many career opportunities in this field will require additional education beyond a bachelor's degree.
Admission Requirements for Undergraduate Degrees
Every application is reviewed by the admission committee on a case-by-case basis, meaning there are no set minimums for acceptance. However, all applicants must submit the following documents* for admission:
Admission application
Official high school transcripts
Official college transcripts (if applicable)
Results from the CLT, SAT, or ACT are not required for admission, but may be used in consideration for merit-based aid.
Admission essay
*Note that additional documentation may be requested by the admission committee after your application has been received.