Understand the Human Mind with a Degree in Biopsychology
Are you interested in understanding the complexities of the mind? Maybe you've always been fascinated with how the human brain works. Our Bachelor of Science in Biopsychology may be the perfect degree option for you, as it combines training in biology, chemistry, and psychology. By pursuing this degree, you'll get the foundation you need for a life in medicine, psychology, or a career that combines both disciplines.
You want to change the world. You want to make a difference, and you're interested in doing that through the medical field. We understand that desire, which is why we designed our biopsychology degree to give you all the resources you need to either start your career upon graduation or go on to medical school.
Whether you're interested in becoming a physician, neurosurgeon, psychologist, or psychiatrist, this degree is going to help you get there! So what are you waiting for? Start making positive changes in the world by being a compassionate professional in the medical field.
Award-Winning Campus
At Liberty, you'll find an affordable, high-quality education that equips students like you for the real world. Our commitment to excellence helped us rank among Niche.com's Top 3 college campuses in America. Earning your degree from a nonprofit university with state-of-the-art resources like ours can help set you apart from your peers.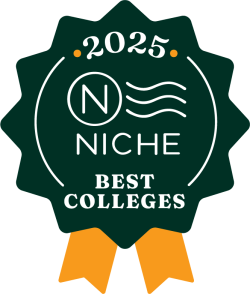 ---
Why Choose Liberty's Biopsychology Degree?
At Liberty, we want to equip you with the tools you need to be successful in your career or graduate degree. Our biopsychology degree provides you with the knowledge, experience, and resources you need to meet your goals.
So what resources are available to you? One of our most valuable assets is our professors. These men and women are professionals in medicine and psychology and have earned their doctorates in a related field. They will pass on the knowledge they've gained from their education and years of experience while supporting, mentoring, and guiding you throughout your degree.
Another great resource available to you is the experience you'll gain in labs. These lab classes provide hands-on training prior to graduation. Plus, you have psychology activities and internships that are available to you while studying with us.
---
What Will You Learn in Our Biopsychology Degree?
Our desire is to provide coursework that will prepare you for your future career and educational experiences. Whether you decide to start your career immediately after graduation or pursue graduate school, you will be equipped for success. 
Throughout this degree, you'll study a wide variety of areas like:
Clinical human anatomy
Genetics
Neurobiology
Organic chemistry 
Physiological psychology
View the Degree Completion Plan, and check out our featured courses below for more information on what you'll be studying!
Featured Courses
BIOL 224 – General Biology I
Here's what you'll learn:
An introduction to the fundamental principles of biology
Emphasis placed on the scientific methodology, molecular, cellular and energetic bases of life, major metabolic processes, cellular and organismic reproduction Mendelian and population genetics, speciation, phylogenetic reconstruction, ecological interactions and a brief survey of organisms
Here's what you'll learn:
A study of the principles of heredity
Emphasis on inheritance in individuals and populations, chromosomal rearrangements, the chemistry of the gene in DNA structure and replication, transcription, translation, the control of gene expression, mutations and their repair, genetic engineering, and epigenetic
Here's what you'll learn:
An investigation of neurons and the nervous system
Topics include action potential, synaptic transmission and neuromodulation, the processing of sensory information in visual and auditory systems, and other senses, sensory integration and motor behaviors, and neural mechanism of learning and memory, sleep/wakefulness, and reward and decision-making
PSYC 380 – Physiological Psychology
Here's what you'll learn:
The most recent findings in the area of physiological psychology
Topics of study will include the nervous system, sensory systems, physiological bases of behaviors, and development of learning and memory
Highlights of Our Biopsychology Degree
Labs are associated with nearly every course in the Department of Biology and Chemistry, giving you hands-on experience in your field before graduation.
Your courses and labs are taught by faculty with real-life experience and doctorate degrees.
There is an emphasis placed on creationism, but evolution is also taught for a well-rounded perspective of the earth's origins.
There are many opportunities to be involved in research projects with faculty as an undergraduate student.
The medical school acceptance rate is over 80% for graduates of the Department of Biology and Chemistry.
Our students' average MCAT score is above the national average.
Biopsychology Bachelor's Degree Information
Career Opportunities for Biopsychology Graduates
Biomedical research laboratory technician
Genetic counselor
Neuropsychologist
Pharmaceutical research technician
Physiological psychologist
Physician
Psychiatrist
Public health analyst
Many career opportunities in this field will require additional education beyond a bachelor's degree.
Admission Requirements for Undergraduate Degrees
Every application is reviewed by the admission committee on a case-by-case basis, meaning there are no set minimums for acceptance. However, all applicants must submit the following documents* for admission:
Admission application
Official high school transcripts
Official college transcripts (if applicable)
Results from the CLT, SAT, or ACT are not required for admission, but may be used in consideration for merit-based aid.
Admission essay
*Note that additional documentation may be requested by the admission committee after your application has been received.