Join the Scientific Community with a Degree in Biochemistry and Molecular Biology
Do you have a passion for science, learning more about the creation of the earth, the way our bodies are designed, and how the elements of the universe interact with one another? If you do, then our bachelor's in biochemistry and molecular biology is the perfect degree to get you on track to enter the career field of your choice.
We understand that you're excited about making an impact in the scientific community and using your passions and skills to help others. We want to help you hone your skills and give you the knowledge and training you need to excel in this challenging, but rewarding, field.
With our biochemistry and molecular biology degree, you'll pursue a career or postgraduate work in the scientific field of your choice. Our graduates have opportunities in the fields of immunology, toxicology, pharmacology, neurochemistry, chemistry, and more!
Award-Winning Campus
At Liberty, you'll find an affordable, high-quality education that equips students like you for the real world. Our commitment to excellence helped us rank among Niche.com's Top 3 college campuses in America. Earning your degree from a nonprofit university with state-of-the-art resources like ours can help set you apart from your peers.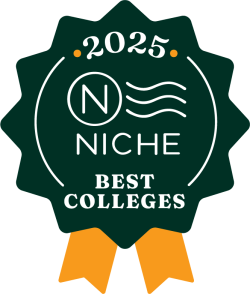 ---
Why Choose Liberty's Biochemistry and Molecular Biology Degree?
At Liberty, we believe in providing you with the best education we can. With our biochemistry and molecular biology degree, you will be exposed to diverse and challenging coursework with hands-on training taught by our most experienced professors.
You'll study many courses on chemistry and biology, as well as math, physics, and the history of life and creation of the world. This varying coursework allows you to go on to various careers or graduate school programs in the scientific field upon graduation.
Nearly every biology and chemistry course also has associated labs. This means you're getting hands-on experience to supplement your in-class knowledge. Each course and lab is also taught by one of our top professors who has experience in their field as well as a related doctoral degree.
---
What Will You Learn in Our Biochemistry and Molecular Biology Degree?
The professors and staff within our Department of Biology and Chemistry want you to be well prepared to seek out the career or postgraduate work that you desire upon completing one of our degrees. Our biochemistry and molecular biology degree gives you both the coursework and laboratory experience to equip you for just that.
In our program, you'll study physics, biochemistry, botany, genetics, cell biology, organic and physical chemistry, and more. These types of studies and labs provide the training you need to go into the career field of your choice or pursue postgraduate work within the medical field and scientific community.
View the Degree Completion Plan, and check out our featured courses below for more information on what you'll be studying!
Featured Courses
BCHM 451 – Biochemistry I
Here's what you'll learn:
Advanced topics in biochemistry
Emphasis placed on physical biochemistry, thermodynamics, kinetics, equilibria, protein structure/function and enzyme kinetics, mechanisms and regulation, and intermediary metabolism and its regulation
Here's what you'll learn:
An introduction to microorganisms with emphasis on the principles and techniques of culture and identification, life processes, and diversity of microorganisms
BIOL 455 – Molecular Techniques
Here's what you'll learn:
Basic molecular biological techniques involved in the study of DNA, RNA, and proteins
Specific techniques including PCR, DNA cloning, library screening, proteomics, gene sequence databases, and molecular modeling
CHEM 301 – Organic Chemistry I
Here's what you'll learn:
A study of alkanes and alkenes, optical activity, stereochemistry, substitution and elimination reactions, and ring systems
Highlights of Our Biochemistry and Molecular Biology Degree
Labs are associated with nearly every course in the Department of Biology and Chemistry, giving you hands-on experience in your field before graduation.
Your courses and labs are taught by faculty with real-life experience and doctoral degrees.
Emphasis is placed on creationism, but evolution is also taught for a well-rounded perspective of the earth's origins.
There are many opportunities to be involved in research projects with faculty as an undergraduate student.
Biochemistry and Molecular Biology Degree Information
Career Opportunities for Biochemistry and Molecular Biology Graduates
Agricultural biotechnologist
College professor/researcher
Dentist 
Optometrist 
Pharmacist
Physician
Physician's assistant 
Veterinarian
Many career opportunities in this field will require additional education beyond a bachelor's degree.
Admission Requirements for Undergraduate Degrees
Every application is reviewed by the admission committee on a case-by-case basis, meaning there are no set minimums for acceptance. However, all applicants must submit the following documents* for admission:
Admission application
Official high school transcripts
Official college transcripts (if applicable)
Results from the CLT, SAT, or ACT are not required for admission, but may be used in consideration for merit-based aid.
Admission essay
*Note that additional documentation may be requested by the admission committee after your application has been received.