Increase Production Efficiency with a Mechanical Engineering Degree
Do you find yourself taking things apart and putting them back together? Do you find it interesting how lasers work or how a fuel injector works? With a degree in mechanical engineering at Liberty University, you can explore how and why things work while learning how to create with care and excellence. Become a professional in your field and turn knowledge into wisdom as you apply the knowledge you learn in the classroom to cutting-edge projects.

---

Award-Winning Campus
At Liberty, you'll find an affordable, high-quality education that equips students like you for the real world. Our commitment to excellence helped us rank among Niche.com's Top 3 college campuses in America. Earning your degree from a nonprofit university with state-of-the-art resources like ours can help set you apart from your peers.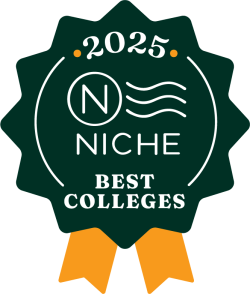 ---
Why Choose Liberty's Bachelor's Degree in Mechanical Engineering?
Our mechanical engineering bachelor's degree seeks to help provide the industry-specific training you need to be successful in any career you choose. Our state-of-the-art facilities provide you with an opportunity to work with some of the latest tools and equipment available. Learn by studying in the classroom and then turn that knowledge into wisdom as you solidify the lessons imparted.

By studying mechanical engineering, you can learn how to design and build for general-purpose machinery manufacturing, automotive parts manufacturing, and management of other companies and testing laboratories – all within the context of a Christian worldview.
This program will focus on developing hands-on, practical, and technical skills using both lecture and lab environments. Your assignments are designed to simulate real-life scenarios because we believe that having experience is imperative to your pursuit of jobs with a mechanical engineering degree.
Our curriculum seeks to prepare you to apply mathematical and scientific principles to design engineering solutions as well as develop operational evaluations of physical systems used in manufacturing and end-product systems. We desire to equip you to use engineering methodology to develop machines and other products to make processes more efficient.
Practical Experience
In addition to offering hands-on training in the classroom, we've partnered with a number of companies that provide the opportunity to complete an internship and gain real-world skills alongside professionals who are already in the field. This is a chance to make practical use of your skills and put your knowledge to the test in real problem-solving situations. Our students have worked for companies like:
Boeing
Georgia Pacific
NASA
Disney
National Ground Intelligence Center
You can have the opportunity to serve God and use your engineering talents to impact industrial, environmental, and societal contexts for Christ.
---
What Will You Learn in Our Mechanical Engineering Bachelor's Degree Program?
Our faculty know that in order to Train Champions for Christ, there needs to be a precedent of excellence – a training ground that strives to help develop you in your God-given gifts and abilities. Liberty seeks to foster the professional and technical skills you need to be an asset in the field of mechanical engineering. Throughout this Bachelor of Science in Mechanical Engineering degree, you'll take engaging courses that cover topics like mechanical design, water flow, dynamic systems, heat transfer, statics, and thermodynamics.
As a mechanical engineer, you will be working with a number of different materials in the manufacturing process. We will teach you about the various properties, strengths and weaknesses, and even smart properties of these materials. One of the courses you take will teach you how to develop and program computer-controlled machines to carry out certain tasks. You will learn how to use sensors and motion transmission controllers to get machines to function the way you want.
Download and review our Bachelor of Science in Mechanical Engineering Degree Completion Plan, and review our featured courses below for more information about what you'll be studying!
Featured Courses
ENGI 220 – Engineering Economy
You will be taught the time value of money, analysis of investments, break-even concepts, risk analysis, alternatives analysis, tax implications, certainty, and uncertainty.
ENGM 310 – Materials Engineering
Here's what you'll learn:
Atomic and molecular effects, properties, and applications
Atomic and molecular structure of materials
Discussion of metals, plastics, ceramics, and composites
How to tailor microstructure composition of materials to desired mechanical, electrical, optical, magnetic, and smart properties
Survey of the abundance, selection, design, manufacturing, and designation of engineering materials
Here's what you'll learn: 
In this course, an introductory study of the fundamental principles and technologies found in modern computer-controlled machines and processes is taught. 
You will learn the 4 main components of a mechatronic system: sensors, actuators, motion transmission mechanisms, and controllers. You will be expected to design and build a mechatronic system.
ENGR 381 – Engineering Design Introduction
This course will contain an introduction to the design process. Topics that will be discussed include system engineering, team dynamics, design specifications, conceptual design, scheduling, developing a business plan, market survey, and budgeting.
Highlights of Our Bachelor's in Mechanical Engineering Degree Program
The Mechanical Engineering program is accredited by the Engineering Accreditation Commission(s) of ABET, https://www.abet.org, under the General Criteria and the Program Criteria for Mechanical and Similarly Named Engineering Programs.

Over the past 8 years, Liberty University students have passed the Fundamentals of Engineering (FE) exam at an average rate of 89%! In 2020, the national average across mechanical, electrical and computer, and industrial and systems engineering was under 70%.* With pass rates well above national averages, Liberty students are prepared to impact the world for Christ.

Many classes are associated with a lab. This gives you an opportunity for practical application and better assimilation of the lessons.

Our Mechanical Engineering Bachelor's Degree Information
Residential 
135 total credit hours
Transfer in up to 75% of your total degree
This bachelor's degree program falls under our School of Engineering
View our Bachelor of Science in Mechanical Engineering Degree Completion Plan
Find more information about our bachelor's degree in mechanical engineering program in our course catalog
Career Opportunities for Our Bachelor's in Mechanical Engineering Graduates
Component engineer
Mechanical engineer
Product engineer
Quality engineer
Reliability engineer
Admission Requirements for Undergraduate Degrees
Every application is reviewed by the admission committee on a case-by-case basis, meaning there are no set minimums for acceptance. However, all applicants must submit the following documents* for admission:
Admission application
Official high school transcripts
Official college transcripts (if applicable)
Results from the CLT, SAT, or ACT are not required for admission, but may be used in consideration for merit-based aid.
Admission essay
*Note that additional documentation may be requested by the admission committee after your application has been received.