Design and Build Products for People with an Electrical Engineering Degree
If the thought of being able to create complex electronic systems, be involved in robotics and biometrics, and creating electronic devices excites you, then our Bachelor of Science in Electrical Engineering can give you the knowledge and skills to turn those passions into a career. Electrical engineering applies the principles of electricity, magnetism, and light to design and build products that benefit people.
What can you do with a bachelor's degree in electrical engineering? This field is extremely broad. Electrical engineers are instrumental in the design of communication networks, digital systems, biometrics, integrated circuits, electronics, space vehicles, robots, power supply systems, and much more. Innovation such as satellite communications, cell phones, XM radio, fiber optic networks, radar systems, high-speed microprocessors, and neural networks all fall within the domain of the electrical engineer.
Liberty University's electrical engineering bachelor's degree program provides an overview of the foundational principles of electrical engineering with a specific focus on the discipline areas of electromagnetic and electronic circuits. We aim to produce Christ-centered men and women who will go into the workforce with the values, skills, and knowledge essential to be a positive force in electrical engineering-related industries.
Award-Winning Campus
At Liberty, you'll find an affordable, high-quality education that equips students like you for the real world. Our commitment to excellence helped us rank among Niche.com's Top 5 college campuses in America. Earning your degree from a nonprofit university with state-of-the-art resources like ours can help set you apart from your peers.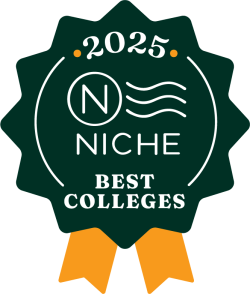 ---
Why Choose Liberty's Bachelor's Degree in Electrical Engineering?
As one of the largest Christian universities in the United States, we have the resources to provide you with the latest in technology in our state-of-the-art labs and classrooms. Our goal is to give you many opportunities to use the skills you learn in the classroom in real-world settings. 

You will have an opportunity to complete an internship with a company that best fits with your career goals, as you work alongside seasoned professionals who will assist you in using the skills you've obtained and put your knowledge to the test. The experience of active learning will give you a competitive edge in the job market upon graduation. In fact, 49 companies in 9 states and 4 countries have given internship opportunities to our engineering students.
Accreditation provides value to your degree. Companies and organizations looking at your resume will know that your degree has met certain engineering industry standards. The electrical engineering program is accredited by the Engineering Accreditation Commission of ABET*.
*ABET accredits postsecondary degree-granting programs housed within regionally accredited institutions. They accredit programs only, not degrees, departments, colleges, or institutions.
---
What Will You Learn in Our Electrical Engineering Bachelor's Degree Program?
In our B.S. in Electrical Engineering degree, you will learn how to apply probability and statistics to electrical engineering. In addition, you will gain knowledge of scientific and mathematical principles necessary to analyze and design complex digital systems. This knowledge will be useful in understanding the creation of electronics and control systems.
We will also cover the basic architecture of computers, as this information and training is vital to a broad understanding of all areas of engineering.  From there you will study the basics of electronic components and control systems. We will also cover how to develop a plan, team dynamics, budgeting, creating a conceptual design, and other factors that are crucial in seeing a design through to completion.
Download and review our Bachelor of Science in Electrical Engineering Degree Completion Plan.
Featured Courses
ENGC 361 – Computer Architecture
Here's what you'll learn:
Introduction to architecture and organization of computer systems.
Topics include data and instruction representation, arithmetic and logical operations, processor and memory implementations, memory hierarchy (cache, main memory, and secondary memory), simple pipelines, and hardware applications of OS functions.
Introduction to electronic devices including diodes, transistors, and operational amplifiers and their applications in electrical circuits.
ENGE 411 – Control Systems
Here's what you'll learn:
An introduction to both the classical and the modern control theories, with an emphasis on constant-coefficient linear control systems and state function.
Topics include, but are not limited to: classical feedback control systems, controller sensitivity and disturbance rejection, transfer matrices, feedback control of first- and second-order systems, stability analysis, frequency response methods, state equations, linear transformations, state-variable feedback, eigenvalue placement, controllability, observability, and observer design for linear control systems.
ENGR 381 – Engineering Design Introduction
Introduction to the design process. Topics include system engineering, team dynamics, design specifications, conceptual design, scheduling, developing a business plan, market survey, and budgeting.
Highlights of Our Bachelor's in Electrical Engineering Degree Program
Our computer, electrical, industrial & systems, and mechanical engineering programs are accredited by the Accreditation Board for Engineering and Technology (ABET). This means you can be sure your degree will be well respected in the engineering field.

Over the past 8 years, Liberty University students have passed the Fundamentals of Engineering (FE) exam at an average rate of 89%! In 2020, the national average across mechanical, electrical and computer, and industrial and systems engineering was under 75%.* With pass rates well above national averages, Liberty students are prepared to impact the world for Christ.
Many classes are associated with a lab. This gives you an opportunity for practical application and better assimilation of the lessons.
You will have access to the latest technology and a qualified faculty that seek to know you personally and to provide you with opportunities for education, research, and training in a Christ-centered environment.
Liberty University's Center for Engineering Research & Education (CERE), located in nearby Bedford County, Virginia, promotes research and development of all forms of energy generation, storage, transmission, and through the Center for Advanced Engineering & Research, which is part of the CERE, engineering students at Liberty have the opportunity to observe and assist with research in the state-of-the-art facility.
You may have the opportunity to intern at a variety of fortune 500 companies and government agencies. This will not only offer you hands-on experience, but many internships are paid, allowing you to offset living costs.
*National Council of Examiners for Engineering and Surveying (NCEES), at FE Exam (viewed online May 11, 2021).

Liberty Center For Energy Research And Education (CERE)
Our Electrical Engineering Bachelor's Degree Information
Career Opportunities for Our Bachelor's in Electrical Engineering Graduates
Aerospace engineer
Broadcast engineer
Design engineer
Electrical engineer
Robotics engineer
Admission Requirements for Undergraduate Degrees
Every application is reviewed by the admission committee on a case-by-case basis, meaning there are no set minimums for acceptance. However, all applicants must submit the following documents* for admission:
Admission application
Official high school transcripts
Official college transcripts (if applicable)
Results from the CLT, SAT, or ACT are not required for admission, but may be used in consideration for merit-based aid.
Admission essay
*Note that additional documentation may be requested by the admission committee after your application has been received.