Explore New Possibilities with a Bachelor of Science (BS) in Writing Degree
Are you someone who enjoys writing and is hoping to turn your passion into a career? Writing is a valuable skill set that is utilized in nearly every field. From the plays of Shakespeare to the content of online blogs, writing is a useful, heavily studied, and highly translatable skill. By earning Liberty University's Bachelor of Science in Writing, you can enhance your natural talents and help expand your career opportunities.
Because writing is such a broad and sought-after field, there are a variety of jobs that you might be eligible for upon graduation. Interested in authoring your own books, writing news articles, managing social media accounts, or blogging? Maybe you prefer to pursue a career in technical writing or grant writing. No matter what kind of content you prefer to write, you can use our professional writing undergraduate program to find a career in writing that is made for you!
Award-Winning Campus
At Liberty, you'll find an affordable, high-quality education that equips students like you for the real world. Our commitment to excellence helped us rank among Niche.com's Top 3 college campuses in America. Earning your degree from a nonprofit university with state-of-the-art resources like ours can help set you apart from your peers.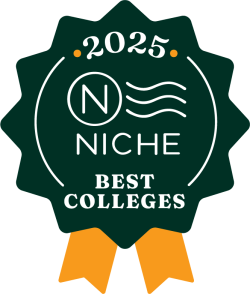 ---
Why Choose Liberty's BS in Writing?
As a writing major, you can learn marketable skills that are applicable to numerous industries. Research also indicates that writers in America are paid well for their work. According to the Bureau of Labor Statistics, writers and authors made an average of $67,120 per year in 2020*. In most cases, writing jobs require a college degree – which is where Liberty can help.
Choosing where to pursue your professional writing degree is a big decision – this is where you'll be spending up to 4 years learning, growing, and living. At Liberty, our goal is to propel you into your future career while helping you maintain Christian values, cultivate new relationships, and develop personal and professional skills. Our mission is Training Champions for Christ, and because of that, we strive for excellence in all that we do.
Here are some of the things you can expect if you choose Liberty:
Exceptional Professors
Our professors have years of experience in their respective fields. Your teachers will be individuals who have authored books and worked for major companies. They are excited about sharing their experiences with you, and they are ready to pray for and mentor you every step of the way.
Commitment to Christianity
You'll see our mission of Training Champions for Christ honored throughout your time at Liberty. You will have regular opportunities to meet with other students in prayer and worship. Take part in prayer groups, Campus Community, and Convocation, and continue to cultivate your relationship with God.
Opportunities
We want to make sure you have every opportunity available to you. We offer a variety of internships and practical experience opportunities where you can make professional contacts or even travel the world! For instance, you could get hands-on experience as a journalist by joining the Liberty Journal, our school newspaper.
Resources
Liberty University's on-campus library offers you access to a vast collection of scholarly research resources that you can use to enhance your writing. As an undergraduate student, you can also seek tutoring if you're struggling with a concept, schedule an appointment with one of your professors, or consult our online writing tools and templates.
*Bureau of Labor Statistics, U.S. Department of Labor, at Occupational Outlook Handbook: Authors and Writers (viewed online June 4, 2021). Cited projections may not reflect local and/or short-term economic or job conditions and do not guarantee actual job growth.
---
What Will You Learn in Our Bachelor's Degree in Writing?
Our bachelor's degree for aspiring writers is meant to equip you with a foundational knowledge of writing. You'll learn about grammar, syntax, and the structural components of written pieces. You'll also learn about different writing styles so you can be prepared for any career or opportunity in your future.
In addition, our bachelor's degree in writing offers an overview of modern grammar, inspirational writing, creative writing, and methods and materials used in writing. This degree also allows you to choose several elective courses, so you can tailor your degree to match your career goals. 
The goal of this degree program is to help you:
Analyze whether a text follows the conventions of its given genre or style.
Evaluate various texts in the context of a Christian worldview.
Produce a piece that follows the research methods and writing conventions of a given genre or style.
Write grammatically, clearly, and logically.
Review the Degree Completion Plan, and check out our featured courses below to learn more about what you'll be studying!

Featured Courses
ENGL 333 – Modern Grammar
Here's what you'll learn:
The nature, structure, and modifications of the English language
Traditional, structural, and generative-transformational grammars
WRIT 201 – Introduction to Creative Writing
In this course, you will learn the literary components, complexity, and craft of creative writing.
WRIT 305 – Introduction to Inspirational Writing
In this course, you will learn about the history and practice of inspirational writing.
WRIT 402 – Methods and Materials of Writing
In this course, you will learn about the research and bibliographic methods necessary for successful creative writing.
Highlights of Our BS in Writing Degree
In our BS in Writing program, you will learn from experienced professors who are industry leaders with publications in the field.
Your professors care about you as an individual and are dedicated to giving you the support and mentorship you need.
Due to the demand for writing in every field, you could have a variety of career options available to you upon graduation.
Our chapter of Sigma Tau Delta provides a variety of professional development opportunities.
Bachelor's Degree in Writing Information
Career Opportunities for BS in Writing Graduates
Biographer
Editor
Grant writer
Instruction manual author
Journalist/reporter
Novelist
Professional blogger
Public relations representative
Screenwriter
Social media coordinator
Songwriter
Speech writer
Sports writer
Team/corporate trainer
Technical writer
Admission Requirements for Undergraduate Degrees
Every application is reviewed by the admission committee on a case-by-case basis, meaning there are no set minimums for acceptance. However, all applicants must submit the following documents* for admission:
Admission application
Admission essay
Official college transcripts (if applicable)
Official high school transcripts
Results from the CLT, SAT, or ACT are not required for admission, but may be used in consideration for merit-based aid.
*Note that additional documentation may be requested by the admission committee after your application has been received.