Gain a Second Language and Double Your Value in the Market Place
Do you speak Spanish or have a desire to learn to speak Spanish fluently? If you learn a new language, you learn more than just how to communicate. You study another culture and increase your ability to be an asset in the career you choose. With a Bachelor of Arts in Spanish from Liberty University, you can choose a career in almost any field of interest, from government, education, or medicine, to business or tourism.
Twenty-one world governments list Spanish as an official language, making it extremely valuable to those who might want to work abroad or in international business. In addition, there are many opportunities for people with bilingual language skills right in the United States. Our experienced professors can help you gain proficiency in Spanish and develop a number of skills that will be needed in various job fields.
Award-Winning Campus
At Liberty, you'll find an affordable, high-quality education that equips students like you for the real world. Our commitment to excellence helped us rank among Niche.com's Top 3 college campuses in America. Earning your degree from a nonprofit university with state-of-the-art resources like ours can help set you apart from your peers.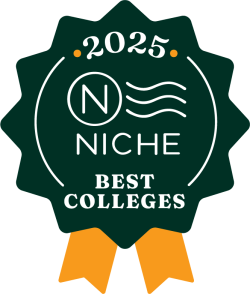 ---
Why Choose Liberty's Bachelor's in Spanish Degree?
Spanish is the second most widely spoken native language, so there are ample opportunities for unique and exciting careers with a bachelor's in Spanish. Not only will you develop a deeper understanding of another culture and way of life, but also learning a second language teaches you more about the mechanics of your own native language.
One of Liberty University's most dynamic educational programs is the Summer Spanish Institute. Through intensive summer programs conducted in Guatemala and Spain, you will both teach English as a foreign language and study Spanish in linguistic and cultural immersion experiences.
In addition to our summer immersion programs, you might have the opportunity to join Liberty University's Pi Chi chapter of the Sigma Delta Pi National Collegiate Hispanic Honor Society. It is another chance to further your Spanish-speaking abilities and be involved in local community service and leadership and promote the excellence of scholarship in the study of Spanish. 
---
What Will You Learn in Our Bachelor's in Spanish Degree?
There are so many facets to learning a new language. Our bachelor's degree in Spanish provides you with a well-rounded Christian education as you become fluent in the Spanish language. Our professors want to see you succeed, so they work hard to create classes that cover a wide variety of language skill training.
Throughout this degree program, you will:
Study the art of composition and writing in Spanish to improve your vocabulary and increase your fluency in the language.
Improve your knowledge of Spanish literature through a series of lectures, oral presentations, and selected writings.
Explore translation and linguistic traits of both English and Spanish in order to better understand how to translate a variety of texts.
All of the courses within our Spanish bachelor's degree provide the needed linguistic skills that will enable you to be successful in your future career.
View the Degree Completion Plan, and check out our featured courses below to find out more about what you'll be studying!
Featured Courses
SPAN 302 – Advanced Spanish Composition and Conversation

This course will help you develop practical vocabulary and fluency in speaking and writing.
SPAN 310 – Introduction to Translation: Spanish-English
Here's what you'll learn:
An introductory comparison of linguistic traits of both languages
How to apply grammatical rules and perform textual analyses
How to use a number of translation procedures while translating a variety of texts from Spanish to English, including newspaper editorials, magazine articles, business reports, articles in the social sciences, advertisements, etc.
SPAN 321 – Modern Spanish Literature
Through lectures, oral presentations and selected readings in Spanish, this course provides a survey of modern Hispanic literature.
SPAN 330 – Introduction to Hispanic Linguistics
Here's what you'll learn:
This course serves as an introduction to phonetics, phonology, morphology, and syntax as applied to Spanish and includes a study of the history of the language in its development from Latin into modern dialects.
This course is conducted entirely in Spanish and is required for Spanish Teacher Licensure.
Highlights of Our Bachelor of Arts in Spanish Degree
Liberty University has two 8-week immersion Spanish programs in both Guatemala and Spain. Travel to Spanish-speaking countries and immerse yourself in the language and culture as you minister teaching English, working at a local church, working in hospitals, orphanages, and many more opportunities.
Join the Liberty University Spanish Club for more opportunities to practice Spanish and fellowship with peers.
Liberty University's Pi Chi chapter of the Sigma Delta Pi National Collegiate Hispanic Honor Society is another great chance to further your studies and help promote excellence in the study of the Spanish language and culture.
Bachelor's in Spanish Degree Information
Career Opportunities for Bachelor's in Spanish Graduates
Civil services worker
Graduate student
Ministry translation specialist
Tutor
Writer
Admission Requirements for Undergraduate Degrees
Every application is reviewed by the admission committee on a case-by-case basis, meaning there are no set minimums for acceptance. However, all applicants must submit the following documents* for admission:
Admission application
Official high school transcripts
Official college transcripts (if applicable)
Results from the CLT, SAT, or ACT are not required for admission, but may be used in consideration for merit-based aid.
Admission essay
 *Note that additional documentation may be requested by the admission committee after your application has been received.