Design, Create, and Market Products with a Professional and Creative Industries Degree
Do you love designing and creating new projects? We understand your creative passion. With our Family and Consumer Sciences (FACS) – Professional and Creative Industries degree, you'll have the skillset needed to professionally create art projects. Additionally, you will gain the knowledge to market your creations through digital media.
With this flexible degree, you will be able to choose which areas of artistic expression you would like to focus on. You will learn about retail concepts that are essential for buyers and managers within the creative industries. You will also gain a well-rounded education so you can create a profitable business within this field.
With a degree in FACS – Professional and Creative Industries, you'll learn how to sell your product through effective writing skills for various forms of media with a focus on social media. The large number of electives in this degree will also allow you to follow your creative passion to study the subjects best-suited to your professional and personal goals.
Award-Winning Campus
At Liberty, you'll find an affordable, high-quality education that equips students like you for the real world. Our commitment to excellence helped us rank among Niche.com's Top 5 college campuses in America. Earning your degree from a nonprofit university with state-of-the-art resources like ours can help set you apart from your peers.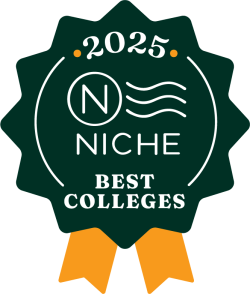 ---
Why Choose Liberty's Family and Consumer Sciences in Professional and Creative Industries Degree?
At Liberty, we desire to teach you a skill that helps others and makes your passions a reality. That's why we've created our B.S. in Family and Consumer Sciences – Professional and Creative Industries degree. You're going to get the education, resources, and experience you need to excel in your field.
Our most valuable resource is our professors. You'll be able to learn from people who have real-life experience with the topics they're teaching on. They are available to teach, mentor, and guide you while you're on your academic journey with us.
In addition to your professors, another excellent learning opportunity you'll experience is your internship. We value hands-on experience, and we believe this is the best way for you to learn how to be a leading professional in your field.
---
What Will You Learn in Our Family and Consumer Sciences in Professional and Creative Industries Degree?
With our degree in family and consumer sciences, you're going to get the knowledge you need to succeed in a field that educates and enriches others' lives. You'll understand how to positively impact families and communities, plan life events for others, and most importantly work in the creative industries field effectively.
Some of the courses you'll take include topics like contemporary families, interior and apparel design, human nutrition, parenting, and career planning. With courses like these, you'll be able to understand what is needed to live a holistically healthy life.
Additionally, the professional and creative industries specialization will focus on effective methods for creating your products and getting them to market. You'll learn how to photograph your items so that you can effectively communicate on the internet visually. Another form of communication is writing, and you will learn the different techniques needed for mass media formats and how to write for social media platforms as well.
Review the Degree Completion Plan, and check out the featured courses below to learn more about what you'll study!
Featured Courses
ARTS 319 – Mobile and Interactive Technology App
Here's what you'll learn:
App and web development and how to create professional-level projects
The tools used to create mobile and desktop web messages/content in the industry
FACS 351 – Event Management
You will study strategies for success in the hospitality industry including:
Coordinating and staffing events such as conferences and weddings
Essentials in negotiating contracts
Planning multi-media components
FACS 353 – Retail Merchandising
Here's what you'll learn:
Buying procedures, assortment planning, inventory control, price, and profit analysis
Retail merchandising concepts essential for buyers and managers within the creative industries
Here's what you'll learn:
Basic techniques used by the professional to inform and/or persuade audiences
Mass communication media formats and writing techniques from news from print and broadcast to advertising and public relations
Highlights of Our Family and Consumer Sciences – Professional and Creative Industries Degree
The required internship provides hands-on experience and job offers.
On-campus clubs allow students to connect with other students and professionals in the field. Available clubs include Family and Child Development Association, Interior Design Association, Fashion Design and Merchandising Association, Event Planning Society, and FACS Honor Society.
Gain the skills you need to be your own boss in the creative industry field.
Prepare for leadership positions in creative industry jobs.
Family and Consumer Sciences in Professional and Creative Industries Degree Information
Career Opportunities for Family and Consumer Sciences in Professional and Creative Industries Graduates
Adult or child care administrator
Blogger
Creative industries owner/operator
Entrepreneur
Event planner
Retail manager
Admission Requirements for Undergraduate Degrees
Every application is reviewed by the admission committee on a case-by-case basis, meaning there are no set minimums for acceptance. However, all applicants must submit the following documents* for admission:
Admission application
Official high school transcripts
Official college transcripts (if applicable)
Results from the CLT, SAT, or ACT are not required for admission, but may be used in consideration for merit-based aid.
Admission essay
*Note that additional documentation may be requested by the admission committee after your application has been received.