Pursue a Career in the Rapidly Growing Field of Unmanned Aerial Systems with Liberty!
If you are looking for a degree that can lead to an exciting career with unmanned aerial systems (UAS), this is it! Our Bachelor of Science in Unmanned Aircraft Operations is designed to help you become licensed to pilot drones for all purposes, from military services to corporate organizations.
At Liberty, we partner with industry leaders and advisors to ensure our students are learning the most relevant industry practices with the same state-of-the-art equipment the professionals are using today. Our School of Aeronautics also has its own line of aircraft and simulators that will be available to you so you can gain as much experiential, hands-on learning as possible!
This degree represents a significant step forward in our mission to equip, mentor, and send aerospace professionals into the industry. The Association of Unmanned Vehicle Systems projects that more than 100,000 new jobs will be created by 2025.* With this rapidly growing field, there's no better time to get started.
Please note: This degree requires training on ITAR (International Traffic in Arms Regulations) equipment, which means all students in this degree must be U.S. citizens.
*Daily Business Writer, How to become a commercial drone pilot, 2019 (viewed online November 19, 2020). Cited projections may not reflect local and/or short-term economic or job conditions and do not guarantee actual job growth.
---

Award-Winning Campus
At Liberty, you'll find an affordable, high-quality education that equips students like you for the real world. Our commitment to excellence helped us rank among Niche.com's Top 3 college campuses in America. Earning your degree from a nonprofit university with state-of-the-art resources like ours can help set you apart from your peers.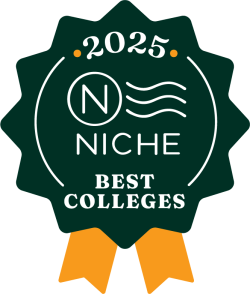 ---
Why Choose Liberty's B.S. in Unmanned Aircraft Operations?
Partner your passion for aviation with a school that pushes its students further! This degree will give you a strong foundation in the science of flight. After you have built upon this foundation, you will enhance your skills in UAS and gain the skills needed to be a UAS operator. Our School of Aeronautics is one of only a handful of schools that offers unmanned aerial system certification training with medium UAS! We have significant input from industry leaders that allows us to grow our program and keep up with this field's needs and standards.
As a UAS operator, your mission will be a little different than a pilot. We will train you from a higher-level approach on how to guide the aircraft to and from its destination while ensuring the systems are all in the optimal location to record the data needed by the customer. Our alumni do everything from inspecting critical infrastructure to flying missions for the Department of Defense (DoD) as civilian contractors.
---
What Will You Learn in Our Unmanned Aircraft Operations Degree?
Our unmanned aerial systems bachelor's degree will help you attain the industry certification you will need to become a professional UAS operator. Our program prepares you for a career in one of the most rapidly growing industries on the planet. This degree requires training on ITAR equipment, which means that you must be a U.S. citizen to study in this degree program.
You will first gain a firm foundation in the science of flight. After that, you will learn how to operate unmanned aerial vehicles safely and ethically. This comes through courses in UAS avionics and powerplants as well as various flight courses where you'll train under licensed professionals.
As a UAS Liberty student, you will get opportunities to earn full industry certification on the medium-sized Aerosonde vehicle and become a UAS instructor through our partnership with Textron and other industry professionals. In addition to these courses, we will prepare you for the unique requirements of an aviation job interview. You will learn how to present your paperwork and get a chance to go through mock interviews that will be critiqued by an aviation industry representative.
View the Degree Completion Plan and check out our featured courses below to learn more about what you'll be studying!
Featured Courses
AVIA 230 – Unmanned Aerial Systems
Here's what you'll learn:
Elements of command and control
The history of unmanned aircraft
The latest operations and challenges currently facing this industry
The National Airspace System and how it relates to UAS
AVIA 235 – Small UAS Ground
Here's what you'll learn:
Academics and simulated flights of multi-rotor and fixed wing UAS platforms
Mission planning, autonomous mission execution, and customer product creation
AVIA 236 – Small UAS Flight
Here's what you'll learn:
Command and control of small unmanned aerial systems
Ground lessons, simulator training, and flight training

Theories related to a specific UAS command and control system
AVIA 323 – UAS Avionics and Powerplants
Here's what you'll learn:
Advanced concepts including RTK GPS, wired and wireless communications protocols, and RF theory
Current state-of-the-art of avionics and systems in unmanned aerial systems
Overview of various UAS powerplants
Highlights of Our School of Aeronautics Degree Programs
From top-of-the-line flight simulators to award-winning flight teams, our aeronautics programs are designed to prepare you for success!
Within 15 years, Liberty's aviation degree programs have grown from just 4 students to over 400 residential students. No matter how far we have come, we will never stop pushing to make our program the best it can be for students like you!
Other noteworthy aspects of our School of Aeronautics include:
State-of-the-art training devices, simulators, and planes
A current fleet of 27 Aircraft, 13 flight training devices, and 6 unmanned aerial vehicles
Loening Trophy winner for 2017 and 2018
American Airlines Safety Award winner three years running
One of the largest faith-based collegiate aviation programs in North America
Unmanned Aerial Systems Degree Information
Career Opportunities for Unmanned Aircraft Operations Degree Graduates
Liberty University's Bachelor of Science in Unmanned Aircraft Operations prepares you for the following occupations:
UAS commercial operator
UAS DoD (Department of Defense) contractor
UAS pilot/instructor
Admission Requirements for Undergraduate Degrees
Every application is reviewed by the admission committee on a case-by-case basis, meaning there are no set minimums for acceptance. However, all applicants must submit the following documents* for admission:
Admission application
Official high school transcripts
Official college transcripts (if applicable)
Results from the CLT, SAT, or ACT are not required for admission, but may be used in consideration for merit-based aid.
Admission essay
*Note that additional documentation may be requested by the admission committee after your application has been received.