Develop the Leadership and Safety Skills Vital to Your Aviation Administration Career
Are you looking for a fast-paced and rewarding career where you must be quick on your feet to solve ever-changing issues? How would you feel about doing all of this while working with airline pilots, their crew, and passengers? If this kind of work environment seems interesting for you, Liberty's aviation administration program can help you get there!
Specialize in aviation safety management so you can learn the procedures and systems that need to be in place for the safety of everyone on board and on the ground. By pursuing our aviation bachelor's in administration, you will be preparing for careers in areas like:
Aircraft manufacturing and sales
Airline operations
Government, private, and nonprofit organizations
Missions aviation operations
Partner with Liberty to receive strong connections with our network of airlines, and gain the knowledge you'll need to stand out to among your peers. Let us help prepare you for the thrilling field of aviation administration and safety management. With the skill set we give you, you can protect and save thousands of lives.
---
Award-Winning Campus
At Liberty, you'll find an affordable, high-quality education that equips students like you for the real world. Our commitment to excellence helped us rank among Niche.com's Top 5 college campuses in America. Earning your degree from a nonprofit university with state-of-the-art resources like ours can help set you apart from your peers.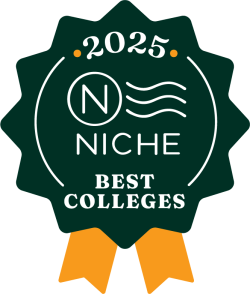 ---
Why Choose Liberty's Aviation Safety Management Degree?
At Liberty, we believe a college degree should provide more than a piece of paper and a checked box on future job applications. We want our students to gain hands-on experience and opportunities to grow and network throughout their time on campus.
Becoming a Liberty aviation administration student will provide you with a variety of those networking, experience, and all around growth opportunities. Some of these resources include the following:
Over 100 student-led clubs, such as our High Flight Mentoring Program or Serving Others Using Aviation Resources (SOAR) group
Hands-on experience with simulated aviation mishaps and emergency situations
Use of tools like Google Earth, flight simulators, and data software so our students can learn how to conduct flight data monitoring
Various airline hiring agreements to help students land jobs before even graduating
Additionally, we offer a mentorship structure on campus, from professors to spiritual directors to your hall leadership team. You deserve a degree that invests in you, from academics to real-world experience to personal and spiritual development. Join the Liberty community and see how far your career in aviation can take you!
---
What Will You Learn in Our Aviation Administration: Aviation Safety Management Degree?
Our aviation administration degree provides a specialization in safety management in order to prepare you for a variety of situations and their corresponding procedures. You will gain hands-on experience with these procedures so you can become confident and prepared for aviation emergencies.
Our courses focus on establishing effective safety programs by conducting an investigation with your peers using a simulated aviation mishap. In another class, you'll complete a simulated emergency response drill, developing your leadership and critical thinking skills in high-stress situations.
Aside from the drills and safety procedures you'll develop, the major courses in this degree provide training in business, financial, management, and marketing principles vital to your ability to lead in the aviation industry.
View the Degree Completion Plan, and check out our featured courses below to learn more about what you'll be studying!
Featured Courses
AVIA 312 – Aviation Safety Programs
Here's what you'll learn:
Get hands-on learning by conducting an investigation using a simulated aviation mishap
Gain an understanding of establishing an aviation safety program, including organizational policy and risk management
AVIA 409 – Safety Management Systems
Here's what you'll learn:
Hands-on learning includes the planning and conducting of a simulated emergency response drill
Learn how Safety Management Systems (SMS) integrates leadership commitment, an environment of trust and accountability, and just culture
AVIA 419 – Aviation Safety Data Analysis
Here's what you'll learn:
How to collect, validate, analyze, and communicate data relevant to aviation safety
How to visualize flight data using tools such as Google Earth, flight simulators, and data software and will learn how to conduct Flight Data Monitoring (FDM)
BUSI 240 – Organizational Behavior I
Here's what you'll learn:
The management and behavioral principles, techniques, and concepts associated with the productivity of organizational resources
Human behavior in organizations and how to improve organizational efficiency and effectiveness through increased understanding of the behavior of people at work
Highlights of Our Aviation Administration in Aviation Safety Management Degree
We provide graduates with the industry expertise they need to lead in aviation business and operation roles.
Within 15 years, Liberty's aviation programs have grown from just 4 students to over 400 residential students, not to mention our online student population! No matter how far we have come, we will never stop pushing to have the best programs around for students like you.
Other benefits of studying in Liberty's aviation administration degree program include:
Professors who know you by name, pray for you, and support you throughout your academic journey
Opportunities for top-line internships at major airlines and aviation companies, with opportunities to travel around the world
The School of Aeronautics's state-of-the-art flight simulators for enhanced learning
Opportunity to investigate real-world aviation issues by utilizing our research lab
Aviation Safety Management Degree Information
Career Opportunities for Aviation Administration Graduates
Liberty University's Bachelor of Science in Aviation Administration degree helps prepare students like you for work in:
Aircraft manufacturing and sales
Airline operations
Airport management
Aviation business
Government and nonprofit aviation organizations
Mission aviation management
Admission Requirements for Undergraduate Degrees
Every application is reviewed by the admission committee on a case-by-case basis, meaning there are no set minimums for acceptance. However, all applicants must submit the following documents* for admission:
Admission application
Official high school transcripts
Official college transcripts (if applicable)
Results from the CLT, SAT, or ACT are not required for admission, but may be used in consideration for merit-based aid.
Admission essay
*Note that additional documentation may be requested by the admission committee after your application has been received.