B.S. in Forensic Science
Residential Forensic Science Program
The Bachelor of Science in Forensic Science degree provides students with interdisciplinary training in chemistry, biology, and criminal justice. Graduates have the opportunity to begin careers with the Virginia Department of Forensic Science, the medical examiner's office, local police departments, the Department of Health, the FBI, the Department of Homeland Security, local and regional offices of the Chief Medical Examiner, the National Institute of Health, the Naval Criminal Investigative Service (NCIS), and many more.
The Forensic Science program has developed relationships with local, regional, and national forensic science laboratories. These laboratories include the Toxicology Section of the Office of the Chief Medical Examiner (OCME) in the District of Columbia, the Virginia Department of Forensic Science in Roanoke, VA, NMS Laboratories in Willow Grove, PA, the Bode Technology Group in Lorton, VA, Parabon Nanolabs, Inc. in Reston, VA.
The B.S. in Forensic Science is offered through the Department of Biology & Chemistry.
---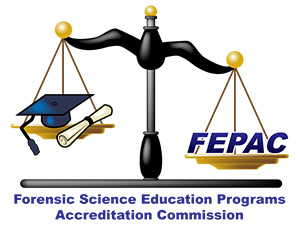 ---
Academics: Forensic Science (B.S.)
Featured Courses
Forensic Chemistry (CHEM 357)
Intro to Forensics (CJUS 360)
Forensic DNA Analysis (BIOL 361)
Forensic Entomology (BIOL 421)
Trace Evidence (BIOL 465)
Criminal Investigations I & II (CJUS 420, 421)
---
Student Placement & Success Outlook
Internships & Independent Studies
Internships
Through Liberty's Washington Fellowship, you can apply for a semester-long internship with the FBI, NCIS, the District of Columbia OCME, and other agencies. This internship will allow you to receive academic internship credit while learning valuable life skills that can be used in the professional forensic science field or to pursue graduate studies.
---
---
Get Started with Your Degree
---
Career Opportunities
Criminal Investigator
Criminalist – Serology
Evidence Technician
Forensic Chemist/Toxicologist
Forensic Consultant
Forensic DNA Analyst
Forensic Autopsy Technician
Forensic Entomologist
Forensic Examiner – Trace Evidence
Forensic Quality Assurance Specialist
Forensic Scientist
Forensic Microbiologist
Trace Evidence Technician