Flu Information and Prevention
As the flu season continues to affect Central Virginia, we are working with various departments to make sure that all surfaces are disinfected regularly, hand sanitizer is readily available, and that you are up-to-date with the latest information regarding this flu outbreak. We suggest bookmarking this page so you can come back for regular updates.
---
Symptoms
If you are experiencing any of the following symptoms, please go to the Student Health Center for a flu test:
Cough
Fever/chills
Nasal congestion
Nausea/vomiting
Back pain/body aches
Fatigue/weakness
Send Your Student a Get Well Package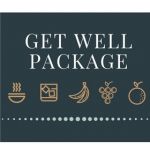 We understand it is hard to be away from your son or daughter when they are sick.
That is why Sodexo has put together the Get Well Package. Filled with Campbell's Chicken Noodle Soup and crackers, Powerade, Orange Juice, Ginger Ale, cough drops, Blistex Lip Balm, Kleenex, and Clorox Wipes, this package is sure to uplift your student's spirit!
---
Tips to Prevent the Flu
1. Avoid close contact.
Avoid close contact with people who are sick. When you are sick, keep your distance from others to protect them from getting sick too.
2. Stay home when you are sick.
If possible, stay home from work, school, and errands when you are sick. This will help prevent spreading your illness to others.
3. Cover your mouth and nose.
Cover your mouth and nose with a tissue when coughing or sneezing. It may prevent those around you from getting sick.
4. Clean your hands.
Washing your hands often will help protect you from germs. If soap and water are not available, use an alcohol-based hand rub.
5. Avoid touching your eyes, nose or mouth.
Germs are often spread when a person touches something that is contaminated with germs and then touches his or her eyes, nose, or mouth.
6. Practice other good health habits.
Clean and disinfect frequently touched surfaces at home, work or school, especially when someone is ill. Get plenty of sleep, be physically active, manage your stress, drink plenty of fluids, and eat nutritious food.
---
Take Care of Yourself
Get some sleep
Your body needs to rest. Head to bed to give yourself time and opportunity to heal.
Drink plenty of fluids
This is not an old wives tale. Ample amounts of water, juice, and tea will keep you hydrated and flush impurities out of your system. Drink up!
Eat healthy food
Your body needs vitamins to build itself back up. Stay away from junk food and eat something nutritious. Request a meal tray from your RA if you need to.
Take some Acetaminophen (Tylenol)
Have a fever? Tylenol will bring it down and take care of your aches and pains. Make sure you follow the dosage instructions on the label closely.
Enjoy some alone time
This is not the time to chill with friends. Protect them by avoiding social situations and large gatherings. Believe us, they will thank you for it.
Being sick is not fun, but it won't last forever. Follow these suggestions and you should feel like yourself again soon.