Manage Law Enforcement Resources Effectively with a Criminal Justice – Public Administration Degree
If you would like to enter the exciting world of criminal justice but you feel your skills and passions aren't in the enforcement area of law, then perhaps you should consider public administration. Without the effective management of vital resources, law enforcement's men and women will not be able to fight crime successfully. Law enforcement needs managers who can handle resources and people on the local, state, or federal agency level. Our Bachelor of Science in Criminal Justice – Public Administration degree will train you to develop responses and solutions to complex administrative situations.
Our professors will help you acquire the skills you need for a successful career in a justice organization.  If you find yourself looking for a career that can combine finance, law enforcement, and managerial skills, then this is the perfect combination for your interests. Gain a practical understanding of public administration, criminal justice, and legal processes as you prepare for a career of service with duty, dignity, and integrity.
Award-Winning Campus
At Liberty, you'll find an affordable, high-quality education that equips students like you for the real world. Our commitment to excellence helped us rank among Niche.com's Top 3 college campuses in America. Earning your degree from a nonprofit university with state-of-the-art resources like ours can help set you apart from your peers.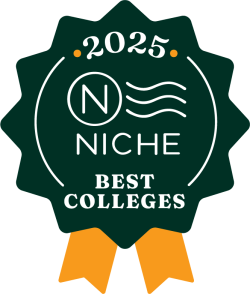 ---
Why Choose Liberty's Bachelor's Degree in Criminal Justice – Public Administration?
Criminal justice is a field that requires its members to hold the highest ethical and moral standards. Perhaps one of the biggest draws for people attending Liberty University is the high ethical standards for which we are known. As one of the largest Christian universities in the world, we have the resources to provide some of the best hands-on training opportunities you can find. With the Washington Fellowship, you have the opportunity to gain first-hand training and turn your knowledge into wisdom with an internship.
Our national criminal justice honor society, Alpha Phi Sigma, offers you opportunities for scholarship and career advancement as you connect with the criminal justice arena. Likewise, our Criminal Justice Club also hosts many events and offers opportunities for you to network and advance in a criminal justice career. 
---
What Will You Learn in Our B.S. in Criminal Justice – Public Administration Degree Program?
In our B.S. in Criminal Justice – Public Administration degree you will learn many valuable skills needed for managing a municipal, state, or federal department.
Gain knowledge of economic and management concepts in the government sector.
Learn how to develop a budget for a police department or other government agency.
Study an overview of the administrative processes found in criminal justice and other government organizations.
Gain in-depth knowledge of the budgeting process in government.
You will also study how the various rules regulating businesses affect and apply to the regulation of government.
Download and review our B.S. in Criminal Justice – Public Administration Degree Completion Plan.
Featured Courses
CJUS 300 – Administration of Justice Organizations
PADM 360 – Introduction to Public Administration
PADM 462 – Public Finance and Budgeting
PADM 475 – Advanced Public Administration
Highlights of Our Bachelor's in Criminal Justice Degree Program
We were awarded an Illuminate Grant for Justice Project DNA testing equipment and training, allowing students under the supervision of professors from our Criminal Justice, School of Law, and Biology departments to research cold cases and assist criminal justice reform advocates in exonerating wrongly convicted individuals.
Our bachelor's in criminal justice degree produces graduates of distinction who have interned with agencies such as the FBI, U.S. Secret Service, U.S. Marshals, Metropolitan Police Department, and NCIS. Our graduates have gained employment in government organizations such as the U.S. Department of Defense, Transportation Security Administration (TSA), AECOM Defense Services Sector, and the Virginia State Police.
You will be taught by professors recognized for their excellence in teaching and who have served with the FBI, the Virginia Beach Police Department, and other distinguished law enforcement agencies.
Our program is rooted in the practical application of the theories you learn through simulations within the classroom and internships in the field.
Our Criminal Justice – Public Administration Bachelor's Degree Information
Residential 
120 total credit hours
You may transfer in up to 75% of your total degree.
This bachelor's degree program falls under our Helms School of Government.
View our bachelor's in criminal justice – public administration Degree Completion Plan.
Find more information about our bachelor's degree in criminal justice program in our Course Catalog.
Career Opportunities for Our B.S. in Criminal Justice Graduates
Corrections facility director
Criminal justice policy advocate
Police officer
Special agent
Admission Requirements for Undergraduate Degrees
Every application is reviewed by the admission committee on a case-by-case basis, meaning there are no set minimums for acceptance. However, all applicants must submit the following documents* for admission:
Admission application
Official high school transcripts
Official college transcripts (if applicable)
Results from the CLT, SAT, or ACT are not required for admission, but may be used in consideration for merit-based aid.
Admission essay
*Note that additional documentation may be requested by the admission committee after your application has been received.