Gain the Interviewing and Investigative Skills You'll Need with Liberty's Criminal Investigation Degree
Earning a bachelor's degree can help you land a job that typically requires years of field experience. This is especially true for criminal investigators. If you are looking to work as an analyst, special agent, field investigator, or law enforcement officer, a degree in criminal justice investigation can help you qualify for these positions with no prior field training!
Liberty University's B.S. in Criminal Justice – Advanced Investigative Studies is designed to provide the investigation and interviewing skills you'll need for the job. Our courses will teach you how to read a situation to protect yourself and others while gaining information from criminals and witnesses.
In the classroom, you'll learn from professors who have years of experience in the criminal justice field. They look forward to sharing their knowledge and Christian perspective with you as you prepare to thrive in a job where you can make a real difference.
Award-Winning Campus
At Liberty, you'll find an affordable, high-quality education that equips students like you for the real world. Our commitment to excellence helped us rank among Niche.com's Top 3 college campuses in America. Earning your degree from a nonprofit university with state-of-the-art resources like ours can help set you apart from your peers.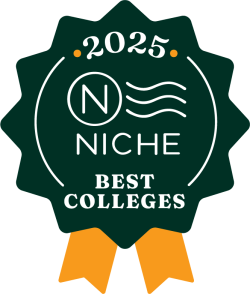 ---
Why Choose Liberty's Criminal Justice – Investigative Studies Degree?
A criminal justice degree from Liberty can open up a wealth of career opportunities for you. Criminal investigation positions are not limited to government and military institutions. There are incredible opportunities to take your skill set to the private sector as an investigator or analyst as well. Whether you feel called to work in a local, state, federal, military or private organization, Liberty's bachelor's degree in criminal investigation provides the skill set you'll need.
Our mission at Liberty University it to Train Champions for Christ, and we feel this is especially important for criminal justice students. For that reason, all of your courses will integrate a Christian perspective on the laws, interviewing tactics, and investigation best practices you'll learn. You'll train for more than a career – you'll train to uphold the liberty, safety, and security of the American people with excellence and integrity.
---
What Will You Learn in Our Criminal Investigation Bachelor's Degree?
In your general criminal justice courses, you will cover a wide overview of criminal justice and judicial processes. This will include topics in juvenile justice, terrorism, criminology, research and writing, criminal law, corrections, ethics, and criminal procedure.
As you move into your specialized courses in criminal investigation, you will dive into the study of criminal investigations. This will include topics in court and expert witness testimony, interview and interrogation techniques, and the management of complex criminal investigations.
By completing coursework in the general principles of criminal justice as well as the specific skills needed for investigation, Liberty's B.S. in Criminal Justice – Advanced Investigative Studies will help you impress future employers and enter the criminal justice field with confidence. 
Review the Degree Completion Plan, and check out our featured courses below to learn more about what you'll be studying!
Featured Courses
CJUS 369 – Court and Expert Witness Testimony
Here's what you'll learn:
Court testimony best practices for law enforcement, crime scene investigators, pre-law students, and forensic scientists
Relevant legal cases, courtroom processes, and effective courtroom presentations
The basics of court and expert witness testimony and relevant court decisions
CJUS 405 – Interview and Interrogation
Here's what you'll learn:
Advanced exploration of the mechanics of interview and interrogation
Behavior symptom analysis and the Behavioral Analysis Interview
Factual analysis, how to evaluate the alibi, and the Reid Nine Steps of Interrogation
Interviewer characteristics, interview environment, and interviewing protocol
CJUS 421 – Criminal Investigations II
Here's what you'll learn:
How to apply best practices for conducting criminal investigations
How to investigate crimes including arson, rape, robbery, and murder
The practices and procedures associated with the management of complex criminal investigations
CJUS 423 – Criminal Investigations III
Here's what you'll learn:
A study of complex investigations, primarily sexual assaults
Techniques include victimology, crime scene processing, physical evidence, medical evaluations, interviews, cold case investigations, and court testimony
The practical and effective investigative techniques and strategies used in sexual assault investigations
---
Highlights of Our Criminal Investigation Degree
Liberty University is accredited through SACSCOC, the Southern Association of Colleges and Schools Commission on Colleges.
Graduates of Liberty's criminal justice program have gone on to work with highly revered agencies and companies like the U.S. Department of Defense, Transportation Security Administration (TSA), AECOM Defense Services Sector, and the Virginia State Police.
Your criminal justice professors are recognized for their excellence in teaching and have served with the FBI, Virginia Beach Police Department, and other distinguished law enforcement agencies.
With the combination of internships and real-life simulations in your classes, you'll receive multiple opportunities for hands-on training throughout your degree.
Advanced Criminal Investigative Studies Degree Information
Career Opportunities for Criminal Justice Investigation Degree Graduates
Criminal investigator
Local detective
Military special agent
National-level special agent
State special agent
Admission Requirements for Undergraduate Degrees
Every application is reviewed by the admission committee on a case-by-case basis, meaning there are no set minimums for acceptance. However, all applicants must submit the following documents* for admission:
Admission application
Official high school transcripts
Official college transcripts (if applicable)
Results from the CLT, SAT, or ACT are not required for admission, but may be used in consideration for merit-based aid.
Admission essay
*Note that additional documentation may be requested by the admission committee after your application has been received.