Use Foundational Concepts to Mold the Next Generation with a B.Ed. in Middle Education
Are you excited about the idea of becoming a teacher? Do you want to help educate young people with the core topics they'll need in secondary and higher education, as well as life and the workforce? If this sounds like you, pursuing Liberty's Bachelor of Education (B.Ed.) in Middle Education is a great next step in your academic journey.
Middle school children have specific developmental needs. They need to be taught in a way that caters to their development, and they need someone who understands how their minds work to teach them effectively. By choosing the bachelor's in middle education degree, you're going to learn how to successfully teach preteens and adolescents as they are growing.
When you partner with Liberty to obtain your middle education degree and licensure, you're choosing to become prepared to teach middle school students the foundational concepts they'll need to succeed in school, work, and life. Pursue your dreams now by making a difference in the lives of young people through a B.Ed. in Middle Education.
Upon successful completion of Liberty University's Virginia state-approved Bachelor of Education program, you may apply for your teaching license in another state through reciprocity, which may or may not result in additional requirements based on your state's Department of Education regulations.
---
Award-Winning Campus
At Liberty, you'll find an affordable, high-quality education that equips students like you for the real world. Our commitment to excellence helped us rank among Niche.com's Top 3 college campuses in America. Earning your degree from a nonprofit university with state-of-the-art resources like ours can help set you apart from your peers.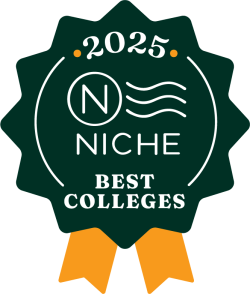 ---
Why Choose Liberty's B.Ed. in Middle Education Degree?
At Liberty University, our mission of Training Champions for Christ means that we strive to provide you with the best in all that we do. Rest in knowing that your degree will be taught with excellence and rigorous standards. Plus, each and every education course is taught by a professor who has years of real-life experience in the classroom, is invested in your success as a student, and is dedicated to teaching from a Christian worldview.
Liberty University is accredited by the Southern Association of Colleges and Schools Commission on Colleges (SACSCOC). Additionally, Liberty University's School of Education meets rigorous national standards for educator preparation set by the Council for the Accreditation of Educator Preparation (CAEP). Because of this, your degree will be well-recognized and respected among other schools and employers.
Additionally, our B.Ed. programs are approved by the Virginia Department of Education (VDOE), allowing you to earn your license and teach in the state of Virginia upon graduation. This degree can prepare you with all the tools and education you'll need to be successful in the classroom.
---
What Will You Learn in Our Bachelor's Degree in Middle Education?
The bachelor's degree in middle education will prepare you with a variety of foundational courses in English, communication, math, physics, psychology, biology, history, and more. You'll be well-prepared to effectively communicate these ideas and topics to your students.
Additionally, you'll study a variety of courses that focus on how to educate children and adolescents. Some of your courses will include topics like classroom teaching, instructional design for middle classrooms, how to teach reading, writing, and language to diverse learners, and behavioral and individual differences between students.
In addition to these courses, you'll complete 90 practicum hours and at least 1 full semester of student teaching prior to graduation. Plus, you have the opportunity to specialize in a particular subject, providing you with specific courses in English, math, science, or social science.
Check out our featured courses below to learn more about what you'll be studying!
Featured Courses
EDUC 360 – Foundations of Education
Here's what you'll learn:
A comprehensive survey of the historical, philosophical, psychological, and sociological foundations of American education
The educational foundations as found in the Bible, and the applicability of these to both the Christian School Movement and the public school system
How to articulate your personal philosophy of education
EDUC 412 – Middle School Curriculum and Instruction
Here's what you'll learn:
A study of the historical development and philosophical base of the middle school
The unique characteristics of the emerging adolescent and the prescriptive school concepts that will meet those needs
EDUC 415 – Diagnostic Measurement and Evaluation
Here's what you'll learn:
A diagnostic-prescriptive approach to classroom teaching
Diagnostic testing techniques and procedures
The administration and interpretation of standardized tests
The construction of classroom tests
B.Ed. in Middle Education Specializations
Highlights of Our B.Ed. in Middle Education Degree
Liberty University's School of Education meets rigorous national standards for educator preparation set by the Council for the Accreditation of Educator Preparation (CAEP).

Pursuing our Bachelor of Education licensure-tracks may make you eligible for the

Federal TEACH Grant

.

Graduate with teaching licensure credentials.
Complete

90 practicum hours and at least 1 full semester of student teaching

prior to graduation.
Observe and teach in a variety of school settings with your required practicum and student teaching hours.
Learn from professors who are professionals in the field of education and are dedicated to our mission of Training Champions for Christ.
B.Ed. in Middle Education Degree Information
Residential
124-125 total hours
Transfer in up to 75% of your total degree
Program falls under the School of Education

View our course catalog
Practicum and student teaching hours required for this degree
Background check required for licensure in this program
Career Opportunities for B.Ed. in Middle Education Graduates
Upon successful completion of the B.Ed. in Middle Education, you will be prepared with a well-respected degree in education and Virginia licensure as well as 90 practicum hours and at least 1 full semester of student teaching. This degree will equip you with all the necessary resources, tools, and knowledge needed to succeed as a middle school teacher. You may also pursue the following career opportunities:
Homeschool teacher
K-12 curriculum coordinator
Licensed middle education teacher
Private school teacher
Tutor
Admission Requirements for Undergraduate Degrees
Every application is reviewed by the admission committee on a case-by-case basis, meaning there are no set minimums for acceptance. However, all applicants must submit the following documents* for admission:
Admission application
Official high school transcripts
Official college transcripts (if applicable)
Results from the CLT, SAT, or ACT are not required for admission, but may be used in consideration for merit-based aid.
Admission essay
*Note that additional documentation may be requested by the admission committee after your application has been received.