Learn to Defend Your Faith with a Theology and Apologetics Degree
You're passionate about the Word of God. We understand that passion and want to equip you to fully understand and defend your faith so you can share it with others. By pursuing our bachelor's degree in theology and apologetics, you'll be able to do just that.
You may desire to translate God's Word from its original languages, share with others through literature about the Bible, or simply be better equipped to defend the veracity of Scripture. Choosing to complete our theology and apologetics degree is an integral part of this process, and it will give you all the tools you need to fulfill your calling.
You'll deepen your understanding of Scripture and be able to share its truth with the world.
---
Award-Winning Campus
At Liberty, you'll find an affordable, high-quality education that equips students like you for the real world. Our commitment to excellence helped us rank among Niche.com's Top 5 college campuses in America. Earning your degree from a nonprofit university with state-of-the-art resources like ours can help set you apart from your peers.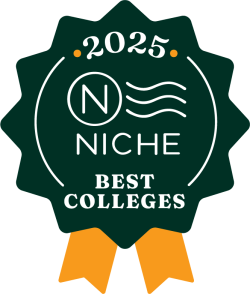 ---
Why Choose Liberty's Theology and Apologetics Degree?
At Liberty University, our desire is to give you all the resources you need to be successful in your chosen field as you fulfill God's calling on your life. That's why we've given you the personalization and coursework found at a small Bible college combined with the experience and resources of a large university.
We are a teaching university. This means the professors in the classroom with you every week are dedicated to teach, support, and mentor you throughout your academic journey. Plus, they'll pass along the knowledge they've gained from their own experiences in ministry.
While you're here, we want you to take advantage our resources and technology. Our Freedom Tower, where our John W. Rawlings School of Divinity is housed, has a Scriptorium with a rare book collection including a 111-foot Torah scroll dating back to the 16th century and a functioning Gutenberg Printing Press replica. These are the types of resources and features you'll have access to while studying with us.
---
What Will You Learn in Our Theology and Apologetics Degree?
With any John W. Rawlings School of Divinity degree, you'll gain the insight and understanding you need to excel in ministry. Some of the topics you'll study include culture and intercultural engagement, inductive Bible study, and hermeneutics. You'll also study the fundamentals of theology in addition to historical theology and the mission and hope of the Church.
By pursuing our theology and apologetics degree, you'll have the additional opportunity to learn about fundamental apologetics issues. In our Christianity and the Cults course, you'll learn how to identify cults and how to minister to people within them.
Review the Degree Completion Plan, and check out our featured courses below to learn more about what you'll be studying!
Featured Courses
APOL 311 – Foundational Issues in Apologetics
Here's what you'll learn:
Core areas of Christian doctrine, such as foundational theology, Christology, and Bibliology
The various approaches to Christian apologetics with the aim of understanding the theology that drives each approach
The works of leading proponents of the approaches in order for students to develop their own approach and method in apologetics.
BIBL 350 – Inductive Bible Study
Here's what you'll learn:
The basic steps and tools involved in the inductive study of the Bible
The skills to practice a methodical approach to the observation, interpretation, application, and correlation to Scripture
BIBL 460 – New Testament Theology
Here's what you'll learn:
How to trace themes in biblical theology
The basic theological message of the New Testament in both its diversity of expression and conceptual unity
The major themes developed in the New Testament including the centrality of God, Christology, the Holy Spirit, the church, and eschatology
BIBL 461 – Old Testament Theology
Here's what you'll learn:
An organic and typological connection with their New and Old Testaments
The major theological themes of the Old Testament explaining how they function in light of the major Old Testament covenants and the timeline of the history of the Old Testament
Highlights of Our Theology and Apologetics Degree
John W. Rawlings School of Divinity professors are active in the classroom, as well as in research and publishing original works.
Our School of Divinity is committed to the authority of Scripture and conservative evangelical theology.
Benefit from the teaching and professor involvement of a small bible college with the experience and amenities of a university.
Internship opportunities with churches and parachurches locally, nationally, and globally.
The Freedom Tower, where our School of Divinity is located, houses a 7-projector immersive classroom, an interactive classroom that utilizes teleconferencing capabilities, and a state-of-the-art homiletics teaching lab.
The Rawlings Foundation's rare book collection is valued at over $1 million dollars and contains a 111-foot long Torah scroll dating back to the 16th century and a functioning Gutenberg Printing Press replica.
Theology and Apologetics Degree Information
Career Opportunities for Theology and Apologetics Graduates
Academic leadership
Archaeologist
Author
Biblical translator
Christian educator
Historical tour guide
Research assistant
Admission Requirements for Undergraduate Degrees
Every application is reviewed by the admission committee on a case-by-case basis, meaning there are no set minimums for acceptance. However, all applicants must submit the following documents* for admission:
Admission application
Official high school transcripts
Official college transcripts (if applicable)
Results from the CLT, SAT, or ACT are not required for admission, but may be used in consideration for merit-based aid.
Admission essay
*Note that additional documentation may be requested by the admission committee after your application has been received.