Gain Biblical and Theological Knowledge as You Prepare for Ministry Careers with Liberty's BA in Religious Studies Degree – Bible and Theology
Are you interested in gaining a better knowledge of Scripture and sharing that knowledge with others? Do you have experience in a youth group, a volunteer organization, or another religious entity that has instilled a heart for God within you? If so, Liberty University's Bachelor of Arts (BA) in Religious Studies – Bible and Theology may be for you.
We understand that you have a passion for God's Word. Perhaps you were raised in the church, or maybe you're new to Christianity and you have a burning desire to know Jesus better. This degree can help you do just that – and more. Students who pursue this bachelor's degree in theology and Bible may find careers as Christian educators, youth ministers, ministry assistants, and more. This theological and biblical studies degree is also an excellent stepping stone if you're interested in attending graduate school.  
Your first step towards a career in ministry starts here: at Liberty University. Partner with us for your biblical and theological degree and set yourself up for success.
Please note: This degree requires students to obtain 1 divinity minor and strongly encourages students to pursue a second minor in divinity or a minor from another school in the university.
Award-Winning Campus
At Liberty, you'll find an affordable, high-quality education that equips students like you for the real world. Our commitment to excellence helped us rank among Niche.com's Top 3 college campuses in America. Earning your degree from a nonprofit university with state-of-the-art resources like ours can help set you apart from your peers.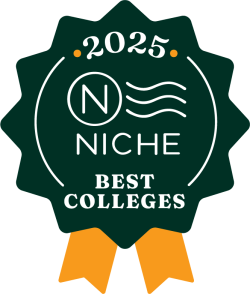 ---
Why Choose Liberty's Religious Studies Degree in Theology?
At Liberty, we strive to offer you a world-class educational experience that will fully equip you to pursue God's calling on your life. By studying under our renowned professors, using our state-of-the-art facilities, and enjoying our opportunities for hands-on experience, you can leave Liberty a confident, prepared professional who is capable of succeeding in a variety of ministry-related settings.
You'd be hard-pressed to find facilities that compare to those on our campus. Our Freedom Tower is home to a 7-projector immersive classroom, an interactive classroom equipped with teleconferencing capabilities, and a homiletics teaching lab. In addition, we offer a rare book collection and a Bible museum that features a 111-foot-long Torah scroll dating back to the 16th century and a Gutenberg Printing Press replica. Choosing Liberty doesn't just mean you choose a Christian university for your biblical and theological studies degree – it means you choose a university steeped in biblical tradition and academic excellence.
At Liberty, you'll have plenty of opportunities for spiritual growth outside of the classroom. Our Convocation lineup often features world-renowned pastors and some of the brightest Christian minds in the world. You'll be able to find Christian community in your residence hall, and you'll have countless opportunities to demonstrate Christ to others as you serve the local community through volunteer work. At Liberty, we don't just offer you a Christian education – we offer you a Christian experience.
---
What Will You Learn in Our Bachelor's Degree in Religious Studies and Theology?
In addition to general education and free elective courses, our biblical and theological studies degree consists of 2 main sections: major foundational courses and Bible/theology courses. In the major foundational section of this religious studies – biblical and theological degree, you will study apologetics and cultural engagement, faith, reason, the search for meaning, and intercultural communication and engagement.
As you venture into your major's courses, you'll study foundational issues in apologetics and be introduced to biblical interpretation. You'll also explore Old and New Testament theology, the church and its mission or historical theology, and spiritual foundations for the Christian life. In addition, you will explore world religions; study God, Revelation, and Reason; and be taught methods and issues in theology.
One benefit to our Bible and theology degree is that it offers you the flexibility to handpick several courses. In the major section of your degree, you'll have multiple opportunities to study biblical languages topics you're most interested in – as well as either an apologetics or theology class.
View the Degree Completion Plan, and check out our featured courses below for more information about what you'll be studying!
Featured Courses
APOL 311 – Foundational Issues in Apologetics
BIBL 350 – Introduction to Biblical Interpretation
THEO 311 – God, Revelation, and Reason
THEO 350 – Methods and Issues in Theology
Highlights of Our Religious Studies Degree in Bible and Theology
Our John W. Rawlings School of Divinity professors are active in the classroom as well as in research and publishing original works.
Our School of Divinity is committed to the authority of Scripture and conservative evangelical theology.
Benefit from the teaching and professor involvement of a small Bible college combined with the experience and amenities of a university.
Internship opportunities are available with churches and parachurches locally, nationally, and globally.
The Freedom Tower, home to the School of Divinity, houses a 7-projector immersive classroom, an interactive meeting space that utilizes teleconferencing capabilities, and a state-of-the-art homiletics teaching lab.
The Rawlings Foundation's rare book collection is valued at over 1 million dollars and contains a 111-foot-long Torah scroll dating back to the 16th century and a functioning Gutenberg Printing Press replica.
BA in Religious Studies – Bible and Theology Degree Information
Career Opportunities for BA in Religious Studies – Bible and Theology Graduates
Archaeologist
Author
Biblical translator
Christian educator
Church administrator
Evangelist
Global relief worker
Parachurch ministries leader
Pastor
Theologian
Admission Requirements for Undergraduate Degrees
Every application is reviewed by the admission committee on a case-by-case basis, meaning there are no set minimums for acceptance. However, all applicants must submit the following documents* for admission:
Admission application
Official high school transcripts
Official college transcripts (if applicable)
Results from the CLT, SAT, or ACT are not required for admission, but may be used in consideration for merit-based aid.
Admission essay
*Note that additional documentation may be requested by the admission committee after your application has been received.